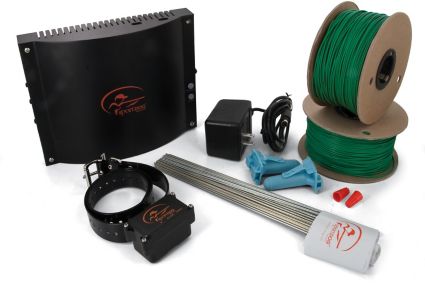 SportDOG Inground Fence
is rated out of
5
by
24
.
This product is currently out of stock.
Please choose product options above
Please choose product options above
PDP Sticky bottom AddToCart Section - active and hide position
Product Information:
Keep your dog safe in the area you designate with the SportDOG® Inground Fence. This system works for dogs over 10 pounds. Its radio signal sends an alert once your dog reaches the warning zone. After your dog is fully trained your dog can freely roam the yard. The SportDOG™ Inground Fence is a great way to create boundaries for your dog.
FEATURES:
Transmitter
Collar Receiver
1,000 Feet of 20-Gauge Wire
100 Flags
Operating Guide with Training Information
Charging Adaptor
Expandable up to 100 acres with additional wire (not included)
Waterproof collar receiver
Model: SDF-100A
Brand: SportDOG Brand
Country of Origin: United States of America or Imported
Web ID: 15SPOU100CRNGRNDFHUA
Rated 5 out of 5
by
Keith
from
Fantastic customer service and product
I have had multiple under ground fence units in the past, but none as good Sportdog. This unit keeps my 2 gsp's in our 3 acres without any issue until lightning hit it. Luckily it has replaceable fuses! After replacing the fuses my unit still would not power on, called customer service, within five mins my replacement unit was on its way. It was delivered quicker than the 5 days they said it would take to receive the unit, and it was up and working within a few minutes. We love our Sportdog under ground fence, with its 2 year warranty, and the great, quick customer service department!!! I would recommend this unit to anyone looking for a great underground fence unit!
Date published: 2016-06-08
Rated 5 out of 5
by
Cody H.
from
Works great
I purchased this fence after having my german shorthair pointer/lab dog Beau run away for the 4th time. Installation was very time consuming, we used a pick ax to make the shallow trench. Instructions were great and some good tips for training your dog as well. So far so good signal, is consistant and the vibration and sound is perfect for warning before correction. Day one of training he recognizes the flags as danger and the sound. And a couple shoks got him runnin right nack to the yard. Hes a little scared now but its only been one day. Im sure eventually he will understand it well. I would highly reccomend this product. Well worth the money.
Date published: 2016-04-11
Rated 5 out of 5
by
Anonymous
from
Love it
We put this fence in for our pit bull mix, so she'd quit roaming the neighborhood. It took one day for her to figure it out, and about two weeks of coaxing for her to want to go outside again. However, it is now working perfectly, to the point that she is in and out like a cat, all day long. We are going to find another rescue soon, so she can have a buddy. I was honestly shocked at the price of a new collar, though. If you're going to charge over 100 dollars, maybe a sturdier strap would be in order. The system itself works fabulous and I could not be more pleased with watching our pupper charge around the yard, knowing exactly where she belongs.
Date published: 2017-03-30
Rated 5 out of 5
by
Nancy
from
Best Money I Ever Spent.....!!!!!!!.....!!!!!!!!!!....!!!!!!!!!
I researched and decided on this fence. My reason for selecting this fence was 1) I liked that this collar used a 9 volt battery 2) Not only did this collar beep, but it also vibrated. I liked this feature for dogs who lose their hearing or are hearing impaired. 3) I liked the acres this fence could cover for pretty much the same price as compared to other brands. I would like to know if you sell accessories....???...such as an outdoor rock (keep out of flower bed) or a mini indoor (keep pets off your favorite chair or out of trash can, etc.) I have found products on the internet, but I do not now if they would be compatible with my SPORT DOG fence. I would recommend this fence to anyone looking to keep your dog close to home and out of the road. Wish I had bought this years ago.
Date published: 2014-09-10
Rated 4 out of 5
by
Eric
from
Works great but had to do some modifications
I have a very wimpy German Shorthair Pointer. He does not like pain. After he got zapped the first time he wouldn't leave the porch for a few weeks. He really doesn't need the anything more than the tone. He also has some skin issues and the contacts were causing irritation on his neck. I tried to loosen the collar because of the irritation on his neck and he lost the collar. When I replaced the collar I got a web collar that I can just clip on and off and different screws so that they don't stick into his neck. That seems to work fine and he hasn't lost it yet.
Date published: 2014-12-23
Rated 5 out of 5
by
Anonymous
from
Fantastic Product
I was very hesitant about purchasing this fence system, but in order to allow my GS to roam I gave it a shot. I rented a cable trencher and fenced in 2.75 acres in about 8 hours. This system worked as advertised and I have had no issues. My wife and I recently added some landscaping and this allowed me the flexibility to tie into the existing wire and outline the new flower beds in about an hour. We have had this fence for about a year and a half and I recommend it to anyone that is looking to protect their pet and still allow for maximum terrain to run.
Date published: 2014-11-28
Rated 5 out of 5
by
Curt
from
Amazing product
I almost never write reviews, but I really felt this company and product deserve a 5 star glowing review. If you are considering an in ground fence look no further, I owned another popular cheaper in ground fence and there is honestly no comparison in quality. We recently had a lighting storm that I assume took out our fence transmitter and I had no hesitation in going and buying this product again. All the parts and packaging are top quality. The web site is very helpful for troubleshooting and answering any questions you might have. Good work people!
Date published: 2015-08-01
Rated 4 out of 5
by
Jeff S
from
good product
installation was straight forward, just tedious. I wish there was a collar that was nylon with a clasp that I could set for the dog and leave it be. Even if an aftermarket collar to transfer the transmitter to. I understand cutting it to fit, but right now he is still a learning and growing puppy, so I don't want to cut off a bunch of collar yet. there does seem to be a delay upon walking up to the buried wire. I am still quite pleased with the product. I have 3/4 of an acre, I upgraded to heavier wire, using 14 gauge instead of 20.
Date published: 2016-10-19