Spypoint LINK-EVO-V Verizon Wireless Cellular Trail Camera – 12MP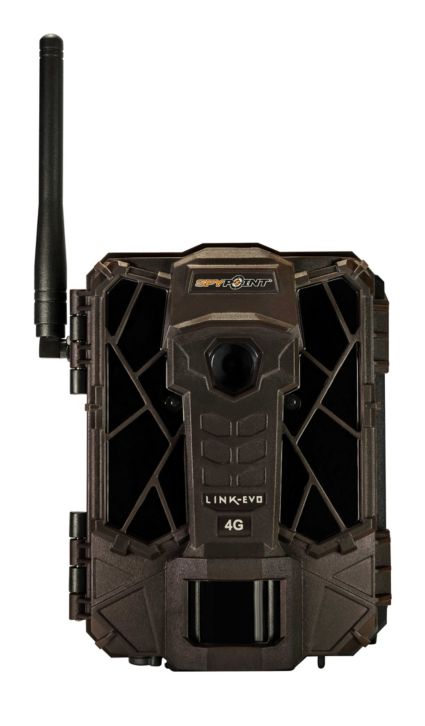 Spypoint LINK-EVO-V Verizon Wireless Cellular Trail Camera – 12MP
is rated out of
5
by
59
.
This product is currently out of stock.
Please choose product options above
Please choose product options above
PDP Sticky bottom AddToCart Section - active and hide position
Product Information:
If you are interested in getting your trail camera images sent to your phone, consider setting up a Spypoint® LINK-EVO-V Verizon Wireless Cellular Trail Camera in your hunting area. Able to connect to one of the world's largest 4G network providers for unbelievable coverage, the LINK-EVO-V also offers a free monthly plan offer and is fast and easy to set up. The Spypoint® LINK-EVO-V trail cam is also fully configurable with the free app.
FEATURES:
LINK-EVO-V Verizon Wireless Cellular Trail Camera – 12MP
Ideal for remotely monitoring your hunting spot without adding additional pressure
Buck tracker antler recognition technology to pre-sort images of bucks
Includes a free monthly plan offer and is fast and easily set up
Verizon fast 4G photo transmission for amazing coverage
Fully configurable from a downloadable free app
Includes pre-activated SIM card
HD 720p video compatible with 10 to 90 second with photo options
42 low glow LEDs captures images without giving away camera's position
Multi-shot modes capture up to 2 photos per detection
Time-lapse mode for monitoring fields or large food plots
Requires 8 AA batteries (not included)
Compatible with SD cards up to 32GB (not included)
Infrared boost technology with continuous mode
Ultra Compact Dimensions: 4.4" x 5.2" x 3.3"
Trigger Speed: 0.3 seconds
Detection Range: 80'
Flash Range: 90'
Image Capabilities: 12 MP
Web ID: 17SYTUVRZNCLLLRTRTCH
Tech Specs:
| Image Resolution | Trigger Speed | Detection Range | Flash Range | Video (Y/N) | Video Resolution | Flash Type | LED Count |
| --- | --- | --- | --- | --- | --- | --- | --- |
| 12MP | 0.3 seconds | 80' | 90' | Y | 720p | Low Glow | 42 |
Rated 5 out of 5
by
RobFromFL
from
So far so good
Purchased 2 of these. Tested both at my house and both worked great. Took them to my camp this past week. Took both cams bit to get a signal compared to time it took at my house but both did load up and are running good and sending pics. I have a few moultrie mobiles and the pics are a little better from them but not to much difference. I like the free 100pics for camp house security when we aren't there as much. I can run 4 of these for what I'm paying for 2 Moultrie set ups. Happy with my purchase and will probably get a couple more in the near future. Also, if you buy one Spypoint will send you a $100 rebate on the next one. Not a bad deal at all.
Date published: 2018-10-20
Rated 4 out of 5
by
mrb985
from
Easy set up, saves time and gas
I have picked 2 of these cameras up this season and they have been wonderful. I get pictures sent right to my phone every 2 hours giving me the most up to date information on game activity in my spots. I have had some small issues with battery life in the extreme cold (-25 to -30 C) but it has only been an issue once and yes, I was using the spy point lithium battery. I wish the trigger speed was a bit faster as I do get some blurry photos of passing whitetails. Over all this is a great camera to add to the line up and I recommend it to anyone looking for a cell cam.
Date published: 2017-11-25
Rated 5 out of 5
by
NRanch
from
Excellent Camera , Support is awesome
I am in my second year of running 4 of these, all with external antennas and external 12v battery's. I have had a couple of issues and I must say that the best part about these cameras is spypoint support. I had one that flat out died, Sent it in on a Monday and had my replacement back in my hand by Friday. Sent a second in recently due to a broken antenna and again had back in my hands the same week. I did experience the Verizon issue, I sent that one back to swap for a ATT. I am a IT professional and have learned over the years to pick companies based on support first as all technology comes with problems. The support makes the difference.
Date published: 2018-11-27
Rated 3 out of 5
by
Curt68
from
Could be better
For some reason the first picture at night seems to always be black, obviously the LED's didn't fire prior to the picture... The following pictures seem to be okay. Detection circuit is not very responsive at times. I can literally do jumping jacks for a duration of about 5 min in front of the camera and sometimes it won't even take a picture. Not sure why that is? I have the settings set to detect immediately and set to upload photos at every detection and the camera has 4 bars of cell reception and sometimes 5 bars. I think these two things are it's weakest points. I'm currently running two cameras one powered off the 12v pack from Spypoint and the other camera powered off a deep cycle marine battery.
Date published: 2018-02-03
Rated 3 out of 5
by
RICEU17
from
On the fence
I really love this camera, the setup is simple, the data plans are reasonable, the product line has several options. Although, i have been experiencing several issues with these cameras. I purchased my first 1 and it work well, so well i purchased 2 more a few weeks later, after placing these cameras through out my home testing they worked perfect. I traveled to Mississippi shortly afterwards and place these cameras in the woods and only 1 of the 3 worked well enough to leave in the woods. #1 issue camera simply would not transmit any photos #2 received distorted photos during the day, similar to an old tube tv with weak to no signal. i'm currently debating on returning and asking for an even exchange or simply switching to another brand.
Date published: 2017-11-23
Rated 3 out of 5
by
njsocref
from
Easy to use
I bought two of these put them out four days ago getting good pictures. I like the fact that I don't have to walk in the woods to pull the SD card. Only reason I didn't give them a five star rating is because I'm going to have to change the batteries soon. I bought heavy duty alkaline batteries thinking they would last. Only been running for four days already down to 30% life left. Hopefully I can find batteries that will last longer. The same batteries in my other cameras last about two months taking up 720 pictures before I pull the SD card
Date published: 2018-08-19
Rated 1 out of 5
by
Russell Nicklas
from
Would say 0 poor is to good Don't buy this junk !
Don't buy this junk ! Please listen to the review as I didn't ! Now I'm about $500 into these cameras they are recommending another $140 to make them work! Spent a lot of time moving them and driving and call info emails and live chat all for no reply even! Sent about 6-7 emails with no replay. The live chat in the app is a joke had to close the whole app to reply every time They offer a product as good as the costumer service! Do not buy this junk! Oh I forgot they did send one email that didn't have anything to do with the camera at all that's what kind. Of service reply I got good luck !
Date published: 2018-12-02
Rated 5 out of 5
by
Bear Paw
from
Great camera! Easy to set up!
I had this camera set up about 40 km from my home and it worked great. Yes you need cellular reception for it to send you the pictures. But without cellular reception, it will still capture the photos and save them on the SD card. Different plans to choose from for your data (number of photos you want to save). Free app to download to you cell phone is also easy to understand. With this app on your cell phone, you can change your setting on camera from anywhere! Great daytime and nighttime pictures. Awesome!
Date published: 2017-11-17