St. Croix Imperial Fly Rods
{ "warrantyData" : [ { "ProductSKU" : "13837174", "ProductUniqueId" : "662133", "warrantySKUS" : [ ] }, { "ProductSKU" : "13837157", "ProductUniqueId" : "968040", "warrantySKUS" : [ ] }, { "ProductSKU" : "13837159", "ProductUniqueId" : "968041", "warrantySKUS" : [ ] }, { "ProductSKU" : "13837166", "ProductUniqueId" : "968042", "warrantySKUS" : [ ] }, { "ProductSKU" : "13837170", "ProductUniqueId" : "968043", "warrantySKUS" : [ ] }, { "ProductSKU" : "13837178", "ProductUniqueId" : "968044", "warrantySKUS" : [ ] }, { "ProductSKU" : "13837182", "ProductUniqueId" : "968045", "warrantySKUS" : [ ] }, { "ProductSKU" : "13837184", "ProductUniqueId" : "968046", "warrantySKUS" : [ ] }, { "ProductSKU" : "13837186", "ProductUniqueId" : "968047", "warrantySKUS" : [ ] }, { "ProductSKU" : "13837192", "ProductUniqueId" : "968048", "warrantySKUS" : [ ] }, { "ProductSKU" : "13837198", "ProductUniqueId" : "968049", "warrantySKUS" : [ ] }, { "ProductSKU" : "13837202", "ProductUniqueId" : "968050", "warrantySKUS" : [ ] }, { "ProductSKU" : "12294247", "ProductUniqueId" : "1019510", "warrantySKUS" : [ ] }, { "ProductSKU" : "12294249", "ProductUniqueId" : "1019511", "warrantySKUS" : [ ] }, { "ProductSKU" : "12294253", "ProductUniqueId" : "1019512", "warrantySKUS" : [ ] }, { "ProductSKU" : "13714739", "ProductUniqueId" : "1019513", "warrantySKUS" : [ ] }, { "ProductSKU" : "13714783", "ProductUniqueId" : "1019514", "warrantySKUS" : [ ] }, { "ProductSKU" : "13837162", "ProductUniqueId" : "1019516", "warrantySKUS" : [ ] }, { "ProductSKU" : "13837164", "ProductUniqueId" : "1019517", "warrantySKUS" : [ ] }, { "ProductSKU" : "13837168", "ProductUniqueId" : "1019518", "warrantySKUS" : [ ] }, { "ProductSKU" : "13837172", "ProductUniqueId" : "1019519", "warrantySKUS" : [ ] }, { "ProductSKU" : "13837176", "ProductUniqueId" : "1019520", "warrantySKUS" : [ ] }, { "ProductSKU" : "13837180", "ProductUniqueId" : "1019521", "warrantySKUS" : [ ] }, { "ProductSKU" : "13837188", "ProductUniqueId" : "1019522", "warrantySKUS" : [ ] }, { "ProductSKU" : "13837194", "ProductUniqueId" : "1019524", "warrantySKUS" : [ ] }, { "ProductSKU" : "13837196", "ProductUniqueId" : "1019525", "warrantySKUS" : [ ] }, { "ProductSKU" : "13837204", "ProductUniqueId" : "1019527", "warrantySKUS" : [ ] } ] }
PROTECTION PLAN
(optional)
Info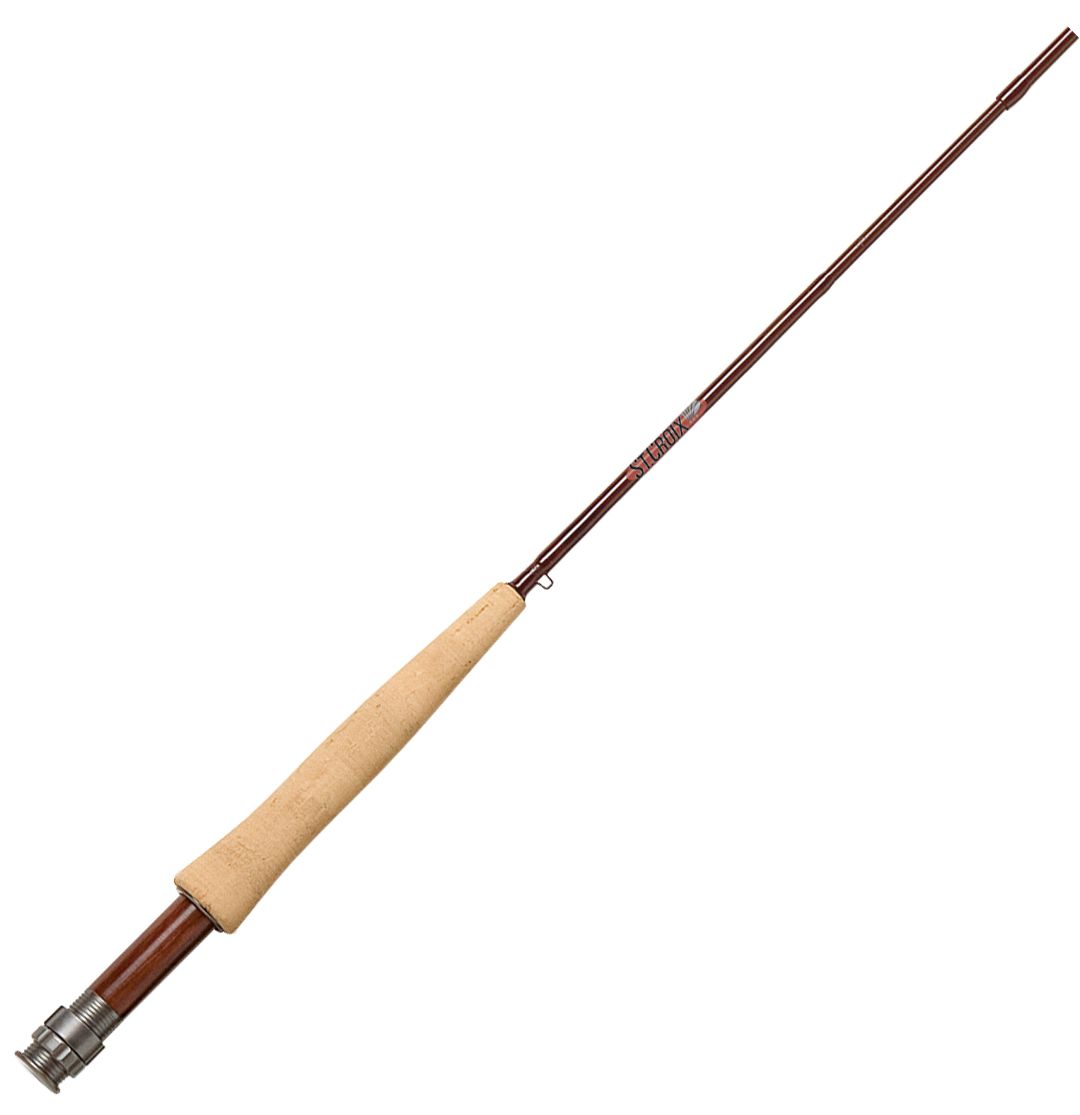 St. Croix Imperial Fly Rods
PDP Sticky bottom AddToCart Section - active and hide position
This product is currently out of stock.
Product Information:
Expertly handcrafted, St. Croix® Imperial® Fly Rods provide amazing performance at a great value. Each blank is made with a dynamic blend of high-modulus, high-strain graphite to give them a lightweight construction and fast action. The St. Croix Imperial series also features uplocking machined aluminum reel seats, premium cork, and a protective nylon rod case for a convenient way to protect your fly rod when you travel.
FEATURES:
Made with a blend of high-modulus, high strain SCIV graphite and premium SCII graphite
Lightweight build with fast action
Aluminum-oxide stripper guides with black frames
Hard chrome snake guides
Uplocking, machined-aluminum reel seat with a rosewood insert on 2, 3, 4, 5, and 6 wt. models
Uplocking, machined-aluminum reel seat on 8, 9, and 10 wt. models
Premium-grade cork handle for comfortable grip
Two coats of Flex Coat slow-cure fishing to prevent cracking under pressure
Includes rugged 1000 denier nylon rod case with divided polypropylene liner
Two piece blank design
Lifetime Limited Manufacturer Warranty
St. Croix
For additional information relating to the Manufacturer's Warranty, please contact 1-800-826-7042.
SPECS:
6'0" F 2WT
Model: I602.2
Pieces: 2
Rod Weight: 1.9 oz.
Handle: 1
6'6" F 3WT
Model: I663.2
Pieces: 2
Rod Weight: 2 oz.
Handle: 1
7'0" F 3WT
Model: I703.4
Pieces: 4
Rod Weight: 2.1 oz.
Handle: 1
7'6" F 4WT
Model: I764.2
Pieces: 2
Rod Weight: 2.3 oz.
Handle: 1
8'0" F 4WT
Model: I804.2
Pieces: 2
Rod Weight: 2.4 oz.
Handle: 2
8'0" F 4WT
Model: I804.4
Pieces: 4
Rod Weight: 2.4 oz.
Handle: 2
8'0" F 5WT
Model: I805.2
Pieces: 2
Rod Weight: 2.6 oz.
Handle: 2
8'6" F 3WT
Model: I863.4
Pieces: 4
Rod Weight: 2.4 oz.
Handle: 2
8'6" F 4WT
Model: I864.4
Pieces: 4
Rod Weight: 2.5 oz.
Handle: 2
8'6" F 5WT
Model: I865.2
Pieces: 2
Rod Weight: 2.8 oz.
Handle: 2
8'6" F 5WT
Model: I865.4
Pieces: 4
Rod Weight: 2.8 oz.
Handle: 2
9'0" F 4WT
Model: I904.2
Pieces: 2
Rod Weight: 2.9 oz.
Handle: 2
9'0" F 5WT
Model: I905.2
Pieces: 2
Rod Weight: 2.9 oz.
Handle: 2
9'0" F 5WT
Model: I905.4
Pieces: 4
Rod Weight: 2.8 oz.
Handle: 2
9'0" F 6WT
Model: I906.2
Pieces: 2
Rod Weight: 3 oz.
Handle: 2
9'0" F 6WT
Model: I906.4
Pieces: 4
Rod Weight: 3 oz.
Handle: 2
9'0" F 7WT
Model: I907.4
Pieces: 4
Rod Weight: 3.9 oz.
Handle: 3
9'0" F 8WT
Model: I908.2
Pieces: 2
Rod Weight: 4 oz.
Handle: 3
9'0" F 8WT
Model: I908.4
Pieces: 4
Rod Weight: 4 oz.
Handle: 3
9'0" F 9WT
Model: I909.2
Pieces: 2
Rod Weight: 4.4 oz.
Handle: 4
9'0" F 9WT
Model: I909.4
Pieces: 4
Rod Weight: 4.4 oz.
Handle: 4
9'6" F 8WT
Model: I968.4
Pieces: 4
Rod Weight: 4.3 oz.
Handle: 3
9'0" F 10WT
Model: I9010.2
Pieces: 2
Rod Weight: 4.6 oz.
Handle: 4
10'0" F 6WT
Model: I1006.4
Pieces: 4
Rod Weight: 4.2 oz.
Handle: 3
10'0" F 7WT
Model: I1007.4
Pieces: 4
Rod Weight: 4.5 oz.
Handle: 3
10'0" F 8WT
Model: I1008.4
Pieces: 4
Rod Weight: 4.6 oz.
Handle: 3
Brand: St. Croix
Country of Origin: United States of America or Imported
Web ID: 15SCXUMPRLFLY9FT4ROD