Stamina 1205 Precision Rower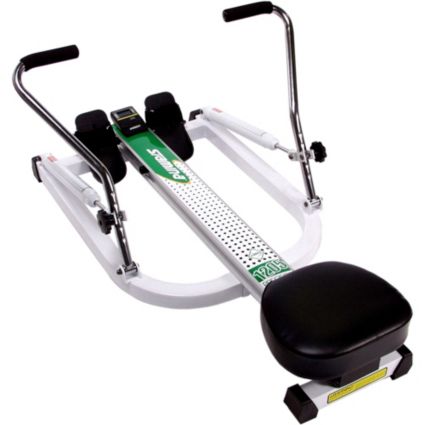 Stamina 1205 Precision Rower
is rated out of
5
by
63
.
This product is currently out of stock.
Please choose product options above
Please choose product options above
PDP Sticky bottom AddToCart Section - active and hide position
Product Information:
You will feel like you're rowing on water with the Stamina® 1205 Precision Rower. The padded seat glides on a ball bearing roller system, and the rowing arms, whose resistance is adjusted by hydraulic cylinders, mimics the motion of oars in the water. Foam grips keep your hands stable and comfortable as you build your back, leg, arm and core muscles on this effective rower.
FEATURES:
Ball bearing roller system provides smooth workout
Hydraulic cylinders can be adjusted to change resistance
Multifunctional fitness monitor displays speed, distance, time, stroke count, and calories burned
48" L x 32-1/2" W x 27-3/4" H
Brand: Stamina Products
Country of Origin: Imported
Web ID: 16SMPURWRWTHLCTRNMSC
Rated 5 out of 5
by
Vicky
from
Purchase in June - LOVE IT
I have been using this machine for a month now and steadily going from 5 mins to 15. I feel stronger and energetic. It is my favorite machine in the house. Money well invested and time well spent. Can't ask for more!
Date published: 2015-09-01
Rated 5 out of 5
by
Julia0532
from
Affordable, good workout, great customer service
I bought the precision rower a month ago and am very happy with it. It doesn't take up much space, I keep it in my bedroom, it's a great work out for many muscle groups, it's quiet (I live in an apartment), easy assembly, and it's affordable. The monitor didn't work initially and I called Stamina, great customer service, they sent me a new one within 2 days.
Date published: 2016-05-22
Rated 5 out of 5
by
NEEN
from
BETTER THAN EXPECTED
Bought this to strengthen my back and increase my stamina and upper body strength.I am not a body builder but a 68 yr. old woman recovering from a very bad accident and 7 operations.This has exceeded my expectations and use it every morning.I thought I was doing pretty good but when I could pick up our granddaughter without any back pain I was elated.
Date published: 2015-04-25
Rated 4 out of 5
by
Rob44
from
Solidly built, easily assembled, a good buy.
The parts were machined precisely, the assembly instructions were clear. The assembled rower should last a long. My initial attempts to use the meter were not successful, but since my primary interest is time spent and for that I can use a clock, I did not put a lot of effort into making the meter work.
Date published: 2015-08-28
Rated 5 out of 5
by
gkpasco
from
Sturdy and easy to assemble
I purchased this item after a few reviews of rowers available. I was going to purchase the older version air rower, however reviews showed it broke too often. I put this together within an hour and started on low setting for 20 min. Good workout and quiet. So far I am very pleased with my purchase.
Date published: 2014-12-07
Rated 2 out of 5
by
The Dude
from
Good workout, poor quality
I've had the machine for a little over a year now, used about half an hour a day. I've got through three sets of the roller wheels for the seat. They start off smooth, but quickly begin to fragment causing a rough, uncomfortable ride, until they eventually crack and need to be replaced.
Date published: 2015-08-23
Rated 4 out of 5
by
Dave
from
Good Value
Good value. Solid construction and smooth operation. Not much more expensive than unsatisfactory bottom-of-the-line units, but far more economical than the high-end units.
Date published: 2013-06-02
Rated 5 out of 5
by
Fit Lady
from
Precision made!!!
Excellent rower; quiet operation, hydraulics work smoothly, floor pads heavy duty rubber that hugs the floor and no unusual movement. Very well constructed!!!
Date published: 2016-01-28
Rated 3 out of 5
by
opbook
from
Good machine but . . .
I think it's a good product but two things that are not so good is the rollers on the seat are made of plastic and wear out very fast. One month using the machine (almost) every day for 30 minutes and the rollers are starting to break down. Before I bought this others had posted the same problem but I thought it to be an easy fix. The second problem (which again more of an inconvenience) is you can't order parts online. That would be a major plus in my opinion. Still a good product, but those two things keep me from giving it a higher rating.
Date published: 2016-10-01
Rated 1 out of 5
by
Even
from
Poor design, no way to compare workouts!
I exercise almost every day and I bought this rowing machine to add to my rotation. I expect to use the rowing machine once every 7 days. After the first use I leaned the rowing machine against the wall and broke the electronic cable. This is a very poor design! Before the connector broke the machine would estimate workout information (i.e. calories, speed, distance, heart rate) but it does not factor in user information (height, weight, etc), resistance setting, row length, etc. The machine also estimates speed while rowing. Unfortunately it is only in whole numbers. I row 1 full row every 8 tenths of a second. At this pace the machine bounces between 0 MPH and 1 MPH. What is the point!?! You would have to row 2.4 rows per second to get to 2 MPH. Fractions would have been nice so you could judge a consistant pace. I would not recommend this machine nor would I buy it again.
Date published: 2009-02-14
Rated 4 out of 5
by
Robbie93
from
Very Sturdy
I am already strong in the upper body, so I was looking for a well made rower. And I was happy to see that this rower is well made. But I did find one weak point, and it didn't take long. The bushing in the rower's handlebars are made of soft vinyl, and started to give way almost instantly. They need to be made of nylon or strong material. To me, this is a easy fix
Date published: 2017-05-09
Rated 5 out of 5
by
NEOH Mom
from
Happy Rower
I am glad I made this purchase. I could feel and see firming and toning results in my mid section within just a week of using this machine. My husband assembled it for me & had it together in no time. I'd love to use it in the living room where sunlight gives the rowing experience an added boost, though admittedly, it doesn't blend in well with the decor there. Bummer. Well, in a couple years, we'll be empty nesters ( I think & hope) Then I can have a bedroom for my personal gym. For now, I'm in the basement.
Date published: 2016-01-01
Rated 4 out of 5
by
Ron Y
from
Stamina 1205 Rower
Having a this device for several months I am finally adjusting to it. In the beginning at minimum resistance it was very hard to get it to operate. I found by putting a few drops of 3-in-one oil on each shock that it helped to loosen it up and it is working more like I imagined it would.
Date published: 2016-10-25
Rated 5 out of 5
by
Dask64
from
Surprised!
Not one for buying on-line, but when I did, all went well.. I did my home work and read all of the reviews. Arrival package in fine shape. Read directions, inventoried items and TOOK MY TIME assembling. All as advertised so far. In my mid-seventies and enjoying the workout.
Date published: 2015-05-03
Rated 4 out of 5
by
raxl222
from
Solid, well built.
I have had the Stamina rower about a month now. I have found it to be well constructed and very sturdy. My only complaint: The pistons are so tight that even at the lowest setting, it is difficult for me to do. I've had several rowers, the Stamina is the hardest to operate.
Date published: 2015-10-21
Rated 4 out of 5
by
Deb B
from
Ready to get rowing!
Just bought this rower and have liked it so far. It was very easy to put together by myself. It rides very smoothly and I think I will be able to get a good exercise program going now to include rowing throughout the week. More review later after I have had it for awhile.
Date published: 2016-01-17
Rated 1 out of 5
by
Kevin7179
from
Adjustment Knobs Slide
I have had this for a couple weeks now. Every time I use it the adjustment knobs slide down. I continually have to stop working out to readjust and tighten. I tighten them as much as possible, but they still slide down after a few minutes.
Date published: 2015-06-23
Rated 4 out of 5
by
Hugoforit
from
I would recommend this product
My wife and I are in our 50's. It is easy and fun to use. You can put it in front of the tv and before you know it your work out is over. It works well for the mid section without too much strain.
Date published: 2009-02-08
Rated 5 out of 5
by
ROWINGRAY
from
I chose well
I have been looking for an all around work out machine....this machine is well made... well priced.. and the best thing...it's everything I was looking for...It's so quite too!! I set it up in front of my TV.. the first couple of days I was doing 20 minutes tops... a couple of weeks later.. I'm almost hitting 45 minutes...thank you stamina... SO FAR SO GREAT!!!
Date published: 2018-03-19
Rated 4 out of 5
by
Joey C
from
Like rowing a boat
My wife bought it for me for Christmas I didnot like the idea I had to put it together but it was very easy!!! ( and that's not "easy" for me to say as I am not handy at all!!!) I like the operation has 2 handles as I get the feeling I had when using my row boat Easy to Change the resistance as well So glad my wife did some research before surprising me
Date published: 2019-01-29
Rated 4 out of 5
by
DonnaM
from
Good Value
I gave the Precision Rower 4 stars instead of 5 because of two problems we are having with it. One, the tension often slips during rowing. This is jarring and breaks the rhythm. Two, the black plastic washer for the rowing arms is rubbing and falling apart. Otherwise, it's just what we needed.
Date published: 2019-07-22
Rated 5 out of 5
by
DeeRedondoBeach
from
Great rowing machine!
I received this as a gift from a family member who knew that I was looking for something more from my workout, I already have and use daily an elliptical machine as well as a stationary recumbent cycle. This rowing machine is a perfect compliment to my home gym as well as my exercise program!!
Date published: 2015-06-17
Rated 4 out of 5
by
Poopybut
from
Rower gives a nice workout
Had one of these types years ago and wanted to get back in shape. Nice rower, well built. Wish it had a better quality wheel system for the seat, Arms that moved out (East and west) for a varied row experience, bigger foot pads and better quality straps. Other than that, it is a great product.
Date published: 2018-12-18
Rated 4 out of 5
by
Anonymous
from
I chose the right model for my needs.
I've gone from no excercise program to rowing 10 minutes per day, 3 times per week at minimum settings and after 3 weeks, I can already see improvements in muscle tone and stamina. This rower allows me to gradually increase the resistance so I'll gradually improve strength and stamina.
Date published: 2009-02-09
Rated 5 out of 5
by
Rand
from
Really Compact and Efficient
Ive had the Stamina 1025 for a little over a month and both my wife and I use it daily. Im a NASM certified Fitness professional and this product fits and belongs in all workout programs. The info screen keeps you on task to accomplish established goals and benchmarks
Date published: 2016-04-16
Rated 5 out of 5
by
Walt112
from
Good quality, good workout.
I have been using this rowing machine for a short time and I am impressed with the overall quality and performance. It is smooth working, quiet and provides a good workout. I had an issue with the original display and Stamina replaced it in a timely manner.
Date published: 2018-11-23
Rated 5 out of 5
by
Jadamalone
from
Looking for a low impact workout!
How about this several months ago and I am very glad I did the low-impact workout is just what I've been looking for. I don't have to go to a gym change clothes I come home from work and I can just start working out this is never been easier I love it.
Date published: 2016-11-25
Rated 4 out of 5
by
JJoster
from
Good workout
This has been a good workout machine. It is quite and we can sit in front of the TV while using it. The only bad thing is it doesn't fold up and we have to move it out of the way when done. Works well for the price.
Date published: 2016-11-09
Rated 5 out of 5
by
RJ7698
from
Well constructed
I bought this as a Christmas gift/New Year resolution to exercise more. Bottom line I am. High quality construction and it appreciate that every day. Thank you Stamina employees for a great product!
Date published: 2016-02-11
Rated 5 out of 5
by
The Tominator
from
Excellent Machine
Because of two knee surgeries I was forced to explore low impact exercises that would saticfy my craving for exercise. My rower is an excellent combination of aerobic and strength conditioning.
Date published: 2009-10-04