Stiga Master Series Cannon Indoor Table Tennis Racket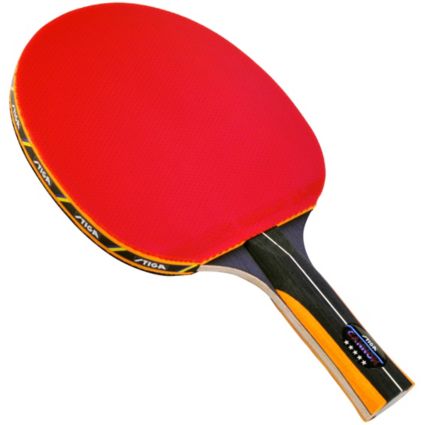 Stiga Master Series Cannon Indoor Table Tennis Racket
is rated out of
5
by
47
.
This product is currently out of stock.
Please choose product options above
Please choose product options above
PDP Sticky bottom AddToCart Section - active and hide position
This item requires specialized installation which, if selected, may require a separate appointment from the delivery date shown during checkout.  The assembly date and time of appointment will be scheduled once delivery is in process. The delivery date shown at checkout is an estimate of the initial delivery date only
Product Information:
The Stiga® Master Series Cannon Table Tennis Racket is designed to offer a great combination of speed, power and control and is ITTF approved. The anatomic composite handle system is designed to provide faster returns, more power and added response. Inverted pips combined with the 5-ply extra light blade and 2.0 sponge offer lightweight performance and speed.
FEATURES:
Master Series
Approved by the International Table Tennis Federation (ITTF)
Superior quality for professional play
Inverted pips create maximum sponge action and surface against the ball
Surface: inverted
Rubber: Premium red/black
Handle: anatomic composite
Sponge: 2.0mm
Blade: 5-ply extra light
Performance rating: Speed-99, Spin-92, Control-90
30-day limited manufacturer's warranty
Click here for additional information relating to the Manufacturer's Warranty.
Brand: Stiga
Country of Origin: Imported
Web ID: 16SGAUCNNNRCKTXXXSTG
Rated 4 out of 5
by
Tony
from
I like it
I am surprised how Stiga Cannon performs. The only thing is the slant of edge of the blade against your middle finger, it feels a bit steep and 70-80% of the time I am realizing it during the play. I am forced to make an adjustment how I hold the racket, which is just a bit further away from the blade. It does not seem to affect much, but somewhere it makes you realize the trouble of thinking about it. Other than that I am about 90% happy with it and would completely agree with the performance ratings for the racket. Well, perhaps I would've corrected one thing - Speed rating, from 99 to 90, but, hey... I am only human, and I could be wrong :)
Date published: 2012-06-23
Rated 5 out of 5
by
GM1
from
Good quality paddle
I need to admit from the start that I am not a professional ping pong player, I play it as a hobby, so this review is solely my own opinion of this paddle.This is a very good quality paddle, rubber is great enough for my playing preferences, looks awesome and is very well built. Only one aspect - right out of the box I wished it was just a tiny bit heavier at first, but it is really easy to get used to. Adding weight would affect its speed, so I would rather practice for a few days before using it against a serious opponent. Overall I am very happy with this paddle.Also a tip - since I play occasionally, I did not invest any money in rubber maintenance products, but just use a clean damp lint free cloth to wipe the rubber after each play, wait for it to dry and wrap it in food plastic making sure must of air is out. This seems to work great for me and my paddle is always like new. I bought a Joola case for it and keep it in the case.All in all I like it, I recommend it and would buy it again.
Date published: 2017-01-22
Rated 5 out of 5
by
FastEddy67
from
Good racket, Great Stiga customer service
I am giving 5 stars for Escalade Sports customer service. I bought the racket and after a little use the racket handle broke completely off. Until it broke I liked the speed, control, and spin of the racket. After contacting customer service about the racket breaking, they went above and beyond my expectations with their response. I can't speak for other racket manufacturers but Escalade Sports stands behind the Stiga products. Maybe I was just unlucky with the breakage, the racket plays nice for $60.
Date published: 2015-02-02
Rated 2 out of 5
by
Pong52
from
Ok Paddle, not overly Impressed
This paddle is ok, not overly excited about it but it does the job. For $60 I was expecting more. I had the Hammer Lite but returned it because I thought it was missing something because it was so light, go figure, hence the name. The Cannon is heavier and ratings are higher but I didn't see or feel the inflated performance ratings. I am going to keep the Cannon just because, and buy the Hammer Lite again. I also played with the Stiga Supreme ($50), and the Hammer Lite for $40 outperformed them both. Keep in mind this is coming from a beginner/intermediate player.
Date published: 2013-04-05
Rated 3 out of 5
by
IdahoBaird
from
Caught It On Sale
This is my 3rd paddle and I was looking for a little upgrade when I bought this. It's list price is $60 but it was on sale for $30 when I bought. I redeemed some awards points and got it down to $20 making it a real good deal. This paddle is heavier than my others and I can tell it after an evening of play. It seems to be the extra weight that's responsible for the added ball speed I've seen.The rubbers are about the same as those on my other paddles and this one is easy to control. This paddle with its extra weight is sort of like a weighted bat in baseball. After paying with ths paddle for awhile, if I switch to one of my other paddles, it seems much lighter, just like the bat you take to the plate seems lighter.
Date published: 2018-11-13
Rated 2 out of 5
by
I4dunrun
from
Poorly priced paddle
This is a beginner paddle with a bit of a premium price. Rubbers are garbage and dont generate the amount of spin advertised. Control and speed are good. Bat is very light if you like it that way. Dont buy this product for the suggested price.
Date published: 2018-05-27
Rated 5 out of 5
by
PongSensei
from
Great Paddle!!!
I bought this paddle to play while in college. I started as practically nothing(a beginner) and now became one of the best players in my college in half a year to a year's time, and this paddle probably has a big part to do with it. With taking good care to it, I have never broken the paddle or had any real issues. I usually play with a lot of strong backspin and because of the rubber on this paddle, it has helped make my opponent to make a mistake. I have used the paddle for 1 1/2 years now and it is working great although the rubber may not be as sticky as it once was but i can still every once in a while get my opponent with my strong backspin. Also I love the Anatomic handle as it fits comfortably well in my hand. I would definitely recommend buying this paddle as it has exceeded my expectations on it. I never once doubted buying it and I'm very glad I bought it.
Date published: 2015-01-02
Rated 4 out of 5
by
Bill;s Paddle
from
Paddle Seems OK for Me
This paddle is a replacement for a less expensive Stiga paddle that I have used for 4-5 years. It was getting worn out. I am a casual player at 77 years old. I hope to qualify for the Senior Nationals in September 2014.The paddle is about the right weight for me. The speed seems good and I am able to put a little more chop and spin on the ball. I am not quick enough to bang with the top players so I use chop and spin to try for an advantage.I have only used the paddle twice, but it seems to work well for me.
Date published: 2013-08-20