Teeter LX7 Inversion Table With Comfort Cushion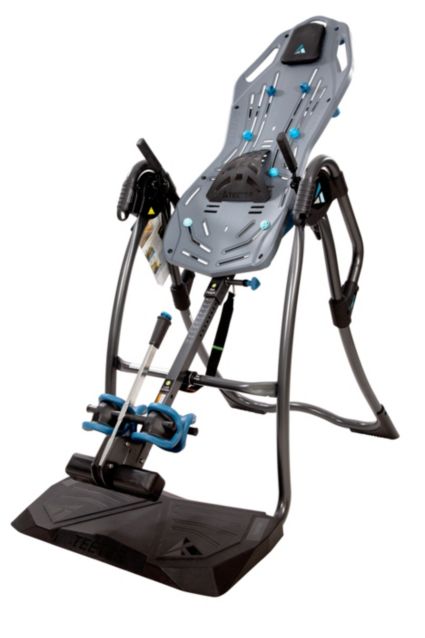 Teeter LX7 Inversion Table With Comfort Cushion
is rated out of
5
by
198
.
This product is currently out of stock.
Please choose product options above
Please choose product options above
PDP Sticky bottom AddToCart Section - active and hide position
This item requires specialized installation which, if selected, may require a separate appointment from the delivery date shown during checkout.  The assembly date and time of appointment will be scheduled once delivery is in process. The delivery date shown at checkout is an estimate of the initial delivery date only
Product Information:
Relieve back pain in style and in comfort with the Teeter® FitSpine LX-7 Inversion Table. As the premium option in the FitSpine-series, the LX7 is fitted with features and accessories to enhance relaxation and ease of use.
Invert Your Health
FDA Registered 510(k) Device
Independent Safety Certification
Auto-locking hinges, specialized pivot bearings and heat-treated steel parts
Supportive, removable microfiber foam topper
Deluxe EZ-Reach™ Ankle System
Boarding Base Frame designed to make mounting and dismounting easier
Stretch Max™ Handles
EZ-Stretch™ Traction Handles
EZ-Angle™ Tether pre-set rotational control to 20, 40, and 60 degrees
Acupressure Nodes
Lumbar Bridge
FlexTech™ Bed – An 8-point floating suspension system holds you in comfort, flexing as you move for better range of motion and support
Ergo-Embrace™ Supports pressure-reducing, wrap-around ankle cups made of specialty foam
Ankle Comfort Dial™
Precision Balancing
Height-Adjustment Shaft adjusts easily and securely for users from 4'8" – 6'6
Easily folds for storage in seconds
Additional Details
Includes Instruction Guide, Getting Started DVD, 3-D interactive assembly help via BILT mobile app, full-color Owner's Manual and U.S.-based customer support
5-year Full Warranty
Brand: Teeter
Country of Origin: Imported
Web ID: 18TEEULX7NVRSTNTBMEC
Rated 5 out of 5
by
Lee m
from
Works as stated
I admit I was Leary about the claims but in the past 30 days I have used it every day for 4 minutes at a time and the problem with my Sciatica is gone. It used to be I would not be able to walk for an hour in the morning until the pain subsided. The pain was unbearable to say the least. One effect that I did not expect was what it did for my knees. Since using this I am able to go up and down steps normally and not have to take one step with each foot on a side step basis. I'm able to take longer walks My wife uses it and her back pain has also gone away. We have recommended it to a number of people and Will continue to do so
Date published: 2018-12-09
Rated 5 out of 5
by
lkdav56
from
Terrific!!
T..Terrific E..Educational E..Energy T..Therapeutic E..Effortless R..Relaxing I purchased the Teeter FitSpine LX9 for my fiancee who was suffering with 7 bulging discs and a 20 year history of back/hip issues. This Inversion table is a miracle for him!! He uses in the morning and before bed, for five minutes to stretch. He has mentioned that this is the first time that he is "pain free in over 20 years" which is truly amazing and life changing. I have lower back issues as well and this table has helped me realign, feel and sleep better each night. We are so grateful-Thank you for helping us live a better life each day!! Take care, Lynda Davis
Date published: 2019-01-30
Rated 5 out of 5
by
carlb1959
from
First Impressions
I went into this hopeful. I had been getting some relief from lower back pain and sciatic nerve aggravation by having traction performed once a week. Now, with a 1-2 times a day inversion, I notice significantly less discomfort. Waking up without stiffness is an experience I have missed, only I did not know how much. I am about to go on some business travel and I will miss having the opportunity to invert while away. I am hoping the corrections performed in the last month will provide some resistance to recurrence during these travels with 12 hour flights. I will update as I return and can better assess the longevity of the daily inversions
Date published: 2018-11-26
Rated 4 out of 5
by
Prof68
from
Not exactly built for the height challenged.
I purchased th XL-9 about 2 months ago. I was miserable due to cervical, thoracic and lumbar disc problems and stenosis. The medical community was not helping, so after many years of horrific pain, I took matters into my own hands. Setting the Teeter up for my 5'2" body (down from 5'4") was a little tricky, but I use it for about 10 min./day twice a week.I have cut back on medications and I can safely say, It is worth the expense. My balance has improved and my pain levels are, to me, tolerable, which allows me to work an eight hour day as a field mechanic. This is the most relief I've gotten in twenty five+ years. I'll be 69 years old in December and am looking to continue working until the day I die.
Date published: 2018-10-13
Rated 5 out of 5
by
Pappa53
from
The FitSpine LX9 is a Solid Machine!
I wish I would had bought the Teeter years ago. I've had my Teeter less than a month and have used it almost every day. It has made a world Of difference. I no longer have the lower back pain I went to the doctor for. I asked my Doctor at Spine Works if the Teeter was OK to use and he said yes with the condition I had with my Lower Lumbar. I highly Recommend the Teeter to everyone with back issues who have had it cleared through their Doctor! I am pain free now. For those with No Back Problems, I believe it is a Great add to your work outs! I have not progressed to the 90 Degree inversion yet, but I will be there as soon as I feel comfortable.
Date published: 2019-04-06
Rated 5 out of 5
by
Spiderman
from
Great pain relief!
This is the best back pain relief I have found! The LX9 is easy to assemble and adjust. After only a few sessions on the table I began to feel relief from a nagging lower back pain that had rendered me useless. I'm 67 years old and have always been active in work and play. My back would periodically become a problem and would not let me do even simple chores around the house. This last episode was enough. I had seen the Teeter advertised on tv and I talked to a friend who had purchased one. I decided to try it. Man! I'm glad I did! My back feels better than it has in years! No more Chiropractors for me! Thanks for a great product!
Date published: 2019-02-18
Rated 5 out of 5
by
freshtip1
from
Loving my new Teeter!
I've had my Teeter about 5 weeks now, and it has made a significant difference for me. I used to come home from work with pain, tightness, and general discomfort in my lower back. Now when I get home I can get on the Teeter, and in less than 5 minutes my back has loosened up and the tightness from standing most of the day has melted away. Many of the symptoms that kept me from doing the things I want to have subsided, and my back issues have become much more manageable. I have also used other inversion tables, and I must say Teeter is the only brand I would consider purchasing. The competition cannot match the materials and craftsmanship of Teeter hangups. Many Thanks, Roger Teeter!
Date published: 2019-01-05
Rated 5 out of 5
by
Captain Fun
from
Stay healthy and play hard!
I bought my teeter after missing one day of work and not being able to play with my grandchildren. My lower back has been pain free after starting the teeter exercises. I'm 62 years old and I'm back to playing like a youngster again! Water skiing, snow skiing, motocross, and playing with my grandchildren. I have worked at the Kennedy Space Center and related to Mr Teeters technical insight and his sports activity. I'm also the coach of a world class athlete that held the World slalom record for 7 years. Staying healthy is very important!
Date published: 2019-02-10