Thule Trailway 4-Bike Hitch Vehicle Rack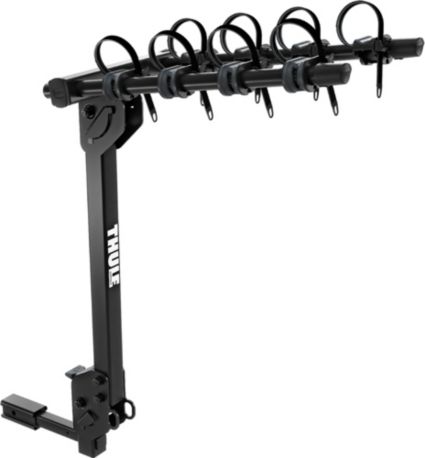 Thule Trailway 4-Bike Hitch Vehicle Rack
is rated out of
5
by
118
.
This product is currently out of stock.
Please choose product options above
Please choose product options above
PDP Sticky bottom AddToCart Section - active and hide position
Product Information:
The Thule® Trailway 4-Bike Hitch Rack provides multiple frame spots for you and your fellow cycling enthusiasts. This car rack fits both 1 ¼" and 2" receivers with the included adaptor. Fit up to 4 bikes in the anti-sway cages for secured protection. When you're away from the trails, the switch levers allow arms to fold down and tilt the carrier away from the vehicle.
FEATURES:
Carries up to 4 bikes
Fits both 1 ¼" and 2" hitch receivers with the included adaptor
Bike cradles with detachable anti-sway cages hold bikes securely and prevent bike-to-bike and bike-to-vehicle contact
Hitch switch levers allows arms to fold down when not in use and tilts carrier away from vehicle for trunk, hatch or tailgate access
High-strength steel construction
Brand: Thule
Country of Origin: United States of America
Style: 959
Web ID: 16THUUTRLWY4BKHTCHTC
Rated 2 out of 5
by
Jennifer YT
from
Needs more parts.
The rack is nice but the hex bolt they give you for attaching it to your hitch is a complete joke. The threads strip regardless of how careful you are and it doesn't go all the way through the hitch which left me with concerns that the rack would fly off my car. Also, it doesn't fit tightly into my hitch so it does bounce around a little. They will sell you a better part, naturally but I would expect it to come with a bolt to fully mount the rack. Luckily I have access to a drill press so we bored the hole to a standard size and used a locking pin. That is honestly the only reason I didn't return it. I'm sure there are better racks than this one.
Date published: 2017-05-02
Rated 3 out of 5
by
John P.
from
Adequate Bike Rack
Is an adequate bike rack, but not exceptional. Purchased for a 2012 Jeep Wragler and discovered that you still cannot open the rear door (even with the arm lowered) as the spare tire will not clear the rack.The biggest issue I have with the unit is the hitch attachment. It attaches to the hitch on your vehicle with a bolt and not a hitch pin (preferrably a locking hitch pin). So anyone with a pair of pliers can remove the hitch from your vehicle in about 1-minute. You can put a locking chain to help prevent this, but its a very poor design. I ended up purchasing an extended lock (literaly a padlock) and using it plus a locking chain.
Date published: 2013-05-07
Rated 3 out of 5
by
Bobr47
from
OK, but not the easiest to put multiple bikes on.
Really wild angle for women's bikes unless you add an after bar that mimics the upper bar of men's bikes. I need to alternate between mounting the rack on the rear of an RV and a Honda CRV. It would be easier and arguably more secure if the bar that fits into the receiver hitch had the standard through holes instead of the threaded bolt, enabling the rack to be locked in place. And, the rubber supports for the bikes can be difficult to position to match a clear point on a frame. Those drawbacks aside, it is a sturdy rack and the hinge points work flawlessly. This particular rack would be fine for some people but not everyone.
Date published: 2016-07-26
Rated 1 out of 5
by
PSNF
from
Not worth it!
I bought four mountain bikes from Dick's and this 4-bike hitch vehicle rack, the rack is not user friendly. I would need to buy adapters for all 4 bikes and the lock so you add all the extra money I don't like it, it's going back. A simple lynch pin would be so much easier. Right now with no bikes loaded the arm is wobbly in the hitch. And, once loaded up, the bikes are super close to each other. It's like a puzzle trying to get the handle bars to interlock properly. Now looking at a 4 bike Pro XTB platform about $940, easier to load and unload and I feel more secure. Yes more expensive but reviews indicate super quality, easy to use and one-time investment.
Date published: 2018-05-10
Rated 3 out of 5
by
Conch57
from
Thule Trailway 959 Bike Carrier for 4 bikes
We bought this Thule bike carrier (Trailway 959) on the strength of a Thule 2-bike carrier that our daughter and son-in-law use that is strong, easy to use and reliable. This 4-bike carrier has those attributes, but the horizontal arm on which the bikes rest needs to be longer to fit 4 bikes on it without straining beyond human imagination your spatial engineering capacities. We simply could not get 4 bikes on it (2 guys, 2 girls bikes). Three can be loaded on it ok, with some creativity and physical strength. We could not find a way to configure loading on 4 adult bikes in any way that would fit. Thule or Dick's needs to add further instructions and photos to prove it can be done, and to demonstrate how. Otherwise, they should stop advertising this as a 4 bike carrier. Note, searching on the Thule website for this product results in a "no results" response to the search query. Looks like Dick's has this product specifically made for their stores.
Date published: 2016-12-31
Rated 1 out of 5
by
BigDaddy68
from
Very Disappointed...
I bought this product the night before a 3 week roadtrip. The box stated it was the "most durable and functional rack system in the world." I immediately noticed there was no cotter pin to secure the bolt that keeps the rack inserted into the car hitch. About a week into the trip, the bolt kept coming loose. I had to stop every hour or so just to check and tighten the bolt so the rack wouldn't fall off my vehicle. About 2 weeks into the trip, one of the straps that holds a bike in broke. Several replacement straps are included, but it seems too soon for things to start breaking. At this rate, I'd use up all the straps in less than a year. I'm ver disappointed in this product.
Date published: 2018-07-11
Rated 5 out of 5
by
Wordy
from
Chose this over many others
I needed to upgrade from an old 2 bike carrier to a larger 4 bike rack, and the choices are plenty. After lots of researching, I narrowed my choices down to 3. I wanted a rack that had; anti sway cradles; easy to use tilt back feature (meaning an easy release lever vs pins); was solidly constructed; lockable to the receiver; and I wanted to be able to fold down the arms as well , (again with an easy release lever). This is handy to me for either getting in the garage or while in the parking lot of a trailhead to minimize the chance of someone running into it.At first glance I was sold on the Yakima Ridgeback 4. It seemed to check all the boxes and it's a very sharp looking rack as well. Unfortunately several reviewers on Amazon claimed that the rack broke at the 90 by the base. It appears at least some of these people had it on the back of an RV or trailer, (which apparantly Yakima now claims will void the warranty) and is not recommended. This is apparently due to extra rocking and bouncing being on a long wheel base vehicle. OK, that makes sense but still, it scares me about it's durability. Even if a trailer or RV bounces 10 times what my minivan does, does that mean there is a finite number of bounces until the rack fails? I didn't want to take the chance so ruled that one out.I also considered the Softride dura 4. It appears solidly built and I also like the idea that you can tilt it back with the bikes on, this seems very convenient to me and as far as I know is one of the few carriers that can do this. Reviewers did state though that with bikes on it, it is HEAVY to get back up in place, (probably why they came out with a hydraulic assisted one). Anyhow what finally crossed this one off my list was it isn't able to fold the arms down. Yes, you can take them off and put them in the trunk but that seems an extra hassle. Plus, what if you decide to just leave them on as you go riding, it sounds like anyone could just pull them off, (as far as I know they don't lock).So, that led me to the Thule Trailway. At first look I wasn't sure how it tilted back or the arms fold down until I saw one at Dicks. It does indeed have very easy to manipulate levers which you simply pull on, (similar to the Yakima). The Trailway I believe is also manufactured specifically for Dicks or some other big box stores as you won't find it on Thule's site. Another dealer said it was identical to the Hitching post Pro or the parkway but from what I've seen, this isn't true. Those both use a pin and clip system to tilt back or fold the arms. The quick release levers on the Trailway are awesome and super easy to use, no fussing around trying to align holes, etc. Plus, at only $199 it's a steal. That's 100 cheaper than the Yakima and Softride mentioned earlier. The only box it didn't check for me was an included lock to the receiver. Thule does sell these for around $50 I believe, (seems like a lot for what you're getting), however that still leaves this rack $50 below the competition. Finally, congrats if you've read this far, but I often read people have issues putting 4 bikes on 4 bike racks. Just for reference I have 2 24" Diamondbacks, one 20" Diamondback and one older Novara safari. I was able to install all four with out much issue. I found it easier to rotate all the cradles inward before putting on the bikes one at a time. Then roll the cradles around as you need once you get the bike in place. Oh, that's another plus for the Thule in that the cradles move, (not easily), allowing you to position them for the best fit. Again, I was able to get all four of these bikes on relatively easily without any top bar adapters.I would definitely recommend this rack, for the price I think it's very hard to beat.
Date published: 2016-07-11
Rated 5 out of 5
by
romejette
from
Perfect For Long Trips
I bought this at the last moment before a 1400 mile drive from Chicago to South Texas. I did a quick review of the reviews and was concerned it would be troublesome to install and mount my two bikes. I bought the 4 bike rack to be safe. My Jeep Cherokee had a factory installed hitch - and as my wife watched skeptically, the rack was securly mounted in less than five minutes - and most of that time was spent tightening the "lynch pin bolt" with the supplied wrench. Took a moment to figure out the heavy-duty rubber straps but in another few minutes, my two bikes were securely loaded. Taking the bikes off was a snap. No problem to load/unload the car with the rack installed - but maybe not with the bikes on it - you will likely want to take the bikes off to get in the back so pack accordingly. Driving with the rack was effortless and I could still use the back up cammera without any trouble. Only issue is that the rack is bolted into the hitch - rather than using a simple lynch pin. So you may want to have the right socket rench ready if you don't want to leave it on the car - or spend $60 for the special Thue locking adaptor if you want to easily remove and replace the rack every week. I highly recomend this bike rack for 2-3 bikes. You may need supernatureal spatial relationship skills for 4 bikes...
Date published: 2018-04-30