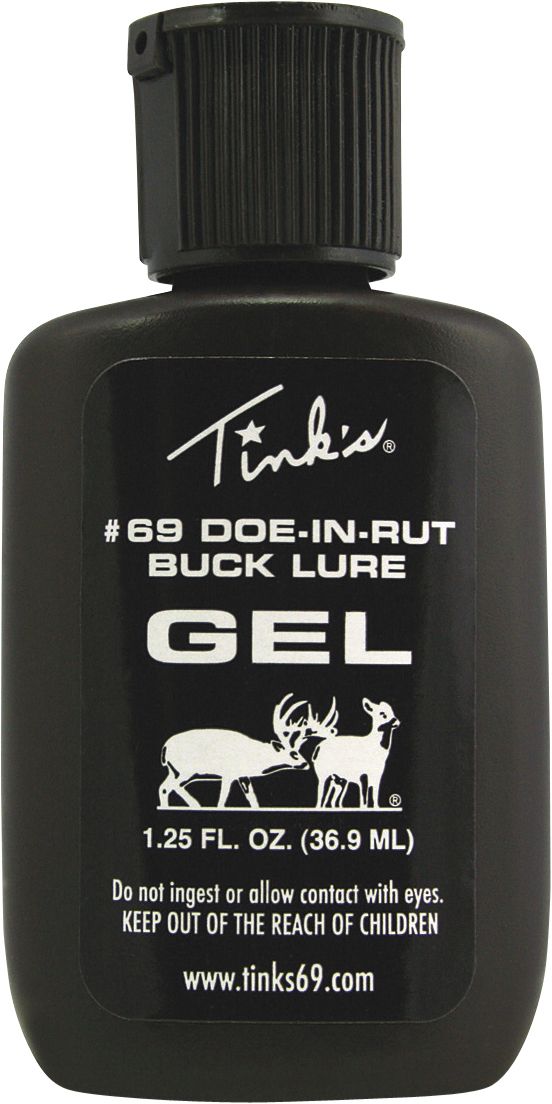 Out of Stock
Tink's #69 Doe-in-Rut Gel Buck Lure
Tink's #69 Doe-in-Rut Gel Buck Lure
is rated out of
5
by
7
.
Product Information:
This is the scent lure that started it all: Tink's® #69 Doe-in-Rut® Buck Lure in gel form. This 1-1/4 oz. bottle contains 100% natural doe estrous urine collected from whitetail does in heat. The easy squirt top allows you to apply this scent as you see fit.
Features:
#69 Doe-in-Rut® 1-1/4 oz. gel
Equivalent to 1 oz. of liquid
Great for inclement weather because it sticks to other materials
Use with drag rags, boot pads, Tink's® Scent Bombs, or in scrapes
Brand: Tink's
Country of Origin: United States of America
Web ID: 16TINUTNKS69125ZGHBG
Rated

1

out of

5
by
Anonymous
from
Who knows ?
I have been using this product for many years in one form or another. I have never seen any direct effect on any deer at any time. But I buy it any way. It has been tradition and this year I bought 2 bottles. I urge all deer hunters to use Tinks products they give you many hours of entertainment the Day after ThanksGiving when you 12 feet up a tree in 10 degree temps for nine hours. Believe me that is not the time to have moment of clarity.
Date published: 2015-11-18
Rated

1

out of

5
by
Anonymous
from
Didn't like that much..
The smell is not strong. I couldn't get any smell, and I wonder how a buck is going get the smell from far away.
Date published: 2015-09-30
Rated

1

out of

5
by
Anonymous
from
Very dis-appointed, no smell must be old?
The bottle must have been old? The gel had no smell and I was not able to use it. I think it was on sale for $6.00. Not sure it's worth taking back. I'm told by some fellow hunters to not buy the gel because they have had similar problems.
Date published: 2014-11-19
Rated

3

out of

5
by
Anonymous
from
Gel is worth it.
Bought this gel on my birthday went out on the weekend and used it for scent cover as i walked among the hills smell stayed strong for a good few hours and the stuff will stay on your shoes for days after the hunt.
Date published: 2014-10-28
Rated

5

out of

5
by
Anonymous
from
Tinks gel
Brings bucks closer. I like to squirt a little gel into a napkin( biodegradable) and place small pieces of it around my tree stand. Approximately 25 yards out. I killed a big 8 last year during archery and can't wait till this year good luck.
Date published: 2013-11-13
Rated

1

out of

5
by
Anonymous
from
Liquid works better
I attempted to try this gel out last season. The sent of the gel is not nearly as pungent as the liquid tink's. I never had a buck show any interest. Half way through the season I switched over to the liquid tink's in a scent bomb. The difference was astounding. I had a buck walk by my stand, stop, turn around and come back to put his nose into the scent bomb. I do not recommend the gel. The liquid works way better and carries a more potent smell.
Date published: 2011-11-06
Rated

2

out of

5
by
Anonymous
from
USE THE LIQUID FORM
THIS GEL DON'T WANT TO STICK TO ANYTHING !! IT JUST ROLLS OFF EVERYTHING ?? TINK'S 69 IS A GREAT ONE BUT THE GEL JUST DIDN'T WORK FOR ME !!! NEXT BOTTLE WILL BE THE LIQUID..
Date published: 2010-11-16