Under Armour Kids' Highlight RM Football Cleats
The price of the product might be updated based on your selection
{ "warrantyData" : [ { "ProductSKU" : "18691095", "ProductUniqueId" : "4055458", "warrantySKUS" : [ ] }, { "ProductSKU" : "18691096", "ProductUniqueId" : "4055459", "warrantySKUS" : [ ] }, { "ProductSKU" : "18691097", "ProductUniqueId" : "4055460", "warrantySKUS" : [ ] }, { "ProductSKU" : "18691098", "ProductUniqueId" : "4055461", "warrantySKUS" : [ ] }, { "ProductSKU" : "18691099", "ProductUniqueId" : "4055462", "warrantySKUS" : [ ] }, { "ProductSKU" : "18691101", "ProductUniqueId" : "4055463", "warrantySKUS" : [ ] }, { "ProductSKU" : "18691103", "ProductUniqueId" : "4055464", "warrantySKUS" : [ ] }, { "ProductSKU" : "18691105", "ProductUniqueId" : "4055465", "warrantySKUS" : [ ] }, { "ProductSKU" : "18691107", "ProductUniqueId" : "4055466", "warrantySKUS" : [ ] }, { "ProductSKU" : "18691109", "ProductUniqueId" : "4055467", "warrantySKUS" : [ ] }, { "ProductSKU" : "18691111", "ProductUniqueId" : "4055468", "warrantySKUS" : [ ] }, { "ProductSKU" : "18691126", "ProductUniqueId" : "4055469", "warrantySKUS" : [ ] }, { "ProductSKU" : "18691128", "ProductUniqueId" : "4055470", "warrantySKUS" : [ ] }, { "ProductSKU" : "18691130", "ProductUniqueId" : "4055471", "warrantySKUS" : [ ] }, { "ProductSKU" : "18691132", "ProductUniqueId" : "4055472", "warrantySKUS" : [ ] }, { "ProductSKU" : "18691134", "ProductUniqueId" : "4055473", "warrantySKUS" : [ ] }, { "ProductSKU" : "18691136", "ProductUniqueId" : "4055474", "warrantySKUS" : [ ] }, { "ProductSKU" : "18691137", "ProductUniqueId" : "4055475", "warrantySKUS" : [ ] }, { "ProductSKU" : "18691138", "ProductUniqueId" : "4055476", "warrantySKUS" : [ ] }, { "ProductSKU" : "18691139", "ProductUniqueId" : "4055477", "warrantySKUS" : [ ] }, { "ProductSKU" : "18691140", "ProductUniqueId" : "4055478", "warrantySKUS" : [ ] }, { "ProductSKU" : "18691141", "ProductUniqueId" : "4055479", "warrantySKUS" : [ ] }, { "ProductSKU" : "18691143", "ProductUniqueId" : "4055480", "warrantySKUS" : [ ] }, { "ProductSKU" : "18691144", "ProductUniqueId" : "4055481", "warrantySKUS" : [ ] }, { "ProductSKU" : "18691145", "ProductUniqueId" : "4055482", "warrantySKUS" : [ ] }, { "ProductSKU" : "18691146", "ProductUniqueId" : "4055483", "warrantySKUS" : [ ] }, { "ProductSKU" : "18691147", "ProductUniqueId" : "4055484", "warrantySKUS" : [ ] }, { "ProductSKU" : "18691149", "ProductUniqueId" : "4055485", "warrantySKUS" : [ ] }, { "ProductSKU" : "18691151", "ProductUniqueId" : "4055486", "warrantySKUS" : [ ] }, { "ProductSKU" : "18691153", "ProductUniqueId" : "4055487", "warrantySKUS" : [ ] }, { "ProductSKU" : "18691155", "ProductUniqueId" : "4055488", "warrantySKUS" : [ ] }, { "ProductSKU" : "18691157", "ProductUniqueId" : "4055489", "warrantySKUS" : [ ] }, { "ProductSKU" : "18691159", "ProductUniqueId" : "4055490", "warrantySKUS" : [ ] }, { "ProductSKU" : "18730117", "ProductUniqueId" : "4055491", "warrantySKUS" : [ ] }, { "ProductSKU" : "18730118", "ProductUniqueId" : "4055492", "warrantySKUS" : [ ] }, { "ProductSKU" : "18730121", "ProductUniqueId" : "4055493", "warrantySKUS" : [ ] }, { "ProductSKU" : "18730123", "ProductUniqueId" : "4055494", "warrantySKUS" : [ ] }, { "ProductSKU" : "18730125", "ProductUniqueId" : "4055495", "warrantySKUS" : [ ] }, { "ProductSKU" : "18730127", "ProductUniqueId" : "4055496", "warrantySKUS" : [ ] }, { "ProductSKU" : "18730129", "ProductUniqueId" : "4055497", "warrantySKUS" : [ ] }, { "ProductSKU" : "18730131", "ProductUniqueId" : "4055498", "warrantySKUS" : [ ] }, { "ProductSKU" : "18730133", "ProductUniqueId" : "4055499", "warrantySKUS" : [ ] }, { "ProductSKU" : "18730135", "ProductUniqueId" : "4055500", "warrantySKUS" : [ ] }, { "ProductSKU" : "18730136", "ProductUniqueId" : "4055501", "warrantySKUS" : [ ] }, { "ProductSKU" : "18730146", "ProductUniqueId" : "4055502", "warrantySKUS" : [ ] }, { "ProductSKU" : "18730148", "ProductUniqueId" : "4055503", "warrantySKUS" : [ ] }, { "ProductSKU" : "18730149", "ProductUniqueId" : "4055504", "warrantySKUS" : [ ] }, { "ProductSKU" : "18730151", "ProductUniqueId" : "4055505", "warrantySKUS" : [ ] }, { "ProductSKU" : "18730153", "ProductUniqueId" : "4055506", "warrantySKUS" : [ ] }, { "ProductSKU" : "18730155", "ProductUniqueId" : "4055507", "warrantySKUS" : [ ] }, { "ProductSKU" : "18730157", "ProductUniqueId" : "4055508", "warrantySKUS" : [ ] }, { "ProductSKU" : "18730159", "ProductUniqueId" : "4055509", "warrantySKUS" : [ ] }, { "ProductSKU" : "18730161", "ProductUniqueId" : "4055510", "warrantySKUS" : [ ] }, { "ProductSKU" : "18730163", "ProductUniqueId" : "4055511", "warrantySKUS" : [ ] }, { "ProductSKU" : "18730165", "ProductUniqueId" : "4055512", "warrantySKUS" : [ ] }, { "ProductSKU" : "18739354", "ProductUniqueId" : "4055513", "warrantySKUS" : [ ] }, { "ProductSKU" : "18739356", "ProductUniqueId" : "4055514", "warrantySKUS" : [ ] }, { "ProductSKU" : "18739359", "ProductUniqueId" : "4055515", "warrantySKUS" : [ ] }, { "ProductSKU" : "18739361", "ProductUniqueId" : "4055516", "warrantySKUS" : [ ] }, { "ProductSKU" : "18739362", "ProductUniqueId" : "4055517", "warrantySKUS" : [ ] }, { "ProductSKU" : "18739364", "ProductUniqueId" : "4055518", "warrantySKUS" : [ ] }, { "ProductSKU" : "18739366", "ProductUniqueId" : "4055519", "warrantySKUS" : [ ] }, { "ProductSKU" : "18739368", "ProductUniqueId" : "4055520", "warrantySKUS" : [ ] }, { "ProductSKU" : "18739371", "ProductUniqueId" : "4055521", "warrantySKUS" : [ ] }, { "ProductSKU" : "18739372", "ProductUniqueId" : "4055522", "warrantySKUS" : [ ] }, { "ProductSKU" : "18739374", "ProductUniqueId" : "4055523", "warrantySKUS" : [ ] }, { "ProductSKU" : "18739355", "ProductUniqueId" : "4055524", "warrantySKUS" : [ ] }, { "ProductSKU" : "18739357", "ProductUniqueId" : "4055525", "warrantySKUS" : [ ] }, { "ProductSKU" : "18739358", "ProductUniqueId" : "4055526", "warrantySKUS" : [ ] }, { "ProductSKU" : "18739360", "ProductUniqueId" : "4055527", "warrantySKUS" : [ ] }, { "ProductSKU" : "18739363", "ProductUniqueId" : "4055528", "warrantySKUS" : [ ] }, { "ProductSKU" : "18739365", "ProductUniqueId" : "4055529", "warrantySKUS" : [ ] }, { "ProductSKU" : "18739367", "ProductUniqueId" : "4055530", "warrantySKUS" : [ ] }, { "ProductSKU" : "18739369", "ProductUniqueId" : "4055531", "warrantySKUS" : [ ] }, { "ProductSKU" : "18739370", "ProductUniqueId" : "4055532", "warrantySKUS" : [ ] }, { "ProductSKU" : "18739373", "ProductUniqueId" : "4055533", "warrantySKUS" : [ ] }, { "ProductSKU" : "18739375", "ProductUniqueId" : "4055534", "warrantySKUS" : [ ] } ] }
PROTECTION PLAN
(optional)
Info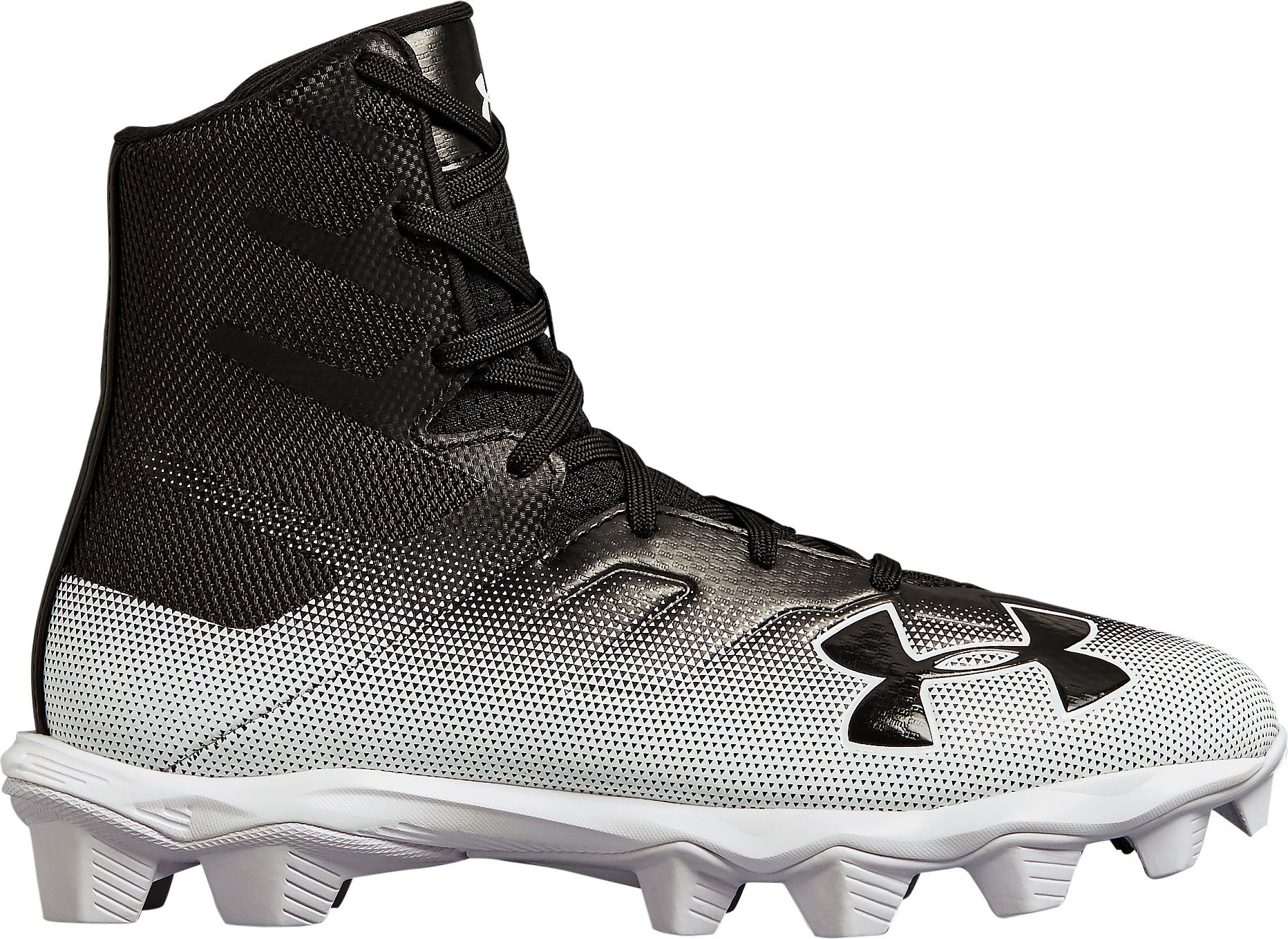 Under Armour Kids' Highlight RM Football Cleats
Selected Option Not Available to Ship
Selected Option Not Available For Pickup
PDP Sticky bottom AddToCart Section - active and hide position
This product is currently out of stock.
Please choose product options above
Please choose product options above
Help your child find their path to the end zone in the Highlight RM. A performance synthetic upper with textile collar offers them a durable lightweight fit. An external TPU ankle cage enhances stability and improves support. The Under Armour® Highlight RM football cleat has a die-cut EVA sockliner that provides them with exceptional comfort and underfoot durability. A rubber molded spike plate delivers maximum traction and stability on a variety of surfaces.
FEATURES:
Performance synthetic upper combined with textile collar delivers a lightweight fit and durable support
Open-holed mesh tongue construction for enhanced ventilation
External TPU ankle cage for ultimate stability
Extended eyerow cut-outs for better ease of entry and superior flexibility
Die-cut EVA sockliner for excellent comfort and durability under the foot
Rubber molded cleats provide aggressive traction on all surfaces with a lightweight, comfortable feel
Brand: Under Armour
Country of Origin: Imported
Style: 3000195
Web ID: 18UARYHGHLGHTRMJRRBB