Under Armour Men's Banshee Mid MC Lacrosse Cleats
The price of the product might be updated based on your selection
{ "warrantyData" : [ { "ProductSKU" : "18070050", "ProductUniqueId" : "3668697", "warrantySKUS" : [ ] }, { "ProductSKU" : "18070051", "ProductUniqueId" : "3668698", "warrantySKUS" : [ ] }, { "ProductSKU" : "18070052", "ProductUniqueId" : "3668699", "warrantySKUS" : [ ] }, { "ProductSKU" : "18070053", "ProductUniqueId" : "3668700", "warrantySKUS" : [ ] }, { "ProductSKU" : "18070054", "ProductUniqueId" : "3668701", "warrantySKUS" : [ ] }, { "ProductSKU" : "18070055", "ProductUniqueId" : "3668702", "warrantySKUS" : [ ] }, { "ProductSKU" : "18070056", "ProductUniqueId" : "3668703", "warrantySKUS" : [ ] }, { "ProductSKU" : "18070057", "ProductUniqueId" : "3668704", "warrantySKUS" : [ ] }, { "ProductSKU" : "18070058", "ProductUniqueId" : "3668705", "warrantySKUS" : [ ] }, { "ProductSKU" : "18070059", "ProductUniqueId" : "3668706", "warrantySKUS" : [ ] }, { "ProductSKU" : "18070060", "ProductUniqueId" : "3668707", "warrantySKUS" : [ ] }, { "ProductSKU" : "18070061", "ProductUniqueId" : "3668708", "warrantySKUS" : [ ] }, { "ProductSKU" : "18070062", "ProductUniqueId" : "3668709", "warrantySKUS" : [ ] }, { "ProductSKU" : "18070063", "ProductUniqueId" : "3668710", "warrantySKUS" : [ ] }, { "ProductSKU" : "18070064", "ProductUniqueId" : "3668711", "warrantySKUS" : [ ] }, { "ProductSKU" : "18070065", "ProductUniqueId" : "3668712", "warrantySKUS" : [ ] }, { "ProductSKU" : "18070097", "ProductUniqueId" : "3668714", "warrantySKUS" : [ ] }, { "ProductSKU" : "18070098", "ProductUniqueId" : "3668715", "warrantySKUS" : [ ] }, { "ProductSKU" : "18070099", "ProductUniqueId" : "3668716", "warrantySKUS" : [ ] }, { "ProductSKU" : "18070100", "ProductUniqueId" : "3668717", "warrantySKUS" : [ ] }, { "ProductSKU" : "18070101", "ProductUniqueId" : "3668718", "warrantySKUS" : [ ] }, { "ProductSKU" : "18070102", "ProductUniqueId" : "3668719", "warrantySKUS" : [ ] }, { "ProductSKU" : "18070103", "ProductUniqueId" : "3668720", "warrantySKUS" : [ ] }, { "ProductSKU" : "18070104", "ProductUniqueId" : "3668721", "warrantySKUS" : [ ] }, { "ProductSKU" : "18070105", "ProductUniqueId" : "3668722", "warrantySKUS" : [ ] }, { "ProductSKU" : "18070106", "ProductUniqueId" : "3668723", "warrantySKUS" : [ ] }, { "ProductSKU" : "18070107", "ProductUniqueId" : "3668724", "warrantySKUS" : [ ] }, { "ProductSKU" : "18070108", "ProductUniqueId" : "3668725", "warrantySKUS" : [ ] }, { "ProductSKU" : "18070109", "ProductUniqueId" : "3668726", "warrantySKUS" : [ ] }, { "ProductSKU" : "18070110", "ProductUniqueId" : "3668727", "warrantySKUS" : [ ] }, { "ProductSKU" : "18070111", "ProductUniqueId" : "3668728", "warrantySKUS" : [ ] }, { "ProductSKU" : "18070349", "ProductUniqueId" : "3668746", "warrantySKUS" : [ ] }, { "ProductSKU" : "18070351", "ProductUniqueId" : "3668747", "warrantySKUS" : [ ] }, { "ProductSKU" : "18070353", "ProductUniqueId" : "3668748", "warrantySKUS" : [ ] }, { "ProductSKU" : "18070355", "ProductUniqueId" : "3668749", "warrantySKUS" : [ ] }, { "ProductSKU" : "18070357", "ProductUniqueId" : "3668750", "warrantySKUS" : [ ] }, { "ProductSKU" : "18070358", "ProductUniqueId" : "3668751", "warrantySKUS" : [ ] }, { "ProductSKU" : "18070359", "ProductUniqueId" : "3668752", "warrantySKUS" : [ ] }, { "ProductSKU" : "18070360", "ProductUniqueId" : "3668753", "warrantySKUS" : [ ] }, { "ProductSKU" : "18070361", "ProductUniqueId" : "3668754", "warrantySKUS" : [ ] }, { "ProductSKU" : "18070362", "ProductUniqueId" : "3668755", "warrantySKUS" : [ ] }, { "ProductSKU" : "18070363", "ProductUniqueId" : "3668756", "warrantySKUS" : [ ] }, { "ProductSKU" : "18070364", "ProductUniqueId" : "3668757", "warrantySKUS" : [ ] }, { "ProductSKU" : "18070365", "ProductUniqueId" : "3668758", "warrantySKUS" : [ ] }, { "ProductSKU" : "18070366", "ProductUniqueId" : "3668759", "warrantySKUS" : [ ] }, { "ProductSKU" : "18070367", "ProductUniqueId" : "3668760", "warrantySKUS" : [ ] } ] }
PROTECTION PLAN
(optional)
Info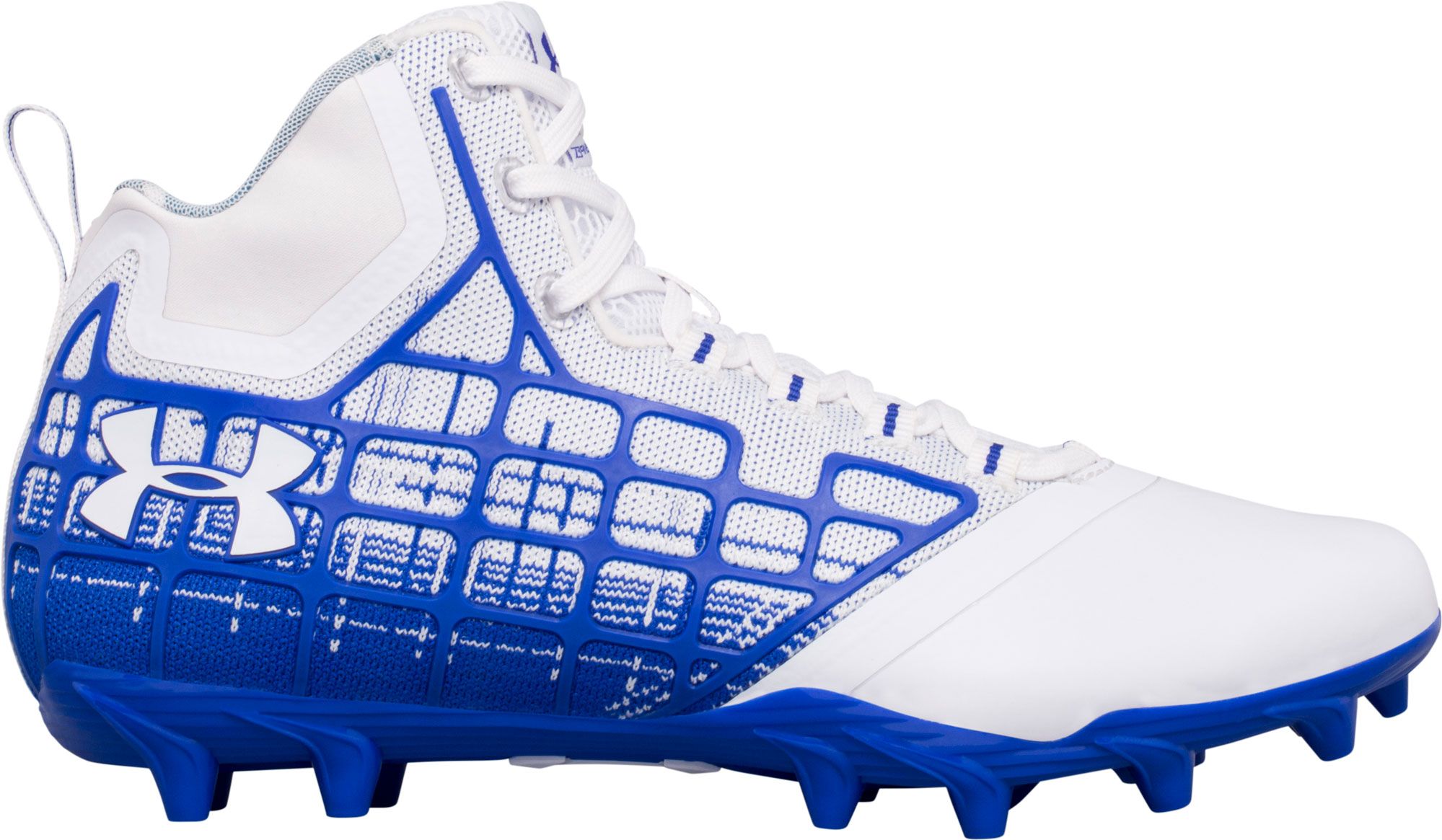 Under Armour Men's Banshee Mid MC Lacrosse Cleats
Selected Option Not Available to Ship
Selected Option Not Available For Pickup
PDP Sticky bottom AddToCart Section - active and hide position
This product is currently out of stock.
Please choose product options above
Please choose product options above
Boost your play and look good doing it in the Banshee MC. A fully knit upper with synthetic toe box provides you with sung lightweight fit, optimal support and unmatched breathability. A polyurethane support cage improves lateral stability and secures the midfoot for better support. The Under Armour® Banshee MC lacrosse cleat has a 4D Foam® footbed that minimizes cleat pressure and molds to your foot for added comfort. A molded TPU plate with secondary cleats provide exceptional traction, speed and cutbacks for enhanced performance.
FEATURES:
Fully knit upper provides a snug, sock-like fit and feel for lightweight support
Mesh tongue for increased ventilation
Engineered synthetic material covers the toe box for enhanced durability
Neoprene ankle collar for extended support and a secure fit
PU support cage built locks in the midfoot and helps support lateral movements on the field
4D Foam® footbed reduces cleat pressure and forms to the foot for optimal comfort
Molded TPU plate is designed to be lightweight and provide superior traction on a variety of surfaces
Secondary cleats engage the field to provide an added bite for razor sharp cuts and explosive acceleration
Weight: 10.9 oz
Brand: Under Armour
Country of Origin: Imported
Style: 1297351
Web ID: 17UARMBNSHMDMCWHTLAX