Under Armour Men's Leadoff Mid RM Baseball Cleats
The price of the product might be updated based on your selection
{ "warrantyData" : [ { "ProductSKU" : "18065533", "ProductUniqueId" : "3633313", "warrantySKUS" : [ ] }, { "ProductSKU" : "18065534", "ProductUniqueId" : "3633314", "warrantySKUS" : [ ] }, { "ProductSKU" : "18065535", "ProductUniqueId" : "3633315", "warrantySKUS" : [ ] }, { "ProductSKU" : "18065536", "ProductUniqueId" : "3633316", "warrantySKUS" : [ ] }, { "ProductSKU" : "18065537", "ProductUniqueId" : "3633317", "warrantySKUS" : [ ] }, { "ProductSKU" : "18065538", "ProductUniqueId" : "3633318", "warrantySKUS" : [ ] }, { "ProductSKU" : "18065539", "ProductUniqueId" : "3633319", "warrantySKUS" : [ ] }, { "ProductSKU" : "18065540", "ProductUniqueId" : "3633320", "warrantySKUS" : [ ] }, { "ProductSKU" : "18065541", "ProductUniqueId" : "3633321", "warrantySKUS" : [ ] }, { "ProductSKU" : "18065542", "ProductUniqueId" : "3633322", "warrantySKUS" : [ ] }, { "ProductSKU" : "18065543", "ProductUniqueId" : "3633323", "warrantySKUS" : [ ] }, { "ProductSKU" : "18065544", "ProductUniqueId" : "3633324", "warrantySKUS" : [ ] }, { "ProductSKU" : "18065545", "ProductUniqueId" : "3633325", "warrantySKUS" : [ ] }, { "ProductSKU" : "18065567", "ProductUniqueId" : "3633330", "warrantySKUS" : [ ] }, { "ProductSKU" : "18065568", "ProductUniqueId" : "3633331", "warrantySKUS" : [ ] }, { "ProductSKU" : "18065569", "ProductUniqueId" : "3633332", "warrantySKUS" : [ ] }, { "ProductSKU" : "18065570", "ProductUniqueId" : "3633333", "warrantySKUS" : [ ] }, { "ProductSKU" : "18065572", "ProductUniqueId" : "3633334", "warrantySKUS" : [ ] }, { "ProductSKU" : "18065574", "ProductUniqueId" : "3633335", "warrantySKUS" : [ ] }, { "ProductSKU" : "18065577", "ProductUniqueId" : "3633336", "warrantySKUS" : [ ] }, { "ProductSKU" : "18065578", "ProductUniqueId" : "3633337", "warrantySKUS" : [ ] }, { "ProductSKU" : "18065581", "ProductUniqueId" : "3633338", "warrantySKUS" : [ ] }, { "ProductSKU" : "18065582", "ProductUniqueId" : "3633339", "warrantySKUS" : [ ] }, { "ProductSKU" : "18065584", "ProductUniqueId" : "3633340", "warrantySKUS" : [ ] }, { "ProductSKU" : "18065596", "ProductUniqueId" : "3633343", "warrantySKUS" : [ ] }, { "ProductSKU" : "18065597", "ProductUniqueId" : "3633344", "warrantySKUS" : [ ] }, { "ProductSKU" : "18065598", "ProductUniqueId" : "3633345", "warrantySKUS" : [ ] }, { "ProductSKU" : "18065599", "ProductUniqueId" : "3633346", "warrantySKUS" : [ ] }, { "ProductSKU" : "18065601", "ProductUniqueId" : "3633347", "warrantySKUS" : [ ] }, { "ProductSKU" : "18065603", "ProductUniqueId" : "3633348", "warrantySKUS" : [ ] }, { "ProductSKU" : "18065605", "ProductUniqueId" : "3633349", "warrantySKUS" : [ ] }, { "ProductSKU" : "18065607", "ProductUniqueId" : "3633350", "warrantySKUS" : [ ] }, { "ProductSKU" : "18065609", "ProductUniqueId" : "3633351", "warrantySKUS" : [ ] }, { "ProductSKU" : "18065612", "ProductUniqueId" : "3633352", "warrantySKUS" : [ ] }, { "ProductSKU" : "18065613", "ProductUniqueId" : "3633353", "warrantySKUS" : [ ] }, { "ProductSKU" : "18065615", "ProductUniqueId" : "3633354", "warrantySKUS" : [ ] }, { "ProductSKU" : "18065618", "ProductUniqueId" : "3633355", "warrantySKUS" : [ ] }, { "ProductSKU" : "18065619", "ProductUniqueId" : "3633356", "warrantySKUS" : [ ] }, { "ProductSKU" : "18065629", "ProductUniqueId" : "3633358", "warrantySKUS" : [ ] }, { "ProductSKU" : "18065630", "ProductUniqueId" : "3633359", "warrantySKUS" : [ ] }, { "ProductSKU" : "18065631", "ProductUniqueId" : "3633360", "warrantySKUS" : [ ] }, { "ProductSKU" : "18065632", "ProductUniqueId" : "3633361", "warrantySKUS" : [ ] }, { "ProductSKU" : "18065633", "ProductUniqueId" : "3633362", "warrantySKUS" : [ ] }, { "ProductSKU" : "18065636", "ProductUniqueId" : "3633363", "warrantySKUS" : [ ] }, { "ProductSKU" : "18065639", "ProductUniqueId" : "3633364", "warrantySKUS" : [ ] }, { "ProductSKU" : "18065640", "ProductUniqueId" : "3633365", "warrantySKUS" : [ ] }, { "ProductSKU" : "18065643", "ProductUniqueId" : "3633366", "warrantySKUS" : [ ] }, { "ProductSKU" : "18065645", "ProductUniqueId" : "3633367", "warrantySKUS" : [ ] }, { "ProductSKU" : "18065647", "ProductUniqueId" : "3633368", "warrantySKUS" : [ ] }, { "ProductSKU" : "18065649", "ProductUniqueId" : "3633369", "warrantySKUS" : [ ] }, { "ProductSKU" : "18065655", "ProductUniqueId" : "3633372", "warrantySKUS" : [ ] } ] }
PROTECTION PLAN
(optional)
Info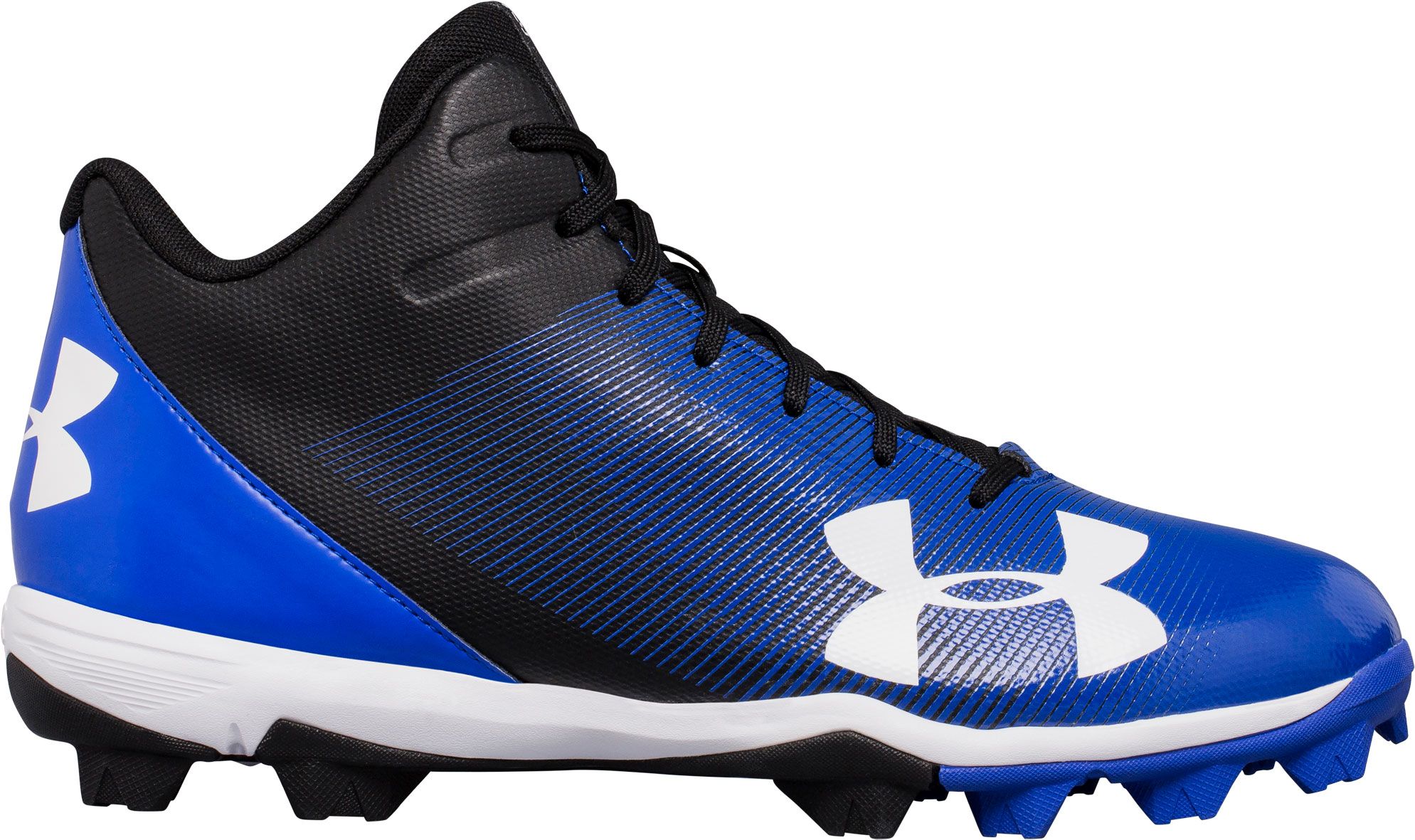 Under Armour Men's Leadoff Mid RM Baseball Cleats
Selected Option Not Available to Ship
Selected Option Not Available For Pickup
PDP Sticky bottom AddToCart Section - active and hide position
This product is currently out of stock.
Please choose product options above
Please choose product options above
Get out there tear it up this season in the UA Leadoff RM. A synthetic leather upper provides you with instant comfort, durability and support while a mesh tongue improves breathability keeping your feet cool all game long. The Under Armour Leadoff baseball cleat has a full-length EVA midsole that offers maximum padding to help disperse cleat pressure evenly throughout the foot. A rubber molded outsole and cleat pattern delivers you unmatched grip and durability for top notch performance on any field surfaces.
FEATURES:
Synthetic leather upper provides exceptional step-in comfort with added durability & support
Mesh tongue for enhanced breathability to keep feet cool & dry all game long
Full-length EVA midsole for added comfort, cushioning that evenly distributes cleat pressure under the foot
Rubber molded cleats offer optimal traction & durability on all field surfaces
Weight: 13 oz
Brand: Under Armour
Country of Origin: Imported
Style: 1297315
Web ID: 17UARMLDFFMDRMBLKRBB