Under Armour Men's Tech Twist T-Shirt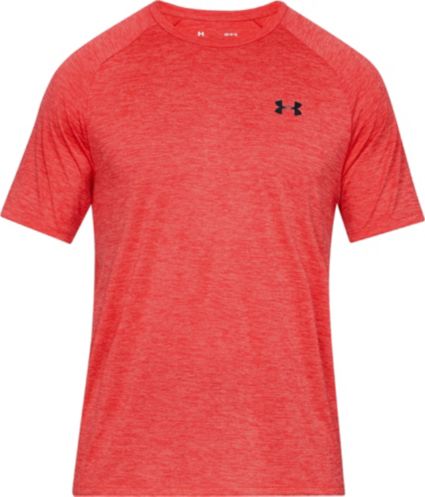 Under Armour Men's Tech Twist T-Shirt
is rated out of
5
by
11
.
The price of the product might be updated based on your selection
This product is currently out of stock.
Please choose product options above
Please choose product options above
PDP Sticky bottom AddToCart Section - active and hide position
For training gear that fits just right and keeps you dry, the Under Armour® Men's Tech™ Twist T-Shirt offers everything you need to succeed.
Fit
Loose fit t-shirt
Streamlined silhouette with shaped hemline
Classic crew neckline
Technology
UA Tech™ fabric is soft, quick-drying, and lightweight
Signature Moisture Transport System wicks sweat away fast
Anti-odor technology helps you stay fresh
Design
Allover twist fabrication
UA logo and wordmark graphics
Brand: Under Armour
Country of Origin: Imported
Fabric Content: 100% polyester
Style: 1326413T
Web ID: 18UARMTWSTTCHSSTXAPT
Rated 4 out of 5
by
Cal B
from
Tees Crossed
This shirt is very comfortable and looks great. A great shirt for all year round.
Date published: 2019-01-12
Rated 4 out of 5
by
AMaio
from
The New Tech Shirt
Have been looking forward to trying this new guy out as I am a UA tech T junkie. So here's a quick take on the good, the bad and the whatever. First, this shirt is more fitted. It's actually flirting with no longer being called loose. The abdominal area which is usually a loose mess in American clothes has been reigned in and its close to the stomach now. It doesn't feel tight, but if you are used to the old ones and have a belly, you're probably not going to find these as comfortable. The shirt actually feels like it has some Elastane in it (like it used to) but the tag still says 100% polyester. I think its an improvement in the fit, but this is a big departure from the traditional fit of the tech line. They've always been forgiving in the stomach area but no longer. I feel ever so slightly compressed in the chest and stomach with this on. See the photos I've attached. Look at the way it's fitted enough that it doesn't hide my belt at all because its more form fitting. For reference, I'm about 190 lb and 6' right now with a 32 waist and 44 chest and thats a medium. My shirt was made in Mexico so I can only speak for those (anyone whose worn tech shirts know some countries fit way different than others - yeah, that's right, I'm looking at you Honduras) but one problem the old shirts had on some colors was the fit around the arm pits. It typically pinched under the armpits and then had a slightly uncomfortable stretch across the shoulder blades as it was just not cut right. God I have purchased so many white techs trying to get one that fits right and I have yet to find one. It's fixed in the 2 shirts I've tried so far. That's great ... way overdue. A downside: the fabric seems somehow even thinner than the last round of techs which was even thinner than the round before that. I mean at one point these actually felt like fabric but this new one FEELS more plastic, like spandex (but its not) I've got a royal blue on right now and I can see all my tattoos. The white one I've got is positively sheer and frankly I think it'd make a great undershirt but it's a bit thin for a T. It's a better work out shirt because of this. Overall it's definitely a much better workout shirt and less a casual T you could just throw on outside the gym. I really should have washed this first to see how it holds up. I'm thinking it will stretch out some, more of my UA gear does after a wash, then you lose that tighter fit. Also, I'd really love to see if it pills. Lately my UA stuff is just atrocious and after 3 washes looks like I stole it from a tag sale. I'm not sure if this fabric will because it's got that sheerness to it I was talking about. Overall, its probably an improvement to the shirt if you want to wear it in the gym or you like a more fitted T. If you were squeezing into whatever size you wore in the last generation, size up.
Date published: 2018-07-12
Rated 3 out of 5
by
LeBRONZEJames
from
Made In China
It used to be that UA items were made in Vietnam & Mexico. Then I noticed Indonesia, which BTW, the fabric on t-shirts seems thinner & more wrinkly. Lately I'm seeing Made in China and the sizes appear made smaller. Usually, I wear MEDIUM on UA zipped sweaters. I tried the Made in China one and it was too tight & small on me. I ended up buying a LARGE.
Date published: 2018-08-31
Rated 2 out of 5
by
Smitherington
from
Nice shirt, but way too long!
The Tech 2.0 is the redesign of the previous heat gear basic Tee, which was an excellent product. The recent redesign lengthened the shirt way too much. The previous Tech tee size XL was 27 inches from back collar to bottom hem. The Tech Tee 2.0 size XL regular fit is 31 inches from back collar to bottom hem. An additional 5 inches in length for the regular fit XL is excessive and unnecessary. Particularly given that there is now an option for an extra long version to accommodate taller customers. The excessive extra length of the regular fit makes even less sense when the product description says the cut is now trimmer and customers may need to size up. Summary: Great product ruined by redesign flaw of too much extra length. At this length you will lose customers who are 6' tall and below.
Date published: 2018-10-30
Rated 3 out of 5
by
TSwpg
from
Why?
Come on UA, you had the perfect shirt with the original tech. Why would you guys go and do this? First off, the material. It's thinner than the original tech t's. I can see my tattoos through lighter colored shirts, and when I get into sunlight, my nipples are solidly visible. Ain't nobody want to see that! It always leads to awkward stares and then I have to explain the bicycle/nipple accident of 1996. Then the fit. I am by no means fat. I'm 5'9 and 180lbs of mostly muscle. I go to the gym 4-5 times a week, run everyday, and eat clean. But somehow these shirts make me look like a middle aged guy with a dad bod who gave up, bought a minivan, and carries a pained, almost dead look in his eyes while remembering his youth while stuffing himself into a tshirt that fits like a sausage casing and heading out to mow the lawn. The fit in the mid section is weird. The old techs were great. They were loose and comfy. They draped nicely down from the pecs. They didn't scream, "look at my finely chiseled body mortals!". They were just an awesome t-shirt. These look like someone bought a normal t-shirt one size too small. Sizing up doesn't work because then the shoulder proportions are out, and with the extra length it looks like I should be sagging my pants and wearing a slightly crooked flat brimmed hat and white framed sunglasses I got free in a case of energy drinks. Can we talk about the fabric again? I'm pretty sure if it got any thinner, it would be classified as mesh. Whomever is working there and thought messing with the original tech (one of the staples of your brand) would be a good idea should be walked out of the building into traffic.
Date published: 2018-12-18
Rated 3 out of 5
by
JustMEH
from
I'm at a loss
I don't know where to begin, other than expressing confusion and disappointment. I've been wearing under armour since high school, and I haven't strayed away for my workout attire. Over the last couple years the inconsistency in sizing, and cuts, for the same product is maddening. The Tech Tee that I bought last year was a XL Tall, and fit perfect. I purchased 5 new ones, of this current version, and they all wear like a sleeping shirt. The length is dramatically longer, the neck is MUCH bigger, and the shirt is overall looser. 4 of the 5 shirts fit that way, and 1 of them fit like my old shirts. I'd understand the change in cut, if it was consistent over sizing; but the fact that one of the shirts is cut differently makes me concerned with ordering replacements. Also, what do I order as a replacement? XL normal length? L Tall? Too many companies have XL shirts that seem to be made for people with no torso, but a belly. This is no different than your cotton shirts. Pick a cut, and stick with it; or show a cut comparison from the old product to the new one.
Date published: 2018-12-21
Rated 5 out of 5
by
Gdaymate
from
Lives up to the hype
I ordered two of these tech shirts from Amazon and wore one for the first time today. I started today with a 6 am run, went from there to the gym, then worked a physical job, then helped a relative move to a new apartment up two flights of stairs in 85 degree weather. I got home at 7pm tonight and the shirt still felt comfortable to get some things done around the house before I unwinded. Throughout the whole day, no matter how much I sweated (and boy did I sweat), I didn't feel very sweaty at all. The moisture wicking feature certainly seems to work! As such the shirt is very comfortable, never got in the way, and just felt great to move in. Will definitely be buying more to complete my active wear wardrobe. I'm sold on Under Armour.
Date published: 2018-10-28
Rated 2 out of 5
by
zp12
from
They run a full size smaller than the ones I bought in 2017!
These are or used to be my go to shirts, but as of 12/1.2018, the 2XL runs a FULL size, at least, smaller than when I bought 5 of them in 2017. What is with that? I just bought 10 shirts and none of them fit. What gives? Sucky really. Otherwise they are nice.
Date published: 2018-12-01