Under Armour Men's Ultimate Speed Running Shoes
The price of the product might be updated based on your selection
{ "warrantyData" : [ { "ProductSKU" : "18840781", "ProductUniqueId" : "3708128", "warrantySKUS" : [ ] }, { "ProductSKU" : "18840782", "ProductUniqueId" : "3708129", "warrantySKUS" : [ ] }, { "ProductSKU" : "18840783", "ProductUniqueId" : "3708130", "warrantySKUS" : [ ] }, { "ProductSKU" : "18840785", "ProductUniqueId" : "3708131", "warrantySKUS" : [ ] }, { "ProductSKU" : "18840787", "ProductUniqueId" : "3708132", "warrantySKUS" : [ ] }, { "ProductSKU" : "18840789", "ProductUniqueId" : "3708133", "warrantySKUS" : [ ] }, { "ProductSKU" : "18840791", "ProductUniqueId" : "3708134", "warrantySKUS" : [ ] }, { "ProductSKU" : "18840793", "ProductUniqueId" : "3708135", "warrantySKUS" : [ ] }, { "ProductSKU" : "18840795", "ProductUniqueId" : "3708136", "warrantySKUS" : [ ] }, { "ProductSKU" : "18840797", "ProductUniqueId" : "3708137", "warrantySKUS" : [ ] }, { "ProductSKU" : "18840800", "ProductUniqueId" : "3708138", "warrantySKUS" : [ ] }, { "ProductSKU" : "18840801", "ProductUniqueId" : "3708139", "warrantySKUS" : [ ] }, { "ProductSKU" : "18840786", "ProductUniqueId" : "3708140", "warrantySKUS" : [ ] }, { "ProductSKU" : "18840788", "ProductUniqueId" : "3708141", "warrantySKUS" : [ ] }, { "ProductSKU" : "18840790", "ProductUniqueId" : "3708142", "warrantySKUS" : [ ] }, { "ProductSKU" : "18840792", "ProductUniqueId" : "3708143", "warrantySKUS" : [ ] }, { "ProductSKU" : "18840794", "ProductUniqueId" : "3708144", "warrantySKUS" : [ ] }, { "ProductSKU" : "18840796", "ProductUniqueId" : "3708145", "warrantySKUS" : [ ] }, { "ProductSKU" : "18840798", "ProductUniqueId" : "3708146", "warrantySKUS" : [ ] }, { "ProductSKU" : "18840799", "ProductUniqueId" : "3708147", "warrantySKUS" : [ ] }, { "ProductSKU" : "18840802", "ProductUniqueId" : "3708148", "warrantySKUS" : [ ] }, { "ProductSKU" : "18840803", "ProductUniqueId" : "3708149", "warrantySKUS" : [ ] }, { "ProductSKU" : "18840804", "ProductUniqueId" : "3708150", "warrantySKUS" : [ ] }, { "ProductSKU" : "18840805", "ProductUniqueId" : "3708151", "warrantySKUS" : [ ] }, { "ProductSKU" : "18840807", "ProductUniqueId" : "3708152", "warrantySKUS" : [ ] }, { "ProductSKU" : "18840808", "ProductUniqueId" : "3708153", "warrantySKUS" : [ ] }, { "ProductSKU" : "18840810", "ProductUniqueId" : "3708154", "warrantySKUS" : [ ] }, { "ProductSKU" : "18840812", "ProductUniqueId" : "3708155", "warrantySKUS" : [ ] }, { "ProductSKU" : "18840814", "ProductUniqueId" : "3708156", "warrantySKUS" : [ ] }, { "ProductSKU" : "18840816", "ProductUniqueId" : "3708157", "warrantySKUS" : [ ] }, { "ProductSKU" : "18840818", "ProductUniqueId" : "3708158", "warrantySKUS" : [ ] }, { "ProductSKU" : "18840820", "ProductUniqueId" : "3708159", "warrantySKUS" : [ ] }, { "ProductSKU" : "18840822", "ProductUniqueId" : "3708160", "warrantySKUS" : [ ] }, { "ProductSKU" : "18840825", "ProductUniqueId" : "3708161", "warrantySKUS" : [ ] }, { "ProductSKU" : "18840827", "ProductUniqueId" : "3708162", "warrantySKUS" : [ ] }, { "ProductSKU" : "18840829", "ProductUniqueId" : "3708163", "warrantySKUS" : [ ] }, { "ProductSKU" : "18840811", "ProductUniqueId" : "3708164", "warrantySKUS" : [ ] }, { "ProductSKU" : "18840813", "ProductUniqueId" : "3708165", "warrantySKUS" : [ ] }, { "ProductSKU" : "18840815", "ProductUniqueId" : "3708166", "warrantySKUS" : [ ] }, { "ProductSKU" : "18840817", "ProductUniqueId" : "3708167", "warrantySKUS" : [ ] }, { "ProductSKU" : "18840819", "ProductUniqueId" : "3708168", "warrantySKUS" : [ ] }, { "ProductSKU" : "18840821", "ProductUniqueId" : "3708169", "warrantySKUS" : [ ] }, { "ProductSKU" : "18840823", "ProductUniqueId" : "3708170", "warrantySKUS" : [ ] }, { "ProductSKU" : "18840824", "ProductUniqueId" : "3708171", "warrantySKUS" : [ ] }, { "ProductSKU" : "18840826", "ProductUniqueId" : "3708172", "warrantySKUS" : [ ] }, { "ProductSKU" : "18840828", "ProductUniqueId" : "3708173", "warrantySKUS" : [ ] }, { "ProductSKU" : "18840830", "ProductUniqueId" : "3708174", "warrantySKUS" : [ ] }, { "ProductSKU" : "18840831", "ProductUniqueId" : "3708175", "warrantySKUS" : [ ] }, { "ProductSKU" : "18840833", "ProductUniqueId" : "3708176", "warrantySKUS" : [ ] }, { "ProductSKU" : "18840834", "ProductUniqueId" : "3708177", "warrantySKUS" : [ ] }, { "ProductSKU" : "18840836", "ProductUniqueId" : "3708178", "warrantySKUS" : [ ] }, { "ProductSKU" : "18840839", "ProductUniqueId" : "3708179", "warrantySKUS" : [ ] }, { "ProductSKU" : "18840841", "ProductUniqueId" : "3708180", "warrantySKUS" : [ ] }, { "ProductSKU" : "18840842", "ProductUniqueId" : "3708181", "warrantySKUS" : [ ] }, { "ProductSKU" : "18840844", "ProductUniqueId" : "3708182", "warrantySKUS" : [ ] }, { "ProductSKU" : "18840847", "ProductUniqueId" : "3708183", "warrantySKUS" : [ ] }, { "ProductSKU" : "18840849", "ProductUniqueId" : "3708184", "warrantySKUS" : [ ] }, { "ProductSKU" : "18840850", "ProductUniqueId" : "3708185", "warrantySKUS" : [ ] }, { "ProductSKU" : "18840852", "ProductUniqueId" : "3708186", "warrantySKUS" : [ ] }, { "ProductSKU" : "18840854", "ProductUniqueId" : "3708187", "warrantySKUS" : [ ] }, { "ProductSKU" : "18840838", "ProductUniqueId" : "3708189", "warrantySKUS" : [ ] }, { "ProductSKU" : "18840840", "ProductUniqueId" : "3708190", "warrantySKUS" : [ ] }, { "ProductSKU" : "18840843", "ProductUniqueId" : "3708191", "warrantySKUS" : [ ] }, { "ProductSKU" : "18840845", "ProductUniqueId" : "3708192", "warrantySKUS" : [ ] }, { "ProductSKU" : "18840846", "ProductUniqueId" : "3708193", "warrantySKUS" : [ ] }, { "ProductSKU" : "18840848", "ProductUniqueId" : "3708194", "warrantySKUS" : [ ] }, { "ProductSKU" : "18840851", "ProductUniqueId" : "3708195", "warrantySKUS" : [ ] }, { "ProductSKU" : "18840853", "ProductUniqueId" : "3708196", "warrantySKUS" : [ ] }, { "ProductSKU" : "18840855", "ProductUniqueId" : "3708197", "warrantySKUS" : [ ] }, { "ProductSKU" : "18840856", "ProductUniqueId" : "3708198", "warrantySKUS" : [ ] }, { "ProductSKU" : "18840857", "ProductUniqueId" : "3708199", "warrantySKUS" : [ ] }, { "ProductSKU" : "18843670", "ProductUniqueId" : "3708200", "warrantySKUS" : [ ] }, { "ProductSKU" : "18843671", "ProductUniqueId" : "3708201", "warrantySKUS" : [ ] }, { "ProductSKU" : "18843672", "ProductUniqueId" : "3708202", "warrantySKUS" : [ ] }, { "ProductSKU" : "18843673", "ProductUniqueId" : "3708203", "warrantySKUS" : [ ] }, { "ProductSKU" : "18843674", "ProductUniqueId" : "3708204", "warrantySKUS" : [ ] }, { "ProductSKU" : "18843675", "ProductUniqueId" : "3708205", "warrantySKUS" : [ ] }, { "ProductSKU" : "18843676", "ProductUniqueId" : "3708206", "warrantySKUS" : [ ] }, { "ProductSKU" : "18843677", "ProductUniqueId" : "3708207", "warrantySKUS" : [ ] }, { "ProductSKU" : "18843678", "ProductUniqueId" : "3708208", "warrantySKUS" : [ ] }, { "ProductSKU" : "18843679", "ProductUniqueId" : "3708209", "warrantySKUS" : [ ] }, { "ProductSKU" : "18843680", "ProductUniqueId" : "3708210", "warrantySKUS" : [ ] }, { "ProductSKU" : "18843681", "ProductUniqueId" : "3708211", "warrantySKUS" : [ ] } ] }
PROTECTION PLAN
(optional)
Info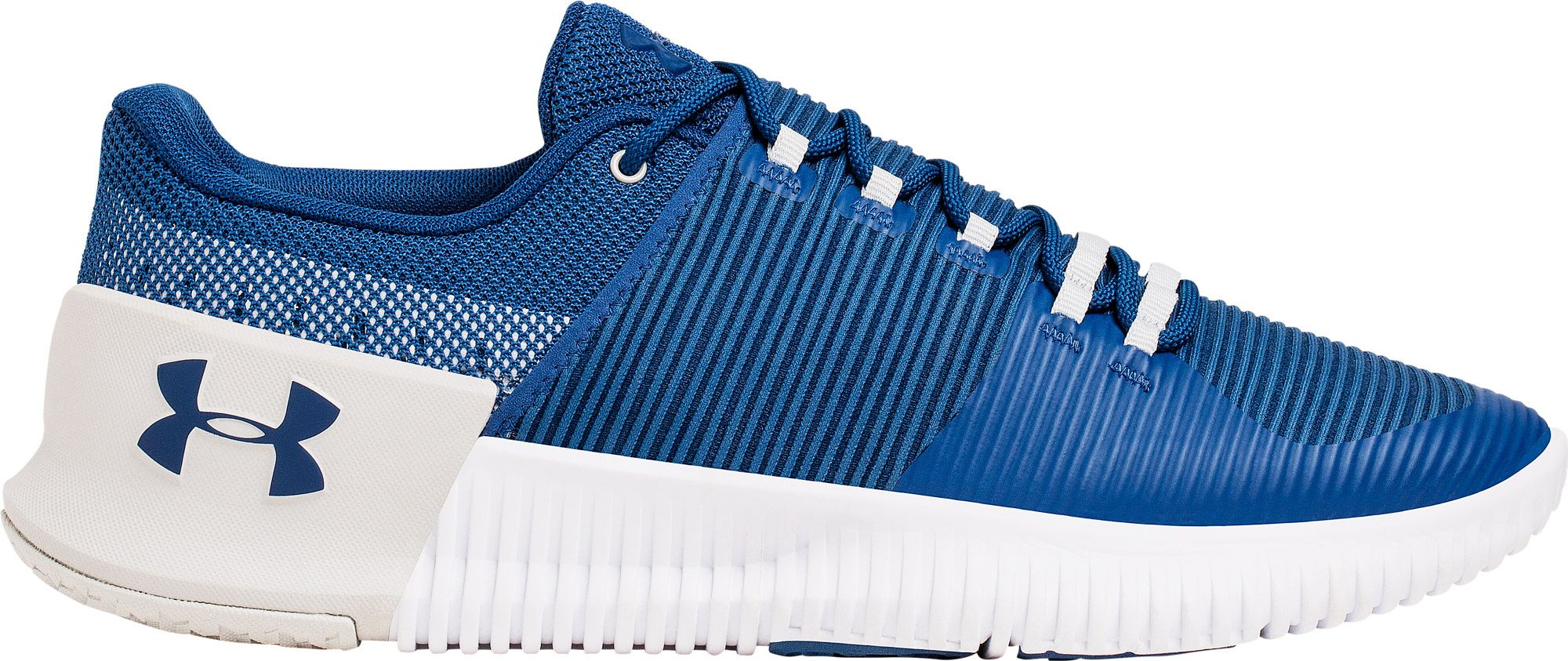 Under Armour Men's Ultimate Speed Running Shoes
Selected Option Not Available to Ship
Selected Option Not Available For Pickup
PDP Sticky bottom AddToCart Section - active and hide position
This product is currently out of stock.
Please choose product options above
Please choose product options above
Feel like a winner when you lace up in the Under Armour® Ultimate Speed running sneakers. A lightweight upper creates breathable comfort, while the EVA sockliner and dual-density midsole team up to create flexibility perfect for quick transitions. To create a comfortable fit at a key area, the molded ankle collar padding cushions and provides an anatomically correct fit. Rubber is used in the outsole to create lasting durability, and a custom tread pattern grips on any surface so you can run whenever, wherever.
FEATURES:
Breathable upper design allows for ventilation to keep feet comfortable
Dynamic shroud construction at the forefoot creates stability and support
EVA sockliner molds to your foot to prevent slippage and to increase comfort
Dual-density midsole creates flexibility, heel cushioning and arch support
Firmer EVA foam under the heel improves stability ideal for transitions
Non-slip rubber in the outsole features deep grooves for flexibility
Custom tread pattern allows for better grip and traction
SPECS:
Shoe type: Neutral
Offset: 6mm
Weight: 9.82oz
Brand: Under Armour
Country of Origin: Imported
Style: 3000329
Web ID: 17UARMLTMTSPDBLKVRNN