Under Armour Women's Micro G Pursuit Running Shoes
The price of the product might be updated based on your selection
{ "warrantyData" : [ { "ProductSKU" : "18823003", "ProductUniqueId" : "3857692", "warrantySKUS" : [ ] }, { "ProductSKU" : "18823004", "ProductUniqueId" : "3857693", "warrantySKUS" : [ ] }, { "ProductSKU" : "18823005", "ProductUniqueId" : "3857694", "warrantySKUS" : [ ] }, { "ProductSKU" : "18823010", "ProductUniqueId" : "3857695", "warrantySKUS" : [ ] }, { "ProductSKU" : "18823012", "ProductUniqueId" : "3857696", "warrantySKUS" : [ ] }, { "ProductSKU" : "18823015", "ProductUniqueId" : "3857697", "warrantySKUS" : [ ] }, { "ProductSKU" : "18823019", "ProductUniqueId" : "3857698", "warrantySKUS" : [ ] }, { "ProductSKU" : "18823023", "ProductUniqueId" : "3857699", "warrantySKUS" : [ ] }, { "ProductSKU" : "18823025", "ProductUniqueId" : "3857700", "warrantySKUS" : [ ] }, { "ProductSKU" : "18823030", "ProductUniqueId" : "3857701", "warrantySKUS" : [ ] }, { "ProductSKU" : "18823032", "ProductUniqueId" : "3857702", "warrantySKUS" : [ ] }, { "ProductSKU" : "18823035", "ProductUniqueId" : "3857703", "warrantySKUS" : [ ] }, { "ProductSKU" : "18823039", "ProductUniqueId" : "3857704", "warrantySKUS" : [ ] }, { "ProductSKU" : "18823042", "ProductUniqueId" : "3857705", "warrantySKUS" : [ ] }, { "ProductSKU" : "18823045", "ProductUniqueId" : "3857706", "warrantySKUS" : [ ] }, { "ProductSKU" : "18823048", "ProductUniqueId" : "3857707", "warrantySKUS" : [ ] }, { "ProductSKU" : "18823055", "ProductUniqueId" : "3857708", "warrantySKUS" : [ ] }, { "ProductSKU" : "18823057", "ProductUniqueId" : "3857709", "warrantySKUS" : [ ] }, { "ProductSKU" : "18823061", "ProductUniqueId" : "3857710", "warrantySKUS" : [ ] }, { "ProductSKU" : "18823067", "ProductUniqueId" : "3857711", "warrantySKUS" : [ ] }, { "ProductSKU" : "18823070", "ProductUniqueId" : "3857712", "warrantySKUS" : [ ] }, { "ProductSKU" : "18823074", "ProductUniqueId" : "3857713", "warrantySKUS" : [ ] }, { "ProductSKU" : "18823077", "ProductUniqueId" : "3857714", "warrantySKUS" : [ ] }, { "ProductSKU" : "18823084", "ProductUniqueId" : "3857715", "warrantySKUS" : [ ] }, { "ProductSKU" : "18823089", "ProductUniqueId" : "3857716", "warrantySKUS" : [ ] }, { "ProductSKU" : "18823095", "ProductUniqueId" : "3857717", "warrantySKUS" : [ ] }, { "ProductSKU" : "18823099", "ProductUniqueId" : "3857718", "warrantySKUS" : [ ] }, { "ProductSKU" : "18823104", "ProductUniqueId" : "3857719", "warrantySKUS" : [ ] }, { "ProductSKU" : "18823108", "ProductUniqueId" : "3857720", "warrantySKUS" : [ ] }, { "ProductSKU" : "18823116", "ProductUniqueId" : "3857721", "warrantySKUS" : [ ] }, { "ProductSKU" : "18823119", "ProductUniqueId" : "3857722", "warrantySKUS" : [ ] }, { "ProductSKU" : "18823125", "ProductUniqueId" : "3857723", "warrantySKUS" : [ ] }, { "ProductSKU" : "18823129", "ProductUniqueId" : "3857724", "warrantySKUS" : [ ] }, { "ProductSKU" : "18823133", "ProductUniqueId" : "3857725", "warrantySKUS" : [ ] }, { "ProductSKU" : "18823137", "ProductUniqueId" : "3857726", "warrantySKUS" : [ ] }, { "ProductSKU" : "18823144", "ProductUniqueId" : "3857727", "warrantySKUS" : [ ] }, { "ProductSKU" : "18823148", "ProductUniqueId" : "3857728", "warrantySKUS" : [ ] }, { "ProductSKU" : "18823152", "ProductUniqueId" : "3857729", "warrantySKUS" : [ ] }, { "ProductSKU" : "18823156", "ProductUniqueId" : "3857730", "warrantySKUS" : [ ] }, { "ProductSKU" : "18823159", "ProductUniqueId" : "3857731", "warrantySKUS" : [ ] }, { "ProductSKU" : "18823162", "ProductUniqueId" : "3857732", "warrantySKUS" : [ ] }, { "ProductSKU" : "18823166", "ProductUniqueId" : "3857733", "warrantySKUS" : [ ] }, { "ProductSKU" : "18823170", "ProductUniqueId" : "3857734", "warrantySKUS" : [ ] }, { "ProductSKU" : "18823177", "ProductUniqueId" : "3857735", "warrantySKUS" : [ ] }, { "ProductSKU" : "18823178", "ProductUniqueId" : "3857736", "warrantySKUS" : [ ] }, { "ProductSKU" : "18823184", "ProductUniqueId" : "3857737", "warrantySKUS" : [ ] }, { "ProductSKU" : "18823186", "ProductUniqueId" : "3857738", "warrantySKUS" : [ ] }, { "ProductSKU" : "18823191", "ProductUniqueId" : "3857739", "warrantySKUS" : [ ] }, { "ProductSKU" : "18823197", "ProductUniqueId" : "3857740", "warrantySKUS" : [ ] }, { "ProductSKU" : "18823199", "ProductUniqueId" : "3857741", "warrantySKUS" : [ ] }, { "ProductSKU" : "18823202", "ProductUniqueId" : "3857742", "warrantySKUS" : [ ] }, { "ProductSKU" : "18823205", "ProductUniqueId" : "3857743", "warrantySKUS" : [ ] }, { "ProductSKU" : "18823210", "ProductUniqueId" : "3857744", "warrantySKUS" : [ ] }, { "ProductSKU" : "18823211", "ProductUniqueId" : "3857745", "warrantySKUS" : [ ] }, { "ProductSKU" : "18823215", "ProductUniqueId" : "3857746", "warrantySKUS" : [ ] }, { "ProductSKU" : "18823219", "ProductUniqueId" : "3857747", "warrantySKUS" : [ ] }, { "ProductSKU" : "18823220", "ProductUniqueId" : "3857748", "warrantySKUS" : [ ] }, { "ProductSKU" : "18823223", "ProductUniqueId" : "3857749", "warrantySKUS" : [ ] }, { "ProductSKU" : "18823224", "ProductUniqueId" : "3857750", "warrantySKUS" : [ ] }, { "ProductSKU" : "18823226", "ProductUniqueId" : "3857751", "warrantySKUS" : [ ] }, { "ProductSKU" : "18823228", "ProductUniqueId" : "3857752", "warrantySKUS" : [ ] }, { "ProductSKU" : "18823230", "ProductUniqueId" : "3857753", "warrantySKUS" : [ ] }, { "ProductSKU" : "18823232", "ProductUniqueId" : "3857754", "warrantySKUS" : [ ] }, { "ProductSKU" : "18823234", "ProductUniqueId" : "3857755", "warrantySKUS" : [ ] }, { "ProductSKU" : "18823235", "ProductUniqueId" : "3857756", "warrantySKUS" : [ ] }, { "ProductSKU" : "18823236", "ProductUniqueId" : "3857757", "warrantySKUS" : [ ] }, { "ProductSKU" : "18823237", "ProductUniqueId" : "3857758", "warrantySKUS" : [ ] }, { "ProductSKU" : "18823238", "ProductUniqueId" : "3857759", "warrantySKUS" : [ ] }, { "ProductSKU" : "18823239", "ProductUniqueId" : "3857760", "warrantySKUS" : [ ] }, { "ProductSKU" : "18823240", "ProductUniqueId" : "3857761", "warrantySKUS" : [ ] } ] }
PROTECTION PLAN
(optional)
Info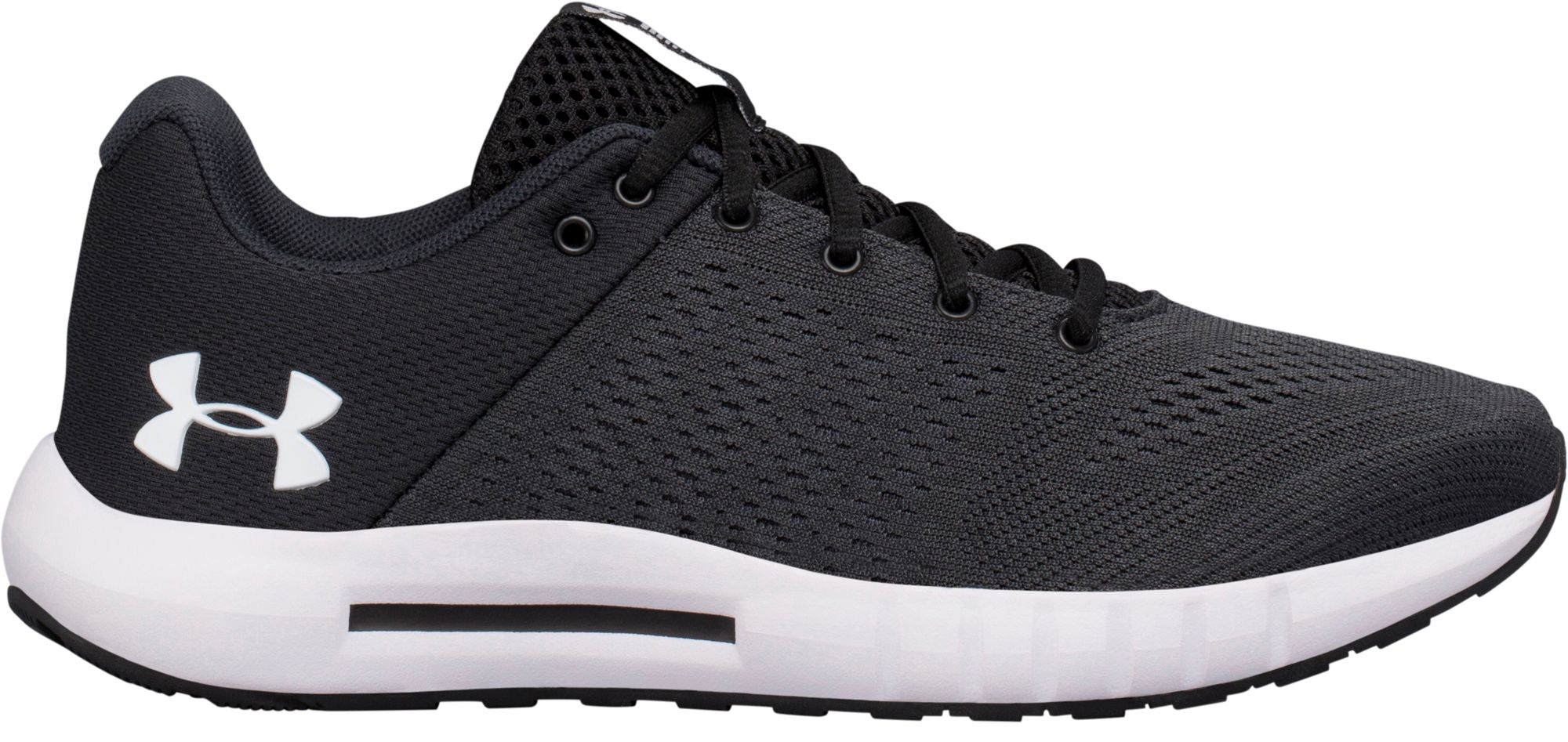 Under Armour Women's Micro G Pursuit Running Shoes
Selected Option Not Available to Ship
Selected Option Not Available For Pickup
PDP Sticky bottom AddToCart Section - active and hide position
This product is currently out of stock.
Please choose product options above
Please choose product options above
Run with ease in the Under Armour® Women's Micro G® Pursuit Running shoe. Constructed with a lightweight mesh upper that delivers complete breathability to keep feet cool and dry. Foam padding at the ankle collar and under the tongue maximizes comfort while a high rebound, die-cut EVA sockliner delivers extended arch support. The one-piece Micro G® foam midsole turns cushioned landings into explosive takeoffs. Complete with a tire inspired outsole pattern for the ultimate flex and superior traction for the duration of your run.
FEATURES:
Lightweight mesh upper delivers complete breathability
Foam padding at the ankle collar and tongue maximize comfort
High rebound, die-cut EVA sockliner built with extended arch support
One-piece Micro G® foam midsole turns cushioned landings into explosive takeoffs
Tire inspired outsole pattern provides ultimate flex and superior traction
SPECS:
Shoe type: Neutral
Offset: 8mm
Weight: 7 oz
Brand: Under Armour
Country of Origin: Imported
Style: 3000101
Web ID: 17UARWMCRGPRSTXXXSPR