Under Armour Women's Warp Knit High-Impact Running Sports Bra
The price of the product might be updated based on your selection
{ "warrantyData" : [ { "ProductSKU" : "18544650", "ProductUniqueId" : "3975318", "warrantySKUS" : [ ] }, { "ProductSKU" : "18544651", "ProductUniqueId" : "3975319", "warrantySKUS" : [ ] }, { "ProductSKU" : "18544652", "ProductUniqueId" : "3975320", "warrantySKUS" : [ ] }, { "ProductSKU" : "18544656", "ProductUniqueId" : "3975321", "warrantySKUS" : [ ] }, { "ProductSKU" : "18544661", "ProductUniqueId" : "3975322", "warrantySKUS" : [ ] }, { "ProductSKU" : "18544667", "ProductUniqueId" : "3975323", "warrantySKUS" : [ ] }, { "ProductSKU" : "18544671", "ProductUniqueId" : "3975324", "warrantySKUS" : [ ] }, { "ProductSKU" : "18544673", "ProductUniqueId" : "3975325", "warrantySKUS" : [ ] }, { "ProductSKU" : "18544677", "ProductUniqueId" : "3975326", "warrantySKUS" : [ ] }, { "ProductSKU" : "18544681", "ProductUniqueId" : "3975327", "warrantySKUS" : [ ] }, { "ProductSKU" : "18544685", "ProductUniqueId" : "3975328", "warrantySKUS" : [ ] }, { "ProductSKU" : "18544687", "ProductUniqueId" : "3975329", "warrantySKUS" : [ ] }, { "ProductSKU" : "18544692", "ProductUniqueId" : "3975330", "warrantySKUS" : [ ] }, { "ProductSKU" : "18544695", "ProductUniqueId" : "3975331", "warrantySKUS" : [ ] }, { "ProductSKU" : "18544700", "ProductUniqueId" : "3975332", "warrantySKUS" : [ ] }, { "ProductSKU" : "18544708", "ProductUniqueId" : "3975334", "warrantySKUS" : [ ] }, { "ProductSKU" : "18544714", "ProductUniqueId" : "3975335", "warrantySKUS" : [ ] }, { "ProductSKU" : "18544718", "ProductUniqueId" : "3975336", "warrantySKUS" : [ ] }, { "ProductSKU" : "18544719", "ProductUniqueId" : "3975337", "warrantySKUS" : [ ] }, { "ProductSKU" : "18544724", "ProductUniqueId" : "3975338", "warrantySKUS" : [ ] }, { "ProductSKU" : "18544727", "ProductUniqueId" : "3975339", "warrantySKUS" : [ ] }, { "ProductSKU" : "18544733", "ProductUniqueId" : "3975340", "warrantySKUS" : [ ] }, { "ProductSKU" : "18544739", "ProductUniqueId" : "3975341", "warrantySKUS" : [ ] }, { "ProductSKU" : "18544743", "ProductUniqueId" : "3975342", "warrantySKUS" : [ ] }, { "ProductSKU" : "18544748", "ProductUniqueId" : "3975343", "warrantySKUS" : [ ] }, { "ProductSKU" : "18544751", "ProductUniqueId" : "3975344", "warrantySKUS" : [ ] }, { "ProductSKU" : "18544758", "ProductUniqueId" : "3975345", "warrantySKUS" : [ ] }, { "ProductSKU" : "18544762", "ProductUniqueId" : "3975346", "warrantySKUS" : [ ] }, { "ProductSKU" : "18544765", "ProductUniqueId" : "3975347", "warrantySKUS" : [ ] }, { "ProductSKU" : "18544771", "ProductUniqueId" : "3975348", "warrantySKUS" : [ ] }, { "ProductSKU" : "18544773", "ProductUniqueId" : "3975349", "warrantySKUS" : [ ] }, { "ProductSKU" : "18544776", "ProductUniqueId" : "3975350", "warrantySKUS" : [ ] }, { "ProductSKU" : "18544779", "ProductUniqueId" : "3975351", "warrantySKUS" : [ ] }, { "ProductSKU" : "18544781", "ProductUniqueId" : "3975352", "warrantySKUS" : [ ] }, { "ProductSKU" : "18544787", "ProductUniqueId" : "3975354", "warrantySKUS" : [ ] }, { "ProductSKU" : "18544790", "ProductUniqueId" : "3975355", "warrantySKUS" : [ ] }, { "ProductSKU" : "18544794", "ProductUniqueId" : "3975356", "warrantySKUS" : [ ] }, { "ProductSKU" : "18544797", "ProductUniqueId" : "3975357", "warrantySKUS" : [ ] }, { "ProductSKU" : "18544799", "ProductUniqueId" : "3975358", "warrantySKUS" : [ ] }, { "ProductSKU" : "18544803", "ProductUniqueId" : "3975359", "warrantySKUS" : [ ] }, { "ProductSKU" : "18544805", "ProductUniqueId" : "3975360", "warrantySKUS" : [ ] }, { "ProductSKU" : "18544810", "ProductUniqueId" : "3975361", "warrantySKUS" : [ ] }, { "ProductSKU" : "18544812", "ProductUniqueId" : "3975362", "warrantySKUS" : [ ] }, { "ProductSKU" : "18544815", "ProductUniqueId" : "3975363", "warrantySKUS" : [ ] }, { "ProductSKU" : "18544818", "ProductUniqueId" : "3975364", "warrantySKUS" : [ ] }, { "ProductSKU" : "18544819", "ProductUniqueId" : "3975365", "warrantySKUS" : [ ] }, { "ProductSKU" : "18544821", "ProductUniqueId" : "3975366", "warrantySKUS" : [ ] }, { "ProductSKU" : "18544823", "ProductUniqueId" : "3975367", "warrantySKUS" : [ ] }, { "ProductSKU" : "18544825", "ProductUniqueId" : "3975368", "warrantySKUS" : [ ] }, { "ProductSKU" : "18544827", "ProductUniqueId" : "3975369", "warrantySKUS" : [ ] }, { "ProductSKU" : "18544829", "ProductUniqueId" : "3975370", "warrantySKUS" : [ ] }, { "ProductSKU" : "18544831", "ProductUniqueId" : "3975371", "warrantySKUS" : [ ] }, { "ProductSKU" : "18544833", "ProductUniqueId" : "3975372", "warrantySKUS" : [ ] }, { "ProductSKU" : "18544836", "ProductUniqueId" : "3975375", "warrantySKUS" : [ ] }, { "ProductSKU" : "18544837", "ProductUniqueId" : "3975376", "warrantySKUS" : [ ] } ] }
PROTECTION PLAN
(optional)
Info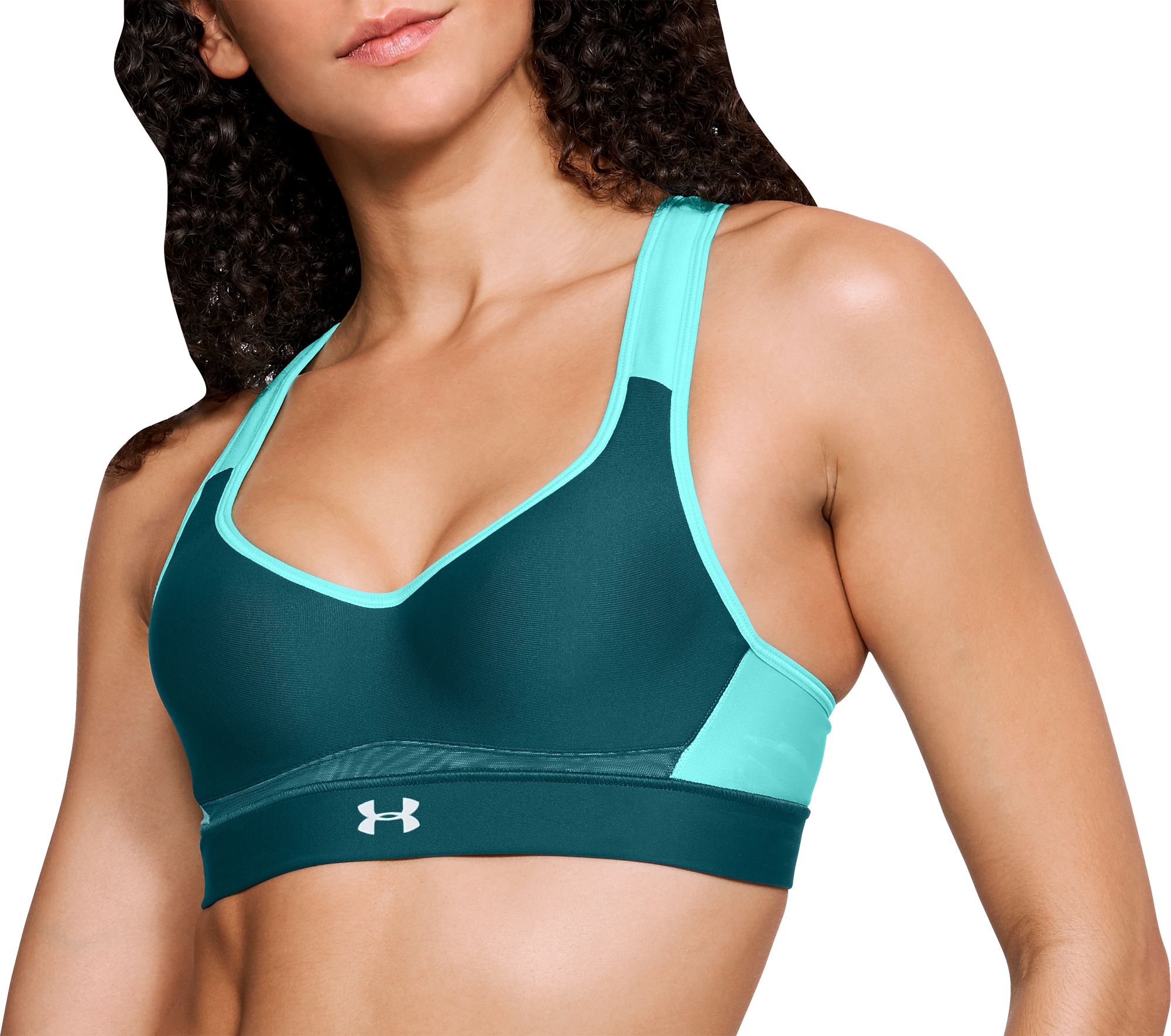 Under Armour Women's Warp Knit High-Impact Running Sports Bra
Selected Option Not Available to Ship
Selected Option Not Available For Pickup
PDP Sticky bottom AddToCart Section - active and hide position
This product is currently out of stock.
Please choose product options above
Please choose product options above
From the track to the treadmill, the Under Armour® Women's Warp Knit High-Impact Running Sports Bra delivers the support you need to train without distraction. Lightweight HeatGear® material for a smooth feel, and mesh panels ensure breathability to keep you cool. Moisture-wicking properties keep you light and dry, while fixed foam padding delivers superior coverage and support. No matter the activity, the UA Warp Knit High-Impact Sports Bra has your needs covered.
FEATURES:
Fitted high-impact running sports bra
Smooth HeatGear® fabric offers a comfortable, lightweight feel
Fixed foam padding offers additional support and coverage
Gel-coated underwire reduces irritation for maximum comfort
Adjustable straps provide the ideal fit over your shoulders
Mesh insets and lining increase breathability to keep you cool
Smooth, sweat-wicking back keeps you light and dry
Moisture-wicking properties eliminate excess sweat build-up
4-way stretch construction moves with you while you train
Designed for high-impact activity
Brand: Under Armour
Country of Origin: Imported
Style: 1311821
Fabric Content: 87% polyester / 13% elastane
Web ID: 18UARWWRPKNTHGHMPAPU