US Army Project Salvo Tactical Edition Paintball Gun

US Army Project Salvo Tactical Edition Paintball Gun
is rated out of
5
by
20
.
This product is currently out of stock.
Please choose product options above
Please choose product options above
PDP Sticky bottom AddToCart Section - active and hide position
Product Information:
The US Army Project Salvo Tactical Edition Paintball Gun features a six position collapsible and foldable stock, a configuration with four built-in Picatinny rails and a new magazine that doubles as a helpful toolkit. The paintball marker also incorporates a flat-top Picatinny rail built into the receiver, which makes it simple for players to quickly add a handle, sight, scope or a variety of other modifications.
** Learn more about THE PROS CO2 Filling Services available at all DICK's Sporting Goods locations **
FEATURES:
Caliber: 0.68
Action: Semi-Automatic (open bolt blow back)
Trigger: Semi-Auto
Power/Air Supply: Compressed Air, Nitrogen, Co2
Hopper Capacity: 200 Rds
Ball Feed (Rate): Gravity Feed
Barrel Length: 11 in
Overall Length: 28.63 - 32.5 in (w/o tank)
Weight: 3.8 lbs (w/o tank)
Effective Range: 150+ ft
Firing/Cycle Rate: 8 shots per second
Model: T106200
US ARMY
Click here for additional information relating to the Manufacturer's Warranty.
NOTICE: We recommend the use of protective eyewear whenever using or near the use of this item.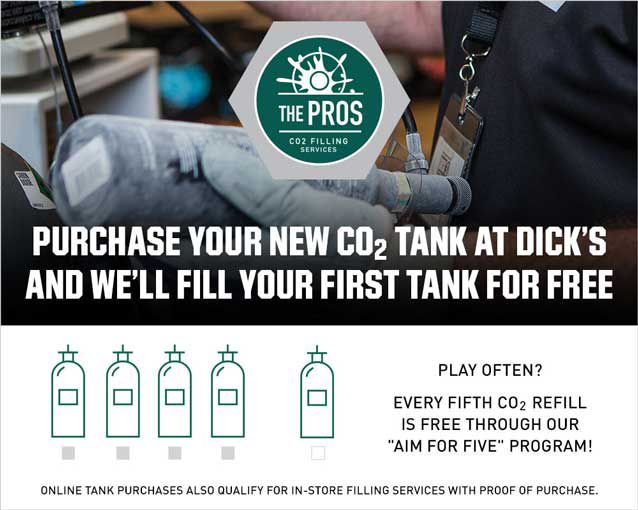 Brand: US ARMY
Country of Origin: Imported
Web ID: 16USAUPRJCTSLVR15PTB
Rated 5 out of 5
by
headshot1995
from
we dont snipe cellys boys
well i bought this gun at the beginning of the season and went to MN pro paint balling in lakeville and you cant even deny the greatness of the gun for accuracy its great you can sit anywhere if you learn to the marker and figure every thing out (i.e the drop of the ball distance of accuracy and every thing) you will sit there and hit all your targets last time i went i sat in a bunker and sniped the whole time 1 guy i hit 5 times in a revive game just sniping you don't even need a scope some times you don't even need to aim just point the ball in the area and 7/10 you will hit your target even with the the electronic grip it works great there is a light trigger pull and all if you are just starting out or even an experienced paintballer this gun will suffice even more it doesn't break bank accounts not trying to sell the product but i will give this gun a great rating
Date published: 2015-10-06
Rated 5 out of 5
by
Austin
from
Can't Beat the Price
this gun is basically a Tippmann 98, which is awesome. VERY reliable, easy to maintain, and looks good (I get compliments on it every time I play with it). the stock is a bit flimsy, but it works just fine. the gun shoots very well out of the box. it can take C02 or Nitrogen, but the gun does not come with a starter kit (ie NO hopper, tank, or mask) like some of the other Tippmanns do, but this is still an excellent deal. If you have the money, get it. It's perfect for beginners or experienced players.
Date published: 2012-06-05
Rated 4 out of 5
by
ButchM
from
great beginner gun
Bought this rifle for my son for Christmas. Though he has only shot it a few different days, it seems to be performing well. We put a red dot sight on it and it hits with good consistency. He is using Co2 for air.The only complaint I have is the instructions, they seem to put you into a loop of how to remove the air tank. I had to read and reread to make sure not make a mistake and remove the air while there is still pressure in the gun. the assembly instructions were a little weird too. Maybe just my inexperience with paintball markers but I'm sure they could edit it to be a little more clear and concise.Finally, the magazine is cool because it holds tools for the gun. That's nice but the oil should be in an container that you can keep in the magazine too.
Date published: 2014-01-06
Rated 5 out of 5
by
austinoconnell
from
Been playing paintball 15 years, this is my favorite gun overall.
I've had more guns than I can remember, I love speedball and electric guns and all of that. But some of the most fun I've had is rec/woods using this gun, 68/45 full sized tank, Rotor hopper, and I'm about to pick upgrading this to an e-grip over upgrading my main gun.It's a little heavy if you're not using a remote line, which I don't, so if the person using it can stand the weight, definitely go for it. Either as a beginner's starter gun or a cheap woods/rec/scenario gun. Essentially it's a Tippmann 98 Custom with a headstart on upgrades. As far as I can tell, the US Army gave a new body to the 98, gave it a barrel shroud, RIS rail, durable AR-15 looking body, and collapsable stock. Tippmann 98 upgrades DO work for this, as do some Alpha Black (e-trigger being one of them). Every single time I use this gun with the set up I mentioned earlier, I always get at least one "nice gun", "what gun is that?", or "where did you get that?", often times 2 or all 3. Any time someone hasn't seen it before, they are always surprised that it was $150.If the person buying has never played before, or is thinking of getting this for someone: in terms of durability, the Tippmann 98 series (which is what this gun is based off of) is definitely the AK-47 of the paintball world. You can drop this gun as much as you want and since there's not many moving parts, it will probably shoot when you pick it back up. I have had an old Tippmann 98C in my garage that is at least 10 years old, never been lubed, hardly been cleaned, and STILL shoots.I would definitely recommend this gun to anyone except people wanting to get a starter gun for tournaments. Because the e-grip gives this gun 3 round burst and 12/15 RPS Fully Auto, it's useless for speedball and banned on most fields on all modes except single. Some fields won't mind burst if you can control it, but this gun is too bulky and slow to play for speedball. Otherwise, best $150 I ever spent.
Date published: 2014-12-04
Rated 5 out of 5
by
BigGuy66
from
High quality gun for the value.
A friend of mine let me shot his gun and it is on the heavy side but it is very accurate. I am looking to get one soon but I do not have the money currently. Over all it is an excellent gun.
Date published: 2015-05-05
Rated 5 out of 5
by
PB23
from
great gun
this gun is the best i'v ever owned it shoots better than the tippman 98!
Date published: 2015-03-23
Rated 5 out of 5
by
1Shot
from
More BANG for the buck!
This PBG surprised me in how well equipped it is straight from the box. It shoots straight, great distance and easy to handle. I have added options- bi-pod, 18 inch Apex barrel etc just to up it a little more and this PBG can reach out and touch someone without worry. When they state it shoots 150'+ that + is no joke with accuracy added. Add-ons and upgrades galore from their site.
Date published: 2012-02-19
Rated 5 out of 5
by
the guy who reviewed this thing
from
pure bread American paintball gun
alright. First i will say that i dont own this marker. but i have seen it operat and hve taken them apert and these guns are biult to impress. with the rails and many customization options, this gun is a versitile, reliable gun. wanna have an assault rifle? its already it. wanna support weapon? get a bipod and big hopper. sniper? enhaced sights and longer barrel. pure AWSOME
Date published: 2011-10-23