Vortex VMX-3T Magnifier with Flip Mount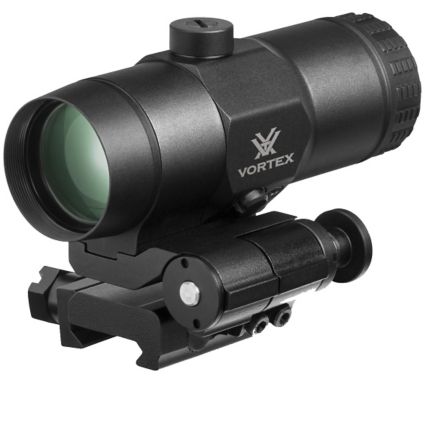 Vortex VMX-3T Magnifier with Flip Mount
is rated out of
5
by
41
.
This product is currently out of stock.
Please choose product options above
Please choose product options above
PDP Sticky bottom AddToCart Section - active and hide position
Product Information:
The VMX-3T Magnifier improves the accuracy of your aim at greater distances by increasing the range of your red dot sight. The convenient push button flip mount allows you to quickly enable the 3x magnifier when needed. Constructed from hard-coat-anodized machined-aluminum and sealed against moisture, this magnifier is tough and durable. The Vortex® VMX-3T Magnifier with Flip Mount is compatible with most AR-height red dot sights.
** Learn more about THE PROS Guns Services available at all DICK's Sporting Goods locations **
FEATURES:
Push button flip mount enables or disables the magnifier
Durable hard-coat-anodized machined-aluminum construction
Multiple anti-reflective lens coatings for increased light transmission
O-ring seals lock out moisture, dust and debris
Nitrogen filled barrels prevent fogging
Compatible with almost any AR-height red dot sight
Ideal for shooters who want to increase the effective range of their red dot sight
Manufacturer's Unlimited Lifetime Warranty
Model: VMX-3T
Vortex Optics
SPECS:
Length: 4.3"
Tube Size: 30mm
Magnification: 3x
FOV at 100 Yards: 38.2'
Eye Relief: 2.2"
Weight: 11.9 oz.
Brand: Vortex
Country of Origin: Imported
Web ID: 15VORUVMX3TMGNFRWOPT
Rated 2 out of 5
by
Jack27
from
Great magnifier, terrible rye relief.
Like all other vortex products, the VMX-3t is great quality. The magnifier actually makes the dot on my red dot even crisper. In the futer I'd like to see them go to maybe a 4x magnification, though. However, the reason I didn't give 5 stars is because of the terrible eye relief. I'm not sure why vortex would design this with 2" on eye relief but it almost makes it unusable. With it mounted as far back as possible I still have to stretch quite far to see through the magnifier as intended. I can completely collapsed the but stock and use it which helps but I still have to stretch to get to the magnifier and as well as the fact that I'm using a collapsed but stock. Big time cortex fan but was pretty disappointed with this one.
Date published: 2018-01-25
Rated 5 out of 5
by
Suby.Evo
from
Worth the upgrade!
I was using a Vortex red dot on it's own at the range and really enjoyed the accuracy it added to my shots. Added this magnification scope and instantly the experience was enhanced. 3x isn't crazy but it is the perfect amount of zoom for seeing exactly where your targets are being penetrated at any indoor range. I shoot left handed and after reading previous reviews of how people were complaining about it swinging to the left, it is easily changed to swing either way. Glad I tried this out because I wouldn't want to hit a range without it now.
Date published: 2018-03-01
Rated 4 out of 5
by
KenJ45
from
Magnifier is great, but should flip the other way
I recently bought this magnifier and find that the build quality on it is very sturdy and the optic itself is very clear. The lifetime warranty is unbeatable, but there's only one thing I really hope they improve or at least give the option for. Right now, it's meant to flip over to the left side. Being a right-eyed shooter, when it's flipped over to the left side, it completely blocks my view with my left eye while trying to shoot with both eyes open. Also, if I let the rifle hang by its sling with it flipped over, the magnifier would dig right into my body. It makes more sense for it to flip out of the way to the right. I have the mount flipped over to do exactly that, but now the release button is facing forward. So to use it, I have to reach over the optic (using my support hand so my shooting hand never leaves the grip) and pull on the button before I can flip it out of the way or flip it into view... It would be nice to have the option to have a mount that flips to the right with the button still facing the back so that it can be easily pushed...
Date published: 2017-08-30
Rated 5 out of 5
by
Azdevildog66
from
Excellent magnifier
I bought this to pair up with my red dot for 2 gun competitions for the occasional times we push out past 200yds. The 3x is the perfect optic for this, it's clear glass coupled with decent eye relief makes it easy to reach out and ring the steel. My only issue is the flip release is on the wrong side, you don't want it flipping to the left of you are running a red dot as it interferes with the sight picture, easy fix by flipping the mount around however, would like to see a mount in the future with no release button to make it easier to mount to flip left or right.
Date published: 2018-03-02
Rated 5 out of 5
by
TheKingLT
from
Great 3x magnifier
I bought this 3x magnifier to go behind the SPARC2 red dot and I'm really happy with the combo. I have had this magnifier mounted behind the SPARC2 for 2 years now on my Colt LE6920 and have put thousands of round down range. It has excellent clarity and works perfect behind the SPARC2 red dot. I like the ability to fold it out of the way for closer shots using only 1 hand in a quick easy motion. You wouldn't think 3x magnification would make much of a difference but man what a difference at 100yrds. I was able to consistently get 1in groups at 100yrds with this magnifier and the SPARC2 red dot. I wouldn't hesitate to by another of these to put on another rifle or shotgun behind a red dot, it really does make a big difference when reaching out to 100yrds.
Date published: 2018-03-02
Rated 5 out of 5
by
Budsolo
from
Amazing quality for the price!
At the price point for this magnifier you can't go wrong. I've used it for over a month and can't get over the quality of the glass and it's flawless function. I've tried the Eotech magnifier and there is NO difference in performance or quality. I run the VMX-3 with the Strikefire 2 and it's a great set-up. I would definitely recommend to a friend or family.
Date published: 2018-03-01
Rated 4 out of 5
by
lowender75
from
Another great Vortex piece
I recently added this to my AMG UH-1 in my 300 BLK rig, and it does exactly what it's supposed to do - magnify. It perfectly aligns with the reticle on the Huey (thanks to the included shim for the mount), and it operates very smoothly and lock into either position confidently. My only nag (and it may not even be an issue for others) is that I wish it flipped the other direction; I'm right handed and it flips left, so when it's not deployed it is in my left peripheral, whereas I'd prefer it flip to the other side so I don;t have to look around it when not in use. Again, this may not matter to others; it is purely a personal preference. I could probably reverse the mount so it does flip the other way, but then the release button goes from an intuitive "push" to a tedious "pull", and I'd rather not do that. That lone gripe aside, it looks great, pairs perfectly with my Huey, and I have no concerns about reliability since it's a Vortex.
Date published: 2019-03-08
Rated 5 out of 5
by
BDChadd
from
Best on the market
I've had this for 2 years and I find myself loving it more every time I use it. Solid magnification. The base is reversible to make it flip away from my shooting field of vision. It just works. My MBUS fits underneath, so I can swing the magnifier out of the way and pop up my rear sight if needed.
Date published: 2018-03-11