Warrior Evo Warp NEXT Complete Attack Lacrosse Stick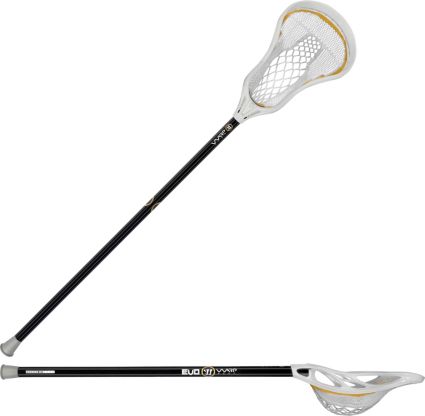 Warrior Evo Warp NEXT Complete Attack Lacrosse Stick
is rated out of
5
by
24
.
NOW: $

59.97

- $67.97
(

32%-40%

off!)
WAS: $99.99*
The price of the product might be updated based on your selection
This product is currently out of stock.
Please choose product options above
Please choose product options above
PDP Sticky bottom AddToCart Section - active and hide position
Product Information:
Designed with a revolutionary process that's refined for youth play, the Warrior® Evo Warp NEXT Complete Lacrosse Stick brings an integrated head and pocket to the field for consistent pass and shot execution in all weather conditions.
Advanced Technology

SYM-RAIL™ design eliminates excess weight and provides maximum stiffness
Unique, moisture-wicking technologies keeps feel consistent in all weather conditions
AXYSYM technology uses compression and stretch fibers to allow the shaft to load and release while limiting side to side bend


Evo Warp™ NEXT Head

Offers the very first, fully engineered head/pocket combination
Tighter face shape and all-around pocket helps refine stick skills
Eliminates the need to string your head, break in mesh or adjust your pocket
Kevlar® sidewall creates an extremely durable bond between the head and pocket
TruOffset® lowers the sidewall for maximum ball control and feel


Additional Details

Ideal for ages 10-14
Meets Universal Specs
Brand: Warrior
Country of Origin: United States of America
Style: EWNISA17
Web ID: 17WARMVWRPNXTCMPLLXS
Rated 4 out of 5
by
KenC
from
I'm a youth coach, who played D1 lax
and I bought this stick to give my players if I think there's an issue with their passing. Sometimes, the problem isn't their technique but their equipment, so I use this stick to give me a baseline on their throwing technique. Mid-pocket is not deep, so cradling is harder, which forces the kids to use better technique, but passing is nice and consistent. All the kids want one after they use it. However, once the kids get more advanced, they'll want to move to more advanced sticks with pockets they can customize. Still, I played when pockets were smaller, so I quite like throwing with this stick with the kids.
Date published: 2017-04-27
Rated 5 out of 5
by
Bowen87
from
Throws Very Well and Carries Better Than I Thought
Bought this for my 8 year old son who is in his 3rd Season of Lacrosse. He plays pretty good lacrosse on a 10U Team that has only lost 1 game in 2 years. We were looking for a cross that would stay the same and throw very consistently. Had this stick for 3 weeks now and he loves it. Ball comes out very fast. If he misses, he misses a little high, but velocity is up and he rarely throws one in the dirt. I had my doubts about being able to cradle, but we have not noticed any increase in dropped balls as he is going through traffic. I am going to buy another one now for his 6 year old brother.
Date published: 2017-03-22
Rated 5 out of 5
by
Popeye7
from
Great stick for beginners!
I bought this for my 9 year old son who is in his second year. He absolutely loves it and not only has his throwing and catching improved but he carries it around constantly and wants to practice more. I would definitely recommend this if you have a young child who is learning the game. It will help with confidence and learning the basics of the game without worrying about stick problems. Well worth the money too.
Date published: 2017-06-05
Rated 5 out of 5
by
K6AM
from
A new stick
This a great beginner stick! Worth the money! This has helped my son with catching and throwing. It does make it a little more difficult to cradle.
Date published: 2017-03-28
Rated 5 out of 5
by
EBix
from
Should be mandatory equipment for a first year player
I will preface this by saying that I am a former collegiate lacrosse player and I currently coach youth lacrosse. My experience with this stick is as follows: My 4th grade son made the transition to lacrosse this year. How big of a difference can a stick make at this age was my prevailing thought so the wife grabbed him a $55 Nike stick. After a couple of weeks into the season I noticed that he was throwing with a side arm motion. For those who don't know A SIDE ARM MOTION ON A LAX SHOT IS ABOUT THE WORST HABIT ONE CAN DEVELOP. While it will not have any real impact at the 4th grade level when velocity and accuracy begin to matter the side arm mechanics will not allow either. Bottom line is that the longer he continued this way the harder to correct later on. I was unsuccessful in trying to get him to do it correctly, he just couldn't throw the ball remotely consistently the right way. So I end up at Dick's buying a 4x4 goal and start talking with a kid who works there that is a former player like myself but much younger. I express my concern over my son's mechanics and he immediately begins insisting I get this stick. How much can a stick help correct the issue I think? Must be some bonus he gets for pushing this brand or model. Desperate to see the slightest improvement I have and buy the thing. Here's what happened: Bring it home and my son loves the look, wife is not impressed as I dropped a $100 2 weeks after we got him "a perfectly good stick". Apparently "I am a idiot for believing that this will fix a problem that doesn't exist". I grab his old stick and am shocked to discover how awful it throws. My son starts trying to play pass with it and what do you know, he can't throw at all. I then get into a fight with my son over using it. I persist and he caves. A week later his velocity and accuracy pretty much doubled and his form is perfect. BOTTOM LINE IS THAT THIS STICK DOES EXACTLY WHAT IT SAYS, MAKES IT IMPOSSIBLE TO THROW WITH POOR MECHANICS. Every kid on our team has asked my son to try it and I will tell you that the ones with bad form can't do it. The best thing that could happen to lacrosse is this being a mandatory piece of equipment for all first year players. Ask any highschool coach what the biggest issue they see with incoming players shots and I bet you everyone will say something to do with not shooting over the top. To give this anything but a 5 star review is to not understand the sport or what the purpose of this product is. A nice bonus is that ground balls and cradling were both much easier with this THANK YOU WARRIOR FOR WHAT I BELIEVE TO BE THE MOST INNOVATIVE AND HELPFUL PRODUCT CREATED
Date published: 2018-05-21
Rated 4 out of 5
by
Nani Kim
from
Basket is great.
I bought this for my grandson for Christmas. He loves the basket. He really was not impressed with the stick and is looking to replace. But the basket is exactly what he wanted. I am putting the info on bottom for my grandson, not me!
Date published: 2018-01-25
Rated 5 out of 5
by
Cavfsu
from
Son loves it
My son loves this stick. Perfect pocket and great for helping developing players.
Date published: 2018-03-27
Rated 5 out of 5
by
LaxCoach84
from
Perfect stick for new or mildy experience player!
My nephew was learning how to play lacrosse but was continually struggling with passing/catching to the point of not wanting to go to practice anymore. I picked him up one of these for his birthday and within 30 minutes of playing with me in the backyard, he was able to pass/catch like a champ! I have since had multiple players on my 12U team purchase a Warp Next and their play has improved drastically.
Date published: 2018-06-08