YETI 30 oz. Rambler MagSlider Lid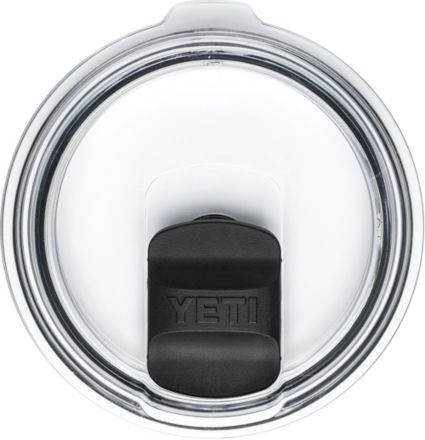 YETI 30 oz. Rambler MagSlider Lid
is rated out of
5
by
1484
.
This product is currently out of stock.
Please choose product options above
Please choose product options above
PDP Sticky bottom AddToCart Section - active and hide position
Product Information:
Take your YETI Rambler Tumbler on the go with the MagSlider™ Lid. Utilizing magnet technology, the MagSlider™ Lid open and closes smoothly, and protects against splashes and spills. Its crystal clear design allows you to see inside your cup, while the shatterproof construction is built to last. The MagSlider™ can be removed from the lid for cleaning and is dishwasher-safe.
FEATURES:
Fits the 30 oz. Rambler Tumbler and 14 oz. Rambler Mug
Uses magnets for easy opening and closing
Shields from spills and splashes
Crystal clear and shatterproof design
Keeps your beverage cold/warm longer
MagSlider™ pops off for easy cleaning
Dishwasher-safe
Note: This product is not intended to be leakproof
Brand: YETI
Country of Origin: Imported
Style: 21070070011
Web ID: 17YETA30MGSLDRLDXODR
Rated 5 out of 5
by
Thomas L
from
Great Addition for your Yeti
I have been very excited about the release of the Yeti Magslider lid but I do not understand a few negative reviews on this product already nowhere in Yeti's description says it is completely spillproof it says splash proof and it does exactly that it works great for hot liquids are cold liquid I do believe for the cost of these yeti mugs that this should be a standard feature lid given in addition to the original lid in all fairness to Yeti before giving this product a bad review read the product description first
Date published: 2017-05-23
Rated 3 out of 5
by
KBanks
from
Mag slider
I have several of these, they are really one of your only options and they work fine but it could be better. I'm not crazy about the fact that it's a two pice construction, the little mag slide part is easily lost. It's leak proof, not spill proof, for the $$$ and fact it has to be purchased separately it should make a perfect seal so if I knock my drink over in the car it won't spill, it doesn't. If you have to have all things yeti get one, if you think this will make your yeti water tight it won't. It just slows the spill. It does help conserve a little more heat for the drink tho. It's a poorly designed item compared to all the other yeti products
Date published: 2019-02-18
Rated 1 out of 5
by
Mk317
from
Why create a lid that isn't leak proof???
Lid is NOT sealed and liquid gathers all on the top of your cup and spills everywhere! I don't understand why this company would create something that's "splash proof" yet not sealed so your drink doesn't go all over you? I spent a lot of money on this cup with this lid and who cares about the magnet? It's useless if the lid doesn't seal your drink inside the cup! Why would I want a to go cup that doesn't keep my drink INSIDE the cup? Don't waste your money I don't who would want this product after the purpose of it doesn't even work properly. Go back to the drawing board YETI, give all your customers who spent the money a new lid once you create a normal one that doesn't leak everywhere. Highly dissatisfied!
Date published: 2017-12-27
Rated 5 out of 5
by
Hansome
from
Excellent and almost perfect!
I bought this to replace the two lids I had been using. The original one when I want to drink from my Rambler and another one for when I want to shove it in my bag while I workout. Although it is leak resistant (small drip) and not leak proof (no drip), it suits my needs. I have a water bottle pouch on my bag so it's not flipping upside down anyways and despite sloshing my bag around, I have not had any spill or leak issues. I definitely recommend it to anyone who bought one of the knockoff lids that have the flip up opening that pokes you in the nose when trying to drink out of it and keep the original lid so they can actually enjoy their Yeti.
Date published: 2017-11-16
Rated 4 out of 5
by
tltintx
from
Does anyone actually read the product description?
MANY complaints about receiving these lids and finding out they are not leak proof, however it says right in the product description: "Please note: the MagSlider Lid is not leakproof and will not prevent spills.". Don't neglect to research the product and then blame the manufacturer because you don't like the product features. Yeti products are fantastic... having said all that, it would be nice if they would add a leak-proof lid option for purchase on these.
Date published: 2018-12-24
Rated 1 out of 5
by
Rail Yeti
from
Missed the Mark with this lid
Unlike other Yeti products, this lid is a great disappointment. I know it is not spill proof but it should be splash proof enough to carry upright in a bag. It works well for cold drinks, but is not really any better than the standard lid if full with a hot beverage. The heat inside appears to open the seal and it leaks enough it can not be carried without a large amount of the beverage leaking out. Great idea but the magnets are not strong enough on hot liquids. I was excited to hear Yeti was coming out with this lid so I ordered 4 of these given Yeti's quality on other products but sorry I did, so I am going back to the 3rd party lids (they work). I am surprised Yeti put this out. Maybe Yeti can fix this but for now don't buy if you plan on hot beverages.
Date published: 2017-06-06
Rated 4 out of 5
by
Craig0516
from
Glad to see this finally come out
I work for a YETI retailer and have for years. I am glad to see this product finally come out but YETI really needs to look into the book The Lean Startup and learn about MVPs (minimum viable product) instead of waiting years to release a product that their customers have been begging for. I drink my two cups of coffee out of my yeti every day and am glad to have a "splashproof" lid for it finally. I usually walk with my hands full of junk so it helps me worry less about spilling my coffee. I do wish the lid was more leak proof but it doesn't promise to be. If you tip your cup over it will probably spill a few drops but won't be as detrimental as a regular lid. It also has a nice click when you open and close it.
Date published: 2017-06-10
Rated 5 out of 5
by
TeacherSmurf
from
THE MAGSLIDER IS A HOMERUN!
I absolutely love everything YETI! We Yetis ,know that they are the BEST, well made products out there. I bought the most adorable turquoise/sea foam greenish tumbler, that I adore! Guess what made my super duper tumbler even better??? Well, my fellow Yeti friends, if you guessed the MAGSLIDER... you are right! It has helped keep in miraculous ways. I can fill the cup up with ice and I still have ice the next day! Whoohoo!!! I really want the pink Magslider and I'm dreaming of getting the small Yeti cooler! So, to wrap things up... YOU MUST BUY THE MAGSLIDER....or you are just missing out on a fantastic product! Thanks Yeti!
Date published: 2017-08-12