YETI 30 oz. Rambler Replacement Lid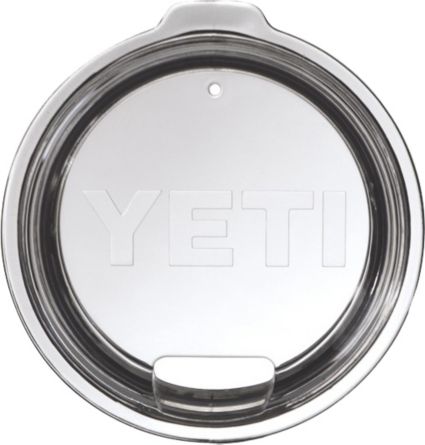 YETI 30 oz. Rambler Replacement Lid
is rated out of
5
by
952
.
This product is currently out of stock.
Please choose product options above
Please choose product options above
PDP Sticky bottom AddToCart Section - active and hide position
Lose your Rambler Lid during your camping trip? Keep an extra YETI Rambler Lid on hand for your 30 oz. Rambler Tumbler. This crystal clear lid features a durable gasket that offers a tight seal, keeping your beverage at an ideal temperature whether that is hot or cold. A shatterproof design makes it great for your outdoor adventures and is dishwasher safe for easy cleaning.
Replacement Lid
Fits with the 30 oz. Rambler Tumbler
Protects from spills when on the go
Crystal clear and shatterproof design
Features a seal for a secure hold to your Rambler
Keeps your beverage cold/warm longer
Dishwasher safe
Style: 21070070003
Brand: YETI
Country of Origin: Imported
Web ID: 15YETURMBLR30RPLCODR
Rated 2 out of 5
by
Concretecarver
from
Love my Rambler cup HATE THE TERRIBLE DESIGNED LID
Purchased my 30oz. Rambler 3 weeks ago and love the cup itself. Does great with cold drinks. Hot drinks do not last near as long. The lid is terrible! A $40 coffee cup that can't keep a drink from sloshing through both the vent hole and the drink spout? Plus I don't know what others think on this but when drinking with the lid on does the lid not hit you right on the nose? Really? I am working on making a double seal lid (one seal inside and one over the outside) for mine with a inside splash guard. When I get this completed I will be sure to post pics to show Yeti how its done! Have the Tundra50 love it. Hate the Rambler! Thanks
Date published: 2016-06-14
Rated 5 out of 5
by
jamiesruby
from
Replacement lid
I recently unknowingly left my 30 oz Rambler on the roof of my truck. After about a mile of driving, I heard a noise towards the rear of the cabin that I assumed was some gear shifting. About a mile later as I turned onto the major thoroughfare I heard more noise toward the rear of the cabin again & as I looked in my rear view mirror I discovered my Yeti flying down the road. I stopped to recover it and found the lid had blown off, the Rambler had a few scratches and one pretty good dent just above where the side expands. Ordered a new lid and things are good to go. I use the dent as a thumb niche.
Date published: 2015-04-22
Rated 2 out of 5
by
MidModMom
from
Fits well, but design is flawed
The biggest complaint I have with this is that the lid is clear, allowing sunlight in, which melts the ice. I have experimented on numerous occasions and if I leave my Yeti in the car, in the shade, the ice stays. If I park where sunlight gets in the car, the ice melts. The other issue is that the lid doesn't close. I have found small flies in my drink, and now I am paranoid about bugs getting in. I have almost stopped using my Yeti because of these issues. I came online to see if there have been any new lid designs, and there have not. Otherwise, the lid fits really snug and it is easy to sip from. We usually shove a straw down the hole, just to make it easier to drink from when driving.
Date published: 2016-06-07
Rated 1 out of 5
by
BamaMother
from
A LID THAT DOES NOT SPILL..........PLEASE!!
My husband and I have two sons. Each member of our family owns a YETI cooler! We keep one at the lake and the beach, keep one in Tuscaloosa, AL for "game days" and at home. Have never been disappointed with the quality of YETI products. That is however, not until I purchased both sizes of the YETI cup. Actually both cups are superior in quality. The lids however, have a lot to be desired. I actually thought the lids were spill proof when I purchased them. When I started to wash them at home, I realized they were not spill proof. Quite honestly, I would not of purchased them if I had realized this initially. PLEASE make a spill proof lid. I am about to select "10" in recommending YETI to a friend, not the cups!
Date published: 2015-03-27
Rated 5 out of 5
by
Meggy
from
Need a Sealable Lid!!
Just recently discovered how awesome Yeti is when my daughter gave me one for my 70th birthday! But I agree with many others that you need a resealable lid. I too have used a large plastic bag but the contents splash out and make a mess of the inside of the bag. I have tried using a cluster of Starbucks green cup sealers but they are too skinny at the bottom. With the high level of excellence of your products I cannot understand why you have not yet come up with a lid for transporting our precious Yeti. Come on design team, get on the ball......need this before my 80th birthday!!!!
Date published: 2016-02-21
Rated 4 out of 5
by
Will V
from
Great lid. Needs a way to seal it for travel
Bought this for my Yeti Lowball glasses (which in my opinion should come with a lid). I have both size Ramblers as well, so I knew the kids were tough already. They fit the Lowball well and help keep coffee hot and drinks cold. However, I wish there was a way to seal them up so that they wouldn't leak during travel. Yeti engineering, how about making a plug/stirring spoon combo that could be plugged into the mouth opening of the lid to keep it from splashing coffee everywhere in my truck. I know that your engineering gniouses could figure out a burley solution.
Date published: 2015-11-21
Rated 1 out of 5
by
Miketd773
from
Need an up grade on the lid
My wife just bought me the Yeti Rambler. Not being familiar with there products I was pretty stoked when she told me of how they had high quality products that are super insulated. I was curious about the price when she said "don't ask". ( I just wanted a coffee cup) Where it went down hill for me was when I went to fill it with coffee, it was pretty obvious that this lid was not designed with hot coffee in mind. Sure enough, my first Yeti experience was backing out of my driveway, I may have not chosen the best cup holder but the tumbler tumbled, just for a second....uh! with the wide opening a third of my coffee in the console. The cup is cool but the lid...Not a fan.
Date published: 2016-06-21
Rated 1 out of 5
by
Nightowl
from
YETI we have a problem!
I just received my 30oz Rambler as a gift and was so excited when I opened the box and saw what was inside. Oh how quickly that excitement faded the one and only time I've used it. I like my coffee HOT and it didn't stay hot long at all. Fix that lid! ! It might just help if the lid closed. And when you decide to Fix the lid it should be standard "equipment" with the mug. Your products are too pricey to have to pay separate to upgrade the lid. It's bad enough the handle costs extra and oh yes, that was part of my gift also. So for now I will be ordering a closure type lid from another company and will not be using my mug until it arrives. We'll see how long my coffee stays hot after I get a lid that closes.
Date published: 2017-01-25