YETI Rambler Bottle Straw Cap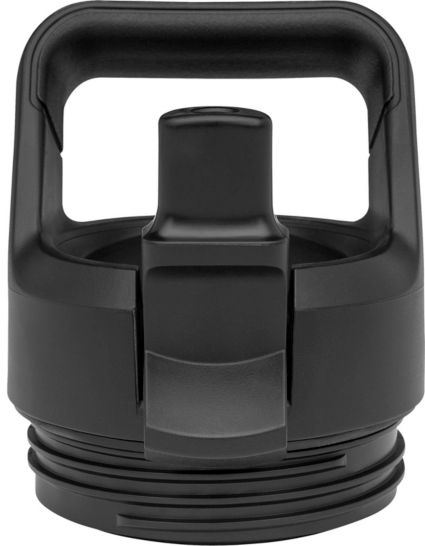 YETI Rambler Bottle Straw Cap
is rated out of
5
by
965
.
This product is currently out of stock.
Please choose product options above
Please choose product options above
PDP Sticky bottom AddToCart Section - active and hide position
Product Information:
The YETI Rambler Bottle Straw Cap is perfect for on-the-go hydration. The flip-open valve and straw make it easier to sip your beverage and protect from spills. The TripleHaul™ cap provides a 100% leakproof, insulated, and airtight lock. Like the rest of the Rambler accessory family, it's shatter-resistant and safe to throw in the dishwasher.
FEATURES:
Fits the YETI Rambler Bottle models
Flip-open valve and straw simplifies sipping
TripleHaul™ cap provides a 100% leakproof, insulated, airtight lock
TripleHaul™ cap has 3-finger grip for carrying
Spill and shatter-resistant
Dishwasher safe
Brand: YETI
Country of Origin: Imported
Style: YRAMBSTCAP
Web ID: 17YETURMBLRBTTLSTODR
Rated 5 out of 5
by
JLMoffett
from
Simple fix for carbonated beverages using straw ca
I have used a rambler tumbler for several years and love them. I recently bought the 26 oz bottle for times where I need it to be leakproof. I just received my straw cap and since I was going against the recommendations, I had the same issue several talk about with liquid squirting out. No big deal, the carbonated beverage is pressurizing the bottle. Don't abandon ship, just use your head. There is a simple fix to this. Just use it without the straw. It works just fine and you keep all the benefits of the straw cap. When you open the lid, the gas purges out but no liquid spew. Just tip the bottle up to drink. Problem solved and life is good.
Date published: 2019-02-28
Rated 2 out of 5
by
AZgoats
from
Pleased to disappointed in 2 months
I add the straw cap to my 64 once rambler for my convenience as well as it making it easy for my young children to get a drink. At first I was very pleased with the added convenience, however today I took the straw cap off, because I'm tired of looking like I peed my pants. The cap doesn't it often, but not under and specific set of circumstances, so you never know when your getting a lap full of water when you flip the straw up. Like I said, I tried to isolate factors that would cause water to rush up the straw, but have yet to find any repeatable circumstances when this happens. What I do know is, getting dosed one or more times a day is not acceptable.
Date published: 2018-01-02
Rated 1 out of 5
by
Lilyxjen
from
Leaky and spills out
No, just no. I have every lid from yeti but this is just NOT good. I only keep ice water in my yeti and since the moment I purchased it, I have had leaks from the sides and gets my bags wet and when I open the mouth piece, water spouts and shoots out like a fountain. I have had this happen with and without the straw. The first time it happened was on a plane and it spilled all over my lap and it looked like I had an accident ...oh was I heated! Figured it was an elevation thing? (Idk I'm no physicist) despite this incident, I continued using it and again on multiple occasions...more accidents. [This review was collected as part of a promotion.]
Date published: 2018-07-11
Rated 4 out of 5
by
Royalene
from
YAY for not spilling water everywhere!
I bought this so that I could have my Yeti bottle at work and not worry about accidentally spilling my water all over my computer and keyboard, plus I drink more water if its from a straw. This is my first Yeti accessory and didn't realize I had to trim the straw down which wasn't a big deal at all, but I just didn't understand why the straw wasn't already sized for the rambler ( I have the 18oz). Maybe the other sizes are taller, I don't know. My only con about this is that it is slightly less sealed than the original lid and I did find that my water didn't stay as cold as long as it did with the original. Other than that it is great!
Date published: 2018-02-14
Rated 2 out of 5
by
mjhaman
from
Could be a lot better...
I don't know the fix for it but, that is Yeti's job... The main issue I have is my drink squirting out the straw when I open it. It does not do it every time because it has to do with pressure change. I frequently travel up and down a canyon for work and play (fishing, hunting etc.) and sure enough, I squirt my drink all over my truck when I open the straw! So frustrating! I assume that most users of this product purchased it because they like the outdoors. Most everything I do outdoors requires an elevation change, so, every time this is an issue! I've also had the issue where the inner straw comes off inside the Rambler. Back to the regular lid...
Date published: 2017-09-18
Rated 3 out of 5
by
Smoothbassman
from
Good Alternative to the regular caps.
So I scooped up this cap as I was tired of screwing the lids on and off of my ramblers in the truck. The design is solidly built although the casting they used for the molding could have been cleaned up a bit. There are clear tooling marks that you can see in the handle. Due to the design of a flip top it leaks very slowly from the straw. You see this in most designs, it's hard to avoid and I was hoping that Yeti has solved this. Guess that's why it's marketed as "leak resistant" and not "leak proof." In addition you can also use the cap without the internal straw attached. Overall it's still a good cap if you need to quickly access your drink without removing the top. Just don't tip it over in your gear as your stuff will be all wet at the end of the day.
Date published: 2017-07-06
Rated 2 out of 5
by
JShawRDH
from
Leaks!
I am a Yeti addict! I have more Yeti products than one person should be allowed, from the mint Roadie to the Coldster, and numerous colors of every thing in between! I even own several t-shirts and a bumper sticker! HOWEVER, the straw lid is horrible! It leaks a lot and I own two of them, both of which perform equally bad. The straw lid is my favorite way to drink from my bottles but cannot stand the leakiness and finally had to ditch them! Very disappointed, given the superiority of every other product Yeti offers! [This review was collected as part of a promotion.]
Date published: 2018-04-27
Rated 2 out of 5
by
Sarita Yeah Yeah
from
Leaks! OK for water, but not other beverages.
I was super excited to see this straw and lid for my Yeti Rambler. I've used the Rambler for a year or two to keep coffee hot or milk cold on day trips. This straw setup is intended for use only with cold beverages, but here is the problem: Once your ice-cold beverages warms up even the tiniest bit, you open the flip-top and the liquid squirts out through the straw. It's not a lot of liquid that comes out, which is why it would probably be fine for water, but with any other beverage it's a mess. Then, after you close the flip-top, small amounts of liquid continue to leak out underneath the flip part and continue to make a mess. I really wanted to love this lid, but I don't.
Date published: 2018-06-05