Zepp Golf 2.0 Swing Analyzer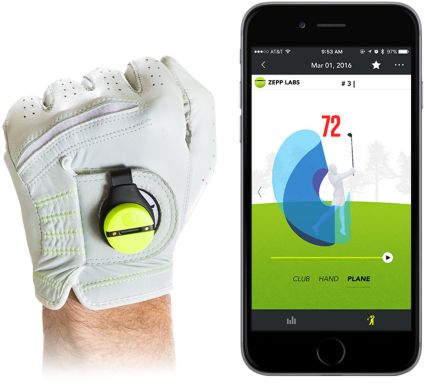 Zepp Golf 2.0 Swing Analyzer
is rated out of
5
by
21
.
This product is currently out of stock.
Please choose product options above
Please choose product options above
PDP Sticky bottom AddToCart Section - active and hide position
Product Information:
Experience the next generation of swing analysis with the Zepp Golf 2.0 Swing Analyzer. With new Smart Features designed to personalize your training, you can improve your game faster than ever. From instant swing evaluations, to easy-to-follow instruction from the Pros, this device allows golfers to develop meaningful training routines. Attach the Zepp® Golf 2.0 Swing Analyzer to your glove and let it help you become the player you want to be.
Zepp 2.0 – The Smartest Way To Improve Your Game:
Cutting-edge swing analyzer designed to help you become the player you want to be
Instant Evaluations help you see where you can improve the most and focus your training
Replay and review your swing in 360° detail from any angle for remarkable game insight
Smart Coach offers personalized training programs based on your data from Tour players/coaches
Attaches to glove and wirelessly sends 1,000 data points/second to your phone/tablet after each swing
Rechargeable battery lasts up to 8 hours for uninterrupted training
Key Points of Analysis: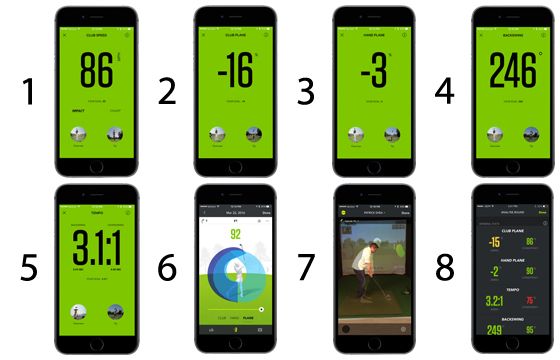 Club Speed – Measure your club speed and learn how to gain yardage off the tee or fairway
Club Plane – Discover the benefits of matching the plane of your downswing to the plane of your backswing
Hand Plane – Learn how your hands play a major role in defining the shape of your swing
Backswing Position – Track the length and consistency of your backswing. Most pros shoot for 270°
Tempo – Measure the ratio of time it takes to make your backswing vs. downswing. Most pros are 3:1
3D Analysis – See what really happens during your swing and compare your technique to the best
Video Analysis – Capture your swing in HD video and analyze with our frame by frame breakdown
Consistency – Based on how uniform your full swing metrics are. If most of your full swing metrics are close to average, the score will be green. When they vary widely, the score registers yellow or red
Device Compatibility:
iPhone 5 and newer
iPad 3rd Generation and newer
iPod Touch 6th Generation and newer
iOS 9 and above
Android OS 5.0 and newer
Physical Specifications:
What's Included: Zepp Golf 2.0 Swing Analyzer | Glove Mount | Device Charger
Device Dimensions: 1.1" x 1.1" x 0.48"
Device Weight: 0.22 oz.
Brand: Zepp
Country of Origin: Imported
Web ID: 16ZPPUZPP20GLFTCH
Rated 4 out of 5
by
Elbrin
from
Very Good Training Aid
The Zepp 2.0 Swing Analyzer is solid training aid at a reasonable price point. I own both the Zepp 2.0 and a Skypro. I find that I use both for different reasons. My point being is that I feel there is no one aid to do everything you want to analyze and improve your game. The Zepp 2.0 Analyzer is a solid addition to any training arsenal. In my honest opinion, all of these types of analyzers are basically the same, that is they are motion sensors. The key difference between any of them comes down to the software that presents the motion data to the user. To that end, I feel Zepp does a bit better job than Skypro. Also the Zepp product attaches to your glove so there is no need to re-calibrate when you switch clubs.
Date published: 2017-05-02
Rated 3 out of 5
by
rob
from
Good but could do so much more
The product works good for understanding swing plane and rotation, however it does not show if you square the clubface..good for people who come over the top and need to get more of an inside out swing. It does not show proper hand rotation but it should...seems like a simple software fix that hopefully they are working on. For what it does it works good, but it could be so much better with some software upgrades.
Date published: 2017-01-17
Rated 5 out of 5
by
DCB208
from
Love it, but probably not for everyone
If you're brand new to golf, or already a really good player, this product probably isn't for you. But for the average, recreational golfer, this thing is pretty cool. I'm a pretty analytical type person so I really like the data this provides. It makes practice time more purposeful and fun, and provides training videos, drills, and tests based on your swing performance. If you have realistic expectations and understand that this is not a $2,000 system, this thing can provide a lot of benefits.
Date published: 2017-04-11
Rated 5 out of 5
by
Millhaus
from
Great tool
Just a good tool to bring to the range and see how you're swinging the club. Nicely modifiable to fit your personal swing. theres a few things it lacks, but for the money, i wouldnt expect them to go that crazy. hopefully in the future, theres an easier way to switch between clubs so you can bring it out on the course and see how you did swing by swing throughout a round. but again, for the money, it gives a lot of feedback and a 3d analyzer of your swing. and it gives lesson plans after a swing evaluation, so you have a purpose to work on at the driving range.
Date published: 2016-06-01
Rated 4 out of 5
by
The Beezy
from
Smart Coaching the Key Feature
I am not a particularly good golfer. Over the past three months, I've been aggressively trying to get better. I usually score about 110 on 18 holes (mostly over, but not by much). I go to the range at least weekly and I've taken lessons. Before I purchased the Zepp sensor, I was finishing 30-40 strokes over on the course. The Zepp sensor has helped me make significant improvements to my swing, inevitably getting me to finish 1-2 strokes over every hole, even hitting par. I debated this purchase for a while. I know how to swing and I usually know what I've done wrong if the shot goes awry. I also have another wearable. This price point is okay, I just didn't know what I was really getting. Part of why i'm writing this too is that I found the lack of reviews concerning. I was debating between this and the Garmin swing sensor too. The "x-factor" for me was the smart coaching and ultimately why I went with Zepp over the competition. I'm certain other swing analyzers can provide similar analytics and provide the user with some of the same feedback, but I chose Zepp because it can tailor a coaching program to really get at the issue with my swing (i.e. I slice a lot, my tempo is off, etc.) Zepp uses some data points I actually understand and immediately know where I need to correct, even without the smart coaching. Zepp also provides definitions for the different analytics so I can understand what's happening. If you're serious about your swing, can self-coach or train on your own, I highly recommend the Zepp sensor. It's helped me be more aware of my swings flaws and immediately recommends plans to iron out the problems fast.
Date published: 2016-06-12
Rated 5 out of 5
by
Birdhunter
from
A game changer
Was in a bit of a slump and purchased this based on some internet reviews. Has helped me find my game again based on what i could see was going on with my hand and club planes. Also discovered my backswing was quite short and my tempo had gotten too quick. Would highly recommend.
Date published: 2017-04-18
Rated 5 out of 5
by
Hoser52
from
Great product to fix the Over the top swing among other swing faults!
I bought the zepp golf swing analyzer about a week ago. I just recently started playing again after about a 10 year hiatus. I was going to the driving range every other day to work on my swing. I thought I was swinging exceptionally well (recieved a lot compliments from the instructors). After downloading the app, setting up the swing analyzer, and hitting a few balls, it turned out i was coming over ther top slightly. After working on a few drills provided by instructors on the app, reviewing my numbers and hitting a couple of hundred range balls, I've managed to fix my swing and place it on the correct plane. I'm now hitting all of my irons pure, including my long irons. Not to mention I've gained the distance and accuracy I wanted. Just a heads up, this isn't a Trackman/Flightscope/GC type of analyzer. It is limited on the amount of feedback and information it provides. But it's 100% worth the investment.
Date published: 2018-01-08
Rated 5 out of 5
by
DRF57
from
Useful product
Very easy to set up with your Bluetooth phone or tablet. Then all you have to do is experiment with your golf swing and watch the numbers! Once you find your consistent swing plane just keep practicing it. My first session took me about an hour to figure out my swing flaw - which was coming too far from the inside I am a single digit handicapper and happy that I bought this product.
Date published: 2017-08-04