Store Services

Archery Services
---
You train hard to perfect your shot, and your bow has to perform exactly as you need it to when it matters most.
Learn more about the archery services available at DICK'S below.
Licenses
Hunting Licenses
DICK'S sells hunting licenses in most stores. Contact your local store for more information about pricing and the specific types of hunting licenses available in your area.
---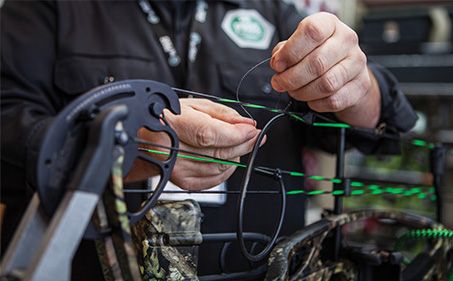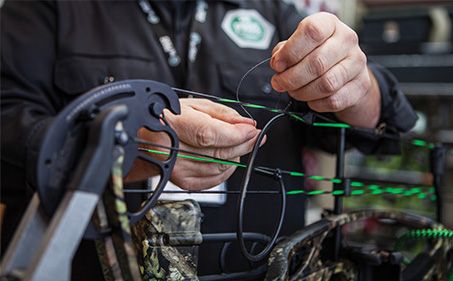 Bow Services
---
Whether out on a hunt or target shooting, a properly tuned bow helps archers shoot more accurately and safely. Our Archery PROS perform everything from basic bow set-ups and tune-ups to accessory installations, bow adjustments, string services and much more.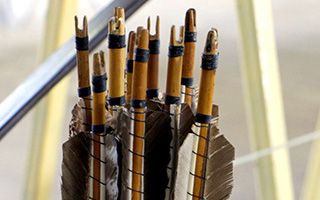 Arrow Services
---
When buying new arrows, you'll need to consider a number of factors. Find out how to choose the best archery arrow for you.
Our Archery PROS can help you zero in on the right spine, material, weight and vane. They will measure your draw to determine the ideal arrow length for you. With professional equipment, our PROS will then cut your arrows and install the inserts. You'll leave with a quiver full of arrows custom fit for you and ready to hit their target.
How to Take Care of Your Archery Gear
---
Get the most out of your archery gear by properly storing your equipment, getting yearly tune-ups and taking steps to ensure safety.

Compound Bows
Proper care is essential for optimal performance.
When storing your bow, avoid extreme heat or cold and protect your equipment with a bow case or bag. Prior to use, always inspect your bow and bow string, checking for the following conditions:
Corrosion or rust
Cracks or gouges
Frayed or loose string
Most archers require a professional bow tune-up at least once year and wax their string several times per year.

Arrows
Make sure arrows are in tip-top shape.
Prior to each use, check your arrows to ensure they're ready to perform safely and accurately. Never shoot an arrow you suspect has damage.
Check for straightness by rolling arrows on a horizontal surface (with fletching hanging off the edge of the surface)
Flex a carbon arrow slightly, listening for evidence of cracks or splinters
Inspect the nock, looking for cracks or damage, and confirm it is seated properly
Store and transport arrows securely with a sturdy quiver or tube
Save on Services When You Shop at DICK'S
Most archery services are free with related equipment purchase. Bows and arrows purchased online also qualify for in-store archery services with proof of purchase. Shop the full collection of archery equipment and find a store near you with our DICK'S Sporting Goods Store Locator.