Store Services

Bike Maintenance, Installation & Repair Services
---
Ensure you're ready for every mile with bike repairs, Tune-Ups, accessory installations and more from DICK'S Sporting Goods.
Whether you're a competitive cyclist or just bike for fun, regular maintenance is essential for your ride. Our Bike PROS can help you maximize your performance on the road. Our certified technicians are trained to perform adjustments, installations and repairs to your bicycle.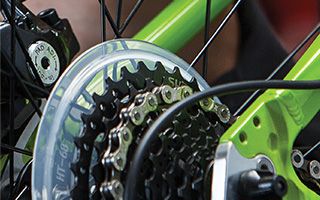 Tune-Ups
---
Regular Tune-Ups ensure bicycle safety and reliability. Ask your local Bike PRO how to keep your bike in peak condition with our variety of Tune-Ups.
Basic Tune-Up
Includes brake inspection and adjustments, derailleur inspection and adjustments, tire inspection and inflation, safety check of all bolts and wipe down of frame.
Premium Tune-Up
Everything included in the Basic Tune-Up, plus wheel truing, pivot point lube, chain clean and lube and frame clean and polish.
Brake System Tune-Up
Includes brake pad installation, brake inspection and adjustments and inspection of cables and housing.
Drivetrain Tune-Up
Includes drive system inspection and adjustments, inspection of cables and housing and quick chain clean and lube.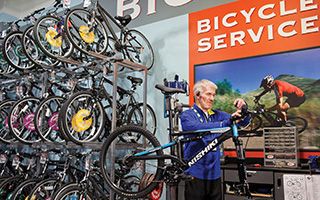 Adjustments & Repairs
---
Our Bike PROS can make adjustments and repairs following accidental damage and wear and tear to your brakes, drivetrain, shifters, derailleurs, wheels and more.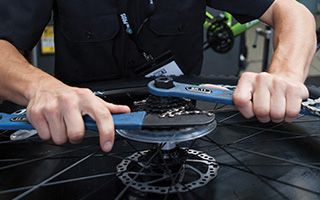 Installations
---
From kickstands to child carriers, we can install and replace accessories to customize your bike, so it's ready for your next journey.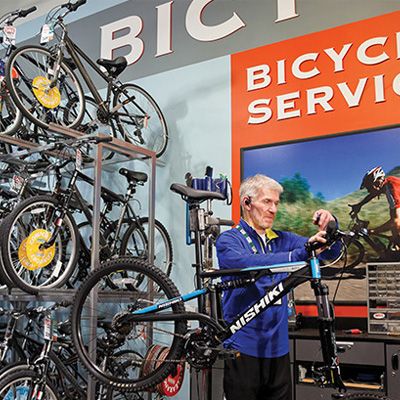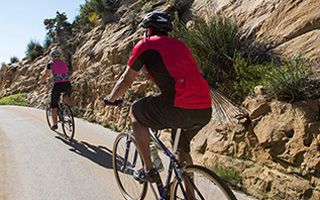 No-Sweat Protection Plan
---
Ask your local Bike PRO about getting a No-Sweat Protection Plan to enhance the manufacturer's warranty on your DICK'S bike purchase and to qualify for free maintenance services. Two- and three-year plans include free Tune-Ups and an inner tube replacement. All plans include the cost of parts and repair needed as a result of normal wear and tear. See plan terms and conditions for all details.
Bike Services Pricing
---
Tune-Ups/Builds

Basic Tune-Up

$39.99

Premium Tune-Up

$69.99

Brake System Tune-Up

$24.99

Drivetrain Tune-Up

$24.99

Bike Build

$39.99
Brakes

Adjust/Install Rim Brake Pads

$9.99

Adjust/Install Disc Brake Pads

$14.99

Install Hydraulic Disc Brakes

$24.99

Install Mechanical Disc Brakes

$14.99

Install Rim Brake Set

$12.99

Install Brake Cables/Housing

$9.99

Install Brake Levers

$12.99

Install Rotor

$7.99

Bleed Hydraulic Disc Brake

$14.99
Drivetrain

Install or Overhaul Bottom Bracket

$14.99

Install Chain

$14.99

Remove/Clean/Reinstall Chain

$9.99

Install Pedals

$4.99

Install Crank (1 Piece)

$14.99

Install Crank (3 Piece)

$23.99
Shifter/Derailleur

Adjust Derailleur (Front or Rear)

$14.99

Install Front Derailleur

$6.99

Install Rear Derailleur

$11.99

Install Shifter (Each)

$12.99

Install Shifter Cables/Housing

$12.99
Wheels

Install Inner Tube

$6.99

Repair Inner Tube

$8.99

True Wheel

$12.99

Install Spoke (Each)

$5.99

Adjust Hub (Front or Rear)

$5.99

Overhaul Front Hub

$14.99

Overhaul Rear Hub

$18.99

Wheel Slime (Per Wheel)

$4.99
Handlebars/Fork/Headset

Install Handlebars

$9.99

Install Bar Ends

$6.99

Install Handlebar Grips

$6.99

Install Handlebar Tape

$8.99

Install Fork

$34.99

Headset Adjustments

$7.99

Install or Overhaul Headset

$17.99
Installs

Child Carrier

$14.99

Cycle Computer

$9.99

Fenders

$12.99

Kickstand

$1.99

Rear Rack

$4.99

Saddle

$1.99

Training Wheels

$12.99

Water Bottle Cage

$1.99
Professional Bike Assembly

Free with Bikes Purchased at DICK'S Stores or DICKS.com
Details
Bike Maintenance 101
---
If you ride often, you should schedule regular Tune-Ups to keep your bike at its best and to maintain overall safety. Long-distance cyclists should also have their bike inspected before heading out on a lengthy trek.

Moving Parts
Make sure all parts can move smoothly.
Proper lubrication prevents excessive wear caused by friction, allowing moving parts to perform better on the road. Our Bike PROS will make sure your drivetrain, brakes and shifting system are road ready.

Nuts & Bolts
Loose parts can derail your ride.
Dozens of nuts, bolts and screws keep your bike together. Loose parts can negatively impact your ride, while overtightening can pinch cables or reduce range of motion, resulting in the same effect. Our PROS use torque wrenches when tightening key components according to manufacturer-recommended specifications.

Clean Up
Use care when cleaning your bike.
Mud, dirt and grime can accelerate the deterioration of your bike, but cleaning with water can cause damage as well. Various levels of frame cleaning are included in our basic and premium Tune-Up services.
Save on Services When You Shop at DICK'S
Free bike assembly is available for any bicycle purchased in store or online with proof of purchase. Take advantage of Free & Fast In-Store Pick Up when you buy select products online, so you can pick up your bike and get it assembled or serviced the same day! Contact your local store to arrange your assembly service.
Shop the full collection of bikes and bike gear and find a store near you with our DICK'S Sporting Goods Store Locator. Maintain your bike between your Bike PROS' Tune-Ups with lubricants, patch kits and other bike parts and tools.