|

Football Helmet Buying Guide
FOOTBALL HELMET BUYING GUIDE
DICK'S PRO TIPS
|
Football Helmet Buying Guide
Start here for the gear you need and advice from our experts


Football helmets are an essential piece of equipment on the gridiron. The right helmet offers a blend of protection and playability. All football helmets at DICK'S Sporting Goods meet the standards of National Operating Committee on Standards for Athletic Equipment (NOSCAE).
Remember that football is a contact and collision sport. No helmet can completely protect an athlete from injury.
---
Football Helmet Shell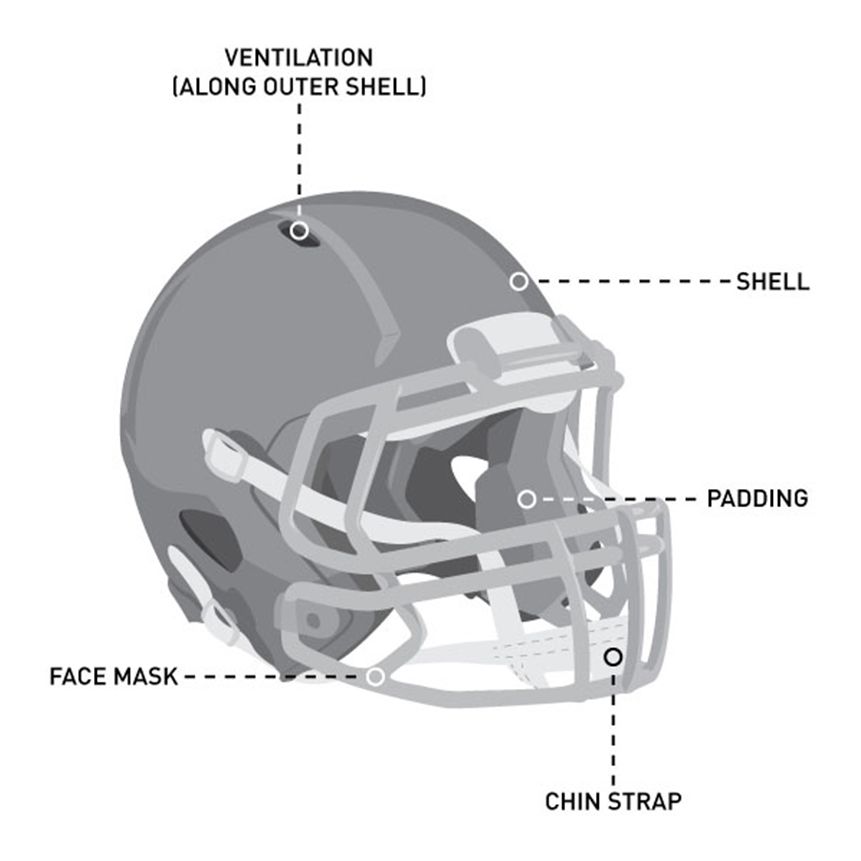 The outer component of a football helmet is the hard shell. Designed by manufacturers as the first level of protection from contact.
Ventilation throughout the shell increases airflow, keeping you comfortable as the game heats up.
Some models are designed with an air system. This assists in tightening the helmet pads to your head's shape for optimum fit.
The shell's construction features either of the following materials:
Acrylonitrile-Butadiene-Styrene [ABS] Plastic is commonly found in youth football helmets. It is a lightweight, durable material designed by manufacturers to withstand force of hits consistent with youth play.
Polycarbonate Alloy is typically used in adult helmets. It is a material designed by manufacturers to offer protection during play with high-speed or forceful impacts, such as high school and collegiate play.
Football Helmet Padding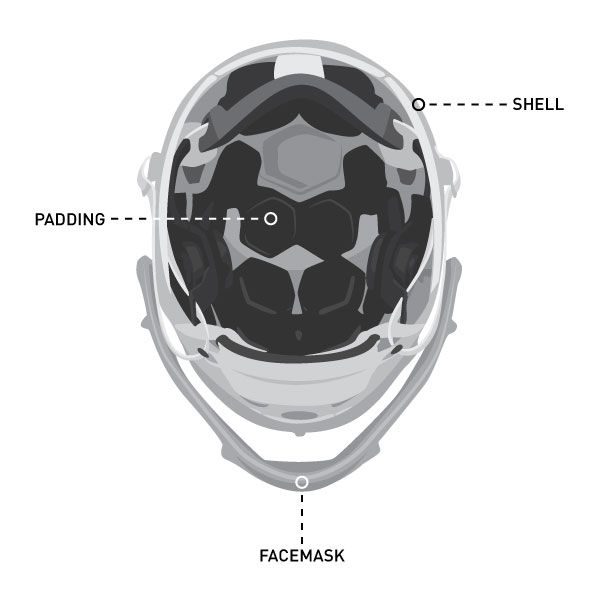 The interior padding of the football helmet has a major impact on the overall protection level.
Two different types of padding can provide cushion within the shell. Padding is either pre-sized or inflatable.
Padding is typically made of the following materials:
Thermoplastic Urethane (TPU) Foam does not require a break-in period like regular foam. This material can help absorb shock upon impact.
Vinyl Nitrile Foam can help deliver efficient shock absorption and comfortable protection. This material may require a break-in-period.

Football Helmet Accessories
There are several helmet accessories to consider.

Football Chin Straps attach directly to your helmet. They are available in either hard or soft materials. Chin straps help provide a secure fit. Keeping your football helmet in place helps improve your field of vision on gameday.
Football Mouthguards can help protect your mouth and teeth. You will find football mouthguards in a variety of colors and designs to help get your game face ready.
Football Visors and Football Eye Shields fit in your facemask and don't obstruct your vision. These are not required but can help provide extra eye protection. Check with your coach and league to make sure you can wear football visors or eye shields during a game.
Facemasks either come as part of a football helmet or can be purchased separately. Always make sure the football facemask you buy is compatible with your helmet.
Some brands offer football helmets with a quick-release facemask feature. This allows for access to a player during an injury situation.

The construction of the football facemask can feature a variety of materials. You want your facemask to be lightweight.
Carbon Steel is the best choice for youth players and beginners. It is relatively light, inexpensive and durable.
Stainless Steel is slightly more expensive than standard carbon steel. It offers more serious players a light-yet-durable facemask.
Titanium facemasks are for the serious or pro player. While the most expensive, it is the lightest and strongest facemask material available.
---
There are a variety of facemask types that are typically used for different player positions. Consider the different facemask designs available.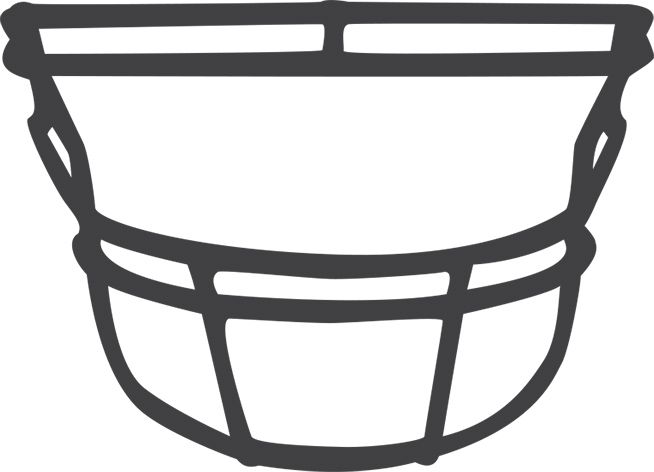 Oral protection only (OPO) provides a clearer field of vision as the facemask only covers the player's mouth and jaw. This type of facemask is often used by quarterbacks, kickers, defensive backs and wide receivers.
Jaw and oral protection (JOP) provides additional protection for player positions that involve some blocking and hitting, such as running backs and tight ends.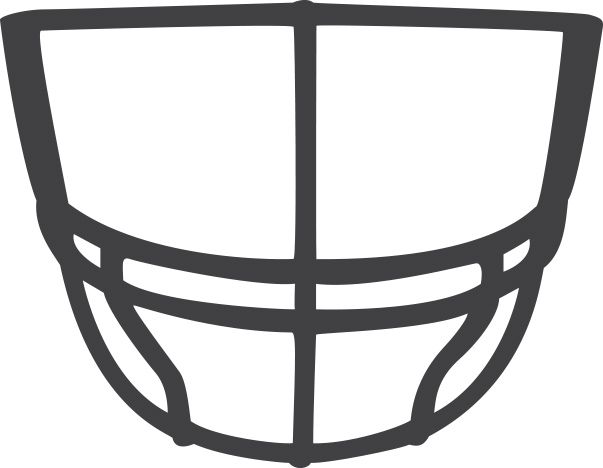 Nose and oral protection (NOPO) can help players have a clearer field of vision while providing additional protection over the player's nose. This is a good option for both receivers and running backs.
NOSE, JAW AND ORAL PROTECTION
Nose, jaw and oral protection (NJOP) helps provide protection for positions that involve constant or regular contact. This is a good choice for linemen battling in the trenches.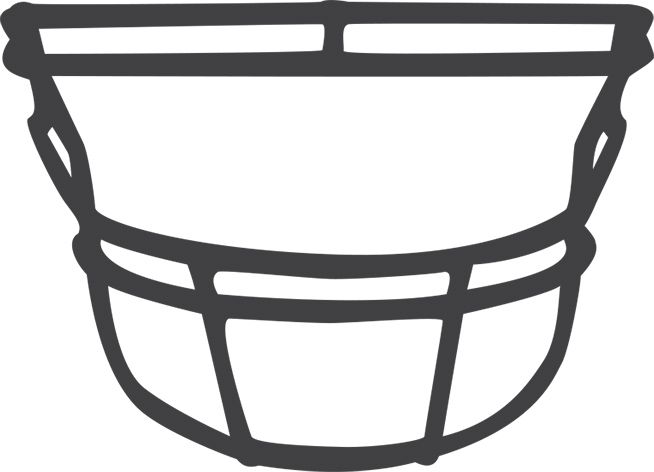 EYEGLASSES AND ORAL PROTECTION
Eyeglasses and oral protection (EGOP) can also be a good choice for players who experience regular contact and collisions. This includes linemen and linebackers.
FOOTBALL HELMET SIZING
Having the right football helmet size and fit is critical for every person.
Remember: Manufacturers recommend youth football helmets for players younger than 14 years old and adult helmets for players 14 years old and older.
Follow this simple guide to determine your proper measurement.

FOOTBALL HELMET FITTING
Once you have your helmet, you need to make sure that it fits correctly when you put it on. Put on your helmet and adjust the chin straps so it fits snugly and comfortably. If you have inflatable helmet pads, pump air into the designated areas. You will pump air until the helmet feels snug both front to back and side to side.

You have two ways to test the fit of your helmet:
Interlock your fingers. Press down on the top of the helmet. You should feel pressure on the crown. If you feel pressure on your brow, the helmet is improperly fit.
Test the helmet's fit by moving your head around. Move from left to right as well as up and down. You will see no shifting or twisting of the forehead or skin against the pads with a proper fit. All should move as one.
Never wear a football helmet that is an improper fit, cracked or appears to be compromised.