Store Services

Golf Services
---
Let your clubs give you the confidence you need to play your best round yet.
The Golf PROS at DICK'S Sporting Goods are dedicated to elevating your game. Our experts fit, tune, regrip and repair clubs, so golfers get maximum playability out of their bag. Add our other services like personalization, custom orders and club trade-ins, all for an unbeatable experience from your DICK'S Sporting Goods golf department. Contact your local Golf PROS to find out how they can help maximize your game.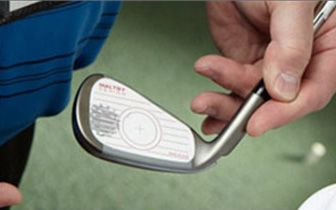 Golf Club Fitting
A custom-fit set of clubs that's tailored to your game can help you realize your potential on the course. The certified club fitters at DICK'S use cutting-edge technology and years of experience to recommend your optimal set make-up, loft angle, lie angle, shaft type, shaft length, grip size and more. Clubs customized to your body and swing are essential for optimal consistency and accuracy.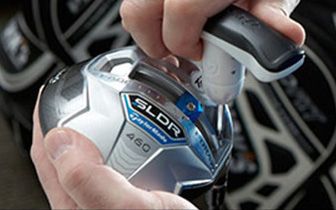 Golf Club Tuning
Today's golf equipment is designed with adjustability in mind, and the Golf PROS at DICK'S Sporting Goods will help you find the right fit for your game. After a professional fitting, our PROS can dial in your gear, leaving you ready to hit the course with confidence.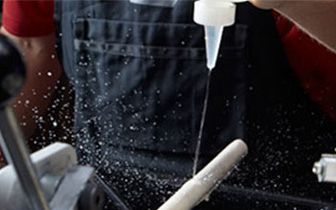 Golf Club Regripping
Whether you're customizing new clubs or refreshing your trusted set, regripping can make remarkable differences in your game. A grip that's too small causes over-rotation during your swing, while a grip that's too large doesn't allow your wrist to fully flex. Golf PROS are trained and ready to help determine the right size for you.
Over time, your grips can become hard and slick, causing your hands to slip at contact. To maintain optimal playability, grips should be replaced every forty rounds or once per year.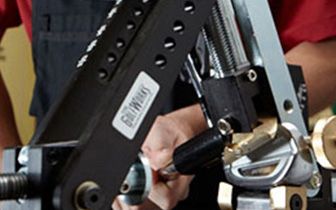 Club Repairs & Adjustments
Whether you need some adjustments following a fitting, repairs from wear and tear or a new shaft, most DICK'S Sporting Goods golf departments offer a full complement of club services. Certified club technicians use a variety of specialized tools and machines to keep your clubs at their best.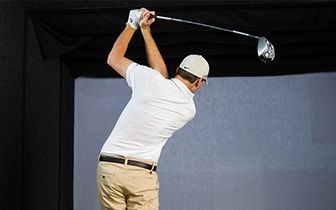 Ball Flight Analysis Technology
Hitting bays in DICK'S Sporting Goods stores are equipped with state-of-the-art technology used to collect and display information relating to the flight of your ball after contact. Golf PROS use this data, along with information gathered during your fitting interview and visual observation, to provide club recommendations. Our golf simulators and ball launch monitors are essential in determining the right club for your game. Select stores offer 30-minute rentals of their golf simulator bays for those interested in some off-season practice or a rainy day outing.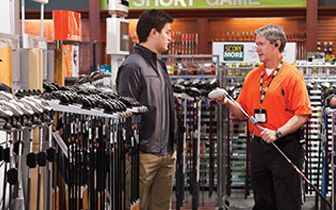 Custom Orders & Trade-Ins
Custom Orders
Take advantage of our expanded assortment, available through our Custom Order program. Order your new set with the loft, lie, shaft and grip recommended through your fitting. Personalize everything from balls to clubs to shoes and walk onto the course with one-of-a-kind gear.
Club Trade-In Program
Upgrade your existing clubs and save on your new purchase with our Club Trade-In Program. Powered by the PGA Value Guide, trade-ins are a great way to keep up with the latest technology and design. Bring your clubs to a DICK'S Sporting Goods golf department and ask an associate for the trade-in value.
Club Services Pricing
---
Adjustments/Repair

Golf Grip Installation
(Pricing May Vary by Location - Contact
Your Local Store for Additional Details)

$2.99

Long/Belly Putter Grip Installation

$5.99

Save Grip

$5.99

Shorten Shaft

$3.99

Standard Shaft Installation

$17.99

Lengthen Shaft

$5.99

Remove Shaft

$9.99

Bore Through Shaft Installation

$21.99

Reshaft (Set of 8)

$79.99

Loft and Lie Adjustment

$4.99

Putter Lie Adjustment

$5.99

Loft and Lie Adjustment (Set of 8)

$31.99

Tighten Head Iron

$3.99

Replace Ferrule

$7.99

Change Swingweight

$9.99

Remove Rattle

$11.99

Replace Spikes

$9.99
Fittings

Iron Fitting (Free with Iron Set Purchase)

$49.99

Driver Fitting

$29.99

Putter Fitting

$19.99

Full Set Fitting ($49.99 Discount with
Iron Set Purchase)

$79.99
Save on Services When You Shop at DICK'S
Receive a free fitting with your golf equipment purchase and 50% off repairs or adjustments following a fitting. Golf clubs and equipment purchased online also qualify for in-store golf services with proof of purchase. Shop the entire golf equipment collection and find a store near you with our DICK'S Sporting Goods Store Locator.