Redefine your game by stepping into a HitTrax batting cage to test and measure your launch angle, exit velocity, distance and other stats with every swing. Pick your bats, stadium and skill level and get the instant feedback you need to determine the right bat for you. Best of all, the cage is free!
The Cage
Get ready to play ball. Bats, stats and more at your fingertips and on the screen. An associate will help you get started.
The Bats & Fitting
Test new bats. Get Feedback. Find your fit. Choose from the best bats in the game and get a bat fitting report with your performance metrics.
Games
Step up and swing away. Play solo or get the team together for Point Game, Team Game, Home Run Derby and Batting Practice.
The Bats
Test the best bats before stepping into the box on game day. Take swings off the tee with a variety of elite composite, alloy and hybrid bats for every skill level. All bats in store are available for use in the cage. Bat selection varies by store. Ask an associate for more details.
BAT FITTING
Pick up a bat and start swinging. Your performance metrics will appear on the screen with each hit. At the end of your session, a personalized bat fitting report will show your average stats and overall performance of every bat. Stop back at the cage throughout the season to check your progress and try new bats.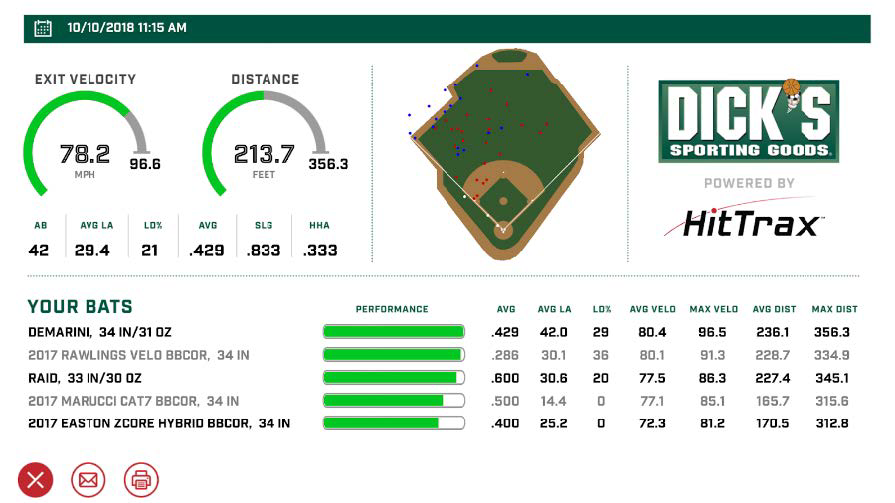 VIEW EXAMPLE OF BAT FITTING REPORT
Bat Performance Bar
See which bat worked best for you. The bat fitting report shows hitting metrics for each bat you tried, so you can review your stats and compare bats.
BAT METRICS
AVG | Batting Average
AVG LA | Average Launch Angle
LD% | Line Drive Percentage
AVG VELO | Average Speed of All Balls Hit
MAX VELO | Speed of Hardest Hit Ball
AVG DIST | Average Ball Flight Distance
MAX DIST | Distance of Furthest Hit Ball
The Games
Close out your cage session with some fun. Whether you're playing solo or with your team, you can watch on-screen gameplay, apply special effects and enjoy the action. Choose from Point Game, Team Game, Home Run Derby and Batting Practice.
Point Game
Along with Team Game, this is the closest you'll get to a real game and the best measure of performance. Earn as many points as possible. Get points for each batted ball based on your hit's exit velocity, launch angle, distance and result. The more points, the higher the quality of the hit.
Team Game
The excitement of a real game brought to the cage. Play a simulated 9-inning game and watch your hits soar through the outfield as you advance the baserunners, avoid rally-killing double plays and drive in the winning run.
Home Run Derby
Swing for the fences in this battle of the long ball. See how many you can hit out of the park and become the Home Run Champ.
Batting Practice
Get loose and have some fun. Choose your favorite stadium and take your practice to the next level by adding a smoke trail, fireworks and distance boost.
Find A Store
The HitTrax batting cage experience is currently only available at select stores.