Order Pickup
One-Hour Curbside or In-store Pickup
Subject to product availability. Some exceptions apply.
1
Buy Online:
Choose your item, set your store
and select 'Store Pickup'
while making your purchase.
2
Look for an Email and Go:
We'll let you know when
your order is ready so
you know when to go to the store.
3
Choose Inside or Curbside:
At the store, follow the email prompts
and choose to come in for your order
or have it brought to you curbside.
PLUS, THOUSANDS OF OTHER ITEMS AVAILABLE TO BUY ONLINE, PICK UP IN-STORE
TERMS & CONDITIONS
Some items ordered online may be available for pick up in a store of your choice. If an item is available for pick up, you will be presented with the option to do so when selecting your item for purchase. Most items available for store pick up are available within one hour of placing your order. After placing your order, we will send you a confirmation email, followed by a second email when your order is ready for pick up.
Online bicycle orders that are available for in-store pick up may not be available for store pick up within one hour due to the time needed for assembly. Please consult your order time confirmation email for your specific pick-up time.
All pick-up times are estimates. While we strive to meet all pick-up times as quoted, DICK'S does not make any guarantee that your order will be available at any specific time. DICK'S will not have any liability for any order delays.
Buy Online, Pick Up In-Store FAQs
​
How can I tell if a product is available for Buy Online, Pick Up in Store?
You can see if a product is available to pick up in store on the product details page. Once you have set your store and selected the product size and color, the page will display if the item is available in your store. This is shown directly above the Add to Cart button. If you want to see if your product is available to pick up in a different store, click the Change Store link.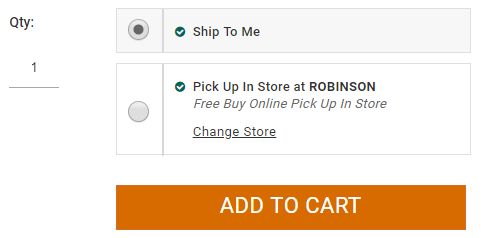 Some products are not eligible for in-store pick up and must be purchased in store, including firearms and ammunition. You are still able to check a store's stock levels online.
When will my online order be ready for in-store pick up?
Your product will typically be ready for pick up within one hour of placing your order. However, orders placed within one hour prior to store closing or after store hours will be ready the next day.
How will I know when my order is ready at DICK'S Sporting Goods?
We will email you when your order is ready. If you are opted into text messages, you will receive Order Alerts via text in addition to email.
What do I need to bring to pick up my order?
You will need two things to pick up your order at DICK'S Sporting Goods :
A valid driver's license or photo ID
Your Ready for Pick Up email (print out or show on your phone)
What do I do once I arrive at the store?
Check your "Ready for Pickup" email for instructions on how to pick up an order at your store. For Curbside Pickup, look for dedicated parking signs. For In-Store Pickup, look for signage for the dedicated Order Pickup area or find an associate for assistance.
Curbside:
In-Store:
Check-In through email or text utilizing the link in your "ready for pickup" email or text message. Choose Curbside or In-Store Pickup and enter your information to assist us in finding you quickly!
A DICK'S Sporting Goods associate will bring your order to you shortly after this information is received.
Can someone else pick up my order for me?
Currently, we cannot allow anyone else to pick up your order. We have heard from some customers that they would like the ability to designate someone else to pick up their order. We are looking into the best way to make this possible
What if I don't receive an email about my online order?
Check your junk or promotions folder to make sure it isn't there. If you still cannot locate a Ready for Pick Up email, please contact our Customer Service team at 1-877-846-9997.
How long do I have to pick up my order?
You have four days from order placement to pick up your order.
What happens if I don't pick up my order?
We will cancel orders that are not picked up within four days. You will not be charged for the order.
You may see an authorization hold on your account in the amount of the purchase, but that will drop off in accordance with your financial institution upon cancellation.
How do I cancel my order?
While the amount of time you have to cancel your order is limited (30 minutes from ordering), you can follow these steps to request a cancellation:
Log in to My Account on DICKS.com or go to the Order Tracking page.
If the order can be cancelled, you will see a Cancel Order button next to the order.
If you cancel an order, you will receive an email confirming the order is cancelled. You will not be charged for the order.
Please note that your entire order will be cancelled. If you still want other products in the cancelled order, you'll have to purchase those products again in a new order.
The store begins to work on your order as soon as they receive the order notification. If your order has already been processed, simply don't pick it up and it will automatically be cancelled after four days.