CUSTOM LACROSSE HELMETS
27 Models | Unique Matte, Painted, Platinum, & Carbon Fiber Finishes Available | Thousands of Color Combos & Facemask Options


CUSTOMIZED IN 48 HOURS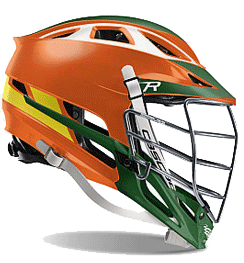 Cascade R Custom Lacrosse Helmet
$249.99 - $279.99
Aggressive design built for maximum speed, power, and performance.
One-piece Supermono™ shell and visor create a lightweight, yet more rigid design for increased frontal impact protection.
Hardtail SPRfit™ (Swiss Protection Ratchet) and custom jaw pads offers a 360° fit that lets players make micro-adjustments on the fly.
PoronXRD™ foam lining with SEVEN Technology™ compresses on impact and helps dissipate linear force from low energy impact.
R-Series Facemask features new sight lines for better vision and reduced weight.
Extra rigidity along the jaw and ears for enhanced durability.
Official Helmet of MLL and The U.S. Men's National Team.
One size fits most (adult)
ADDITIONAL FINISHES
Matte R Helmet w/ Chrome Mask
Matte R Helmet w/ Black Mask
Matte R Helmet w/ Gold Mask
Matte R Helmet w/ White Mask
$269.99 - $309.99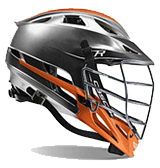 Platinum R Helmet w/ Black Mask
Platinum R Helmet w/ Chrome Mask
Platinum R Helmet w/ Gold Mask
Platinum R Helmet w/ White Pearl Mask
$319.99 - $349.99
CUSTOMIZED IN 48 HOURS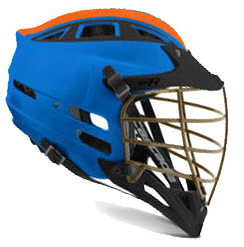 Colors may vary depending on the model and orientation of your monitor

Cascade CPX-R Custom Lacrosse Helmets
$199.99 - $319.99
R-Series Shell with FreeFlow™ Venting, Chin Lines, and Counterbalance for ultimate performance.
HDPE (High-Density Polyethylene) housing for dynamic impact protection.
Hardtail SPRfit™ (Swiss Protection Ratchet) and custom jaw pads offers a 360° fit that lets players make micro-adjustments on the fly.
SEVEN Technology™ liner system compresses on impact to laterally displace energy, then completely resets for the next impact.
Developed for pro, collegiate, and high school lacrosse players.
One size fits most (adult)
ADDITIONAL FINISHES
CUSTOMIZED IN 48 HOURS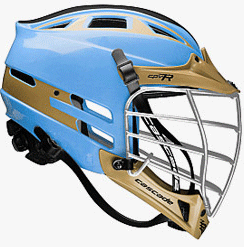 Colors may vary depending on the model and orientation of your monitor

Cascade CPV-R Custom Lacrosse Helmets
$139.99
R-Series Shell with FreeFlow™ Venting helps keeps athletes cool as the game heats up.
Hardtail SPRfit™ (Swiss Protection Ratchet) Technology adjusts for a more customizable fit.
Gen3 EPP Liner system offers elite level protection with superior comfort.
Chevron mask incorporates a slight V shape in the center of the latitude bars to provide increased downward vision.
Four different size offerings to accomodate the growing / intermediate player.

XXS = 6 5/8 Head Size (in.) | 19 5/8 to 20 1/2 Circumference (in.)
XS = 6 - 6 3/4 Head Size (in.) | 20 5/8 to 21 1/4 Circumference (in.)
XXS = 6 7/8 - 7 1/2 Head Size (in.) | 20 1/2 to 23 5/8 Circumference (in.)
XXS = 7 1/4 - 7 5/8 Head Size (in.) | 22 3/4 to 24 Circumference (in.)
*This size chart is only an approximation - Other factors may determine proper size
CUSTOMIZED IN 48 HOURS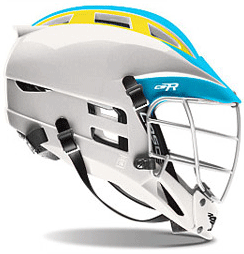 Colors may vary depending on the model and orientation of your monitor

Cascade Youth Custom CS-R Lacrosse Helmet
$139.99
Made specifically for collisions and hits at the U12 level.
One-piece FutureStar Mono™ shell and visor create a lighter, yet more rigid design for increased frontal impact protection.
Gen3 EPP liner with PoronXRD™ foam helps dissipate linear force for elite level protection and superior comfort.
Full Pivot™ system pivots upon movement to grasp the head, offering superior fit for developing lacrosse players.
Memory Foam Side-Fit adds a comfortable and protective lateral fit.
Junior R-series Mask features a lightweight 3-bar design to accomodate smaller faces and improve sight lines.
One size fits most youth players under the age of 12.
Custom Lacrosse Helmets From DICK'S Sporting Goods
---
Stand out on the field with a custom lacrosse helmet from DICK'S Sporting Goods. Create a helmet that's uniquely yours—choose your model, shell color, facemask color, decals and chinstrap color.
Choose from the top brands. You'll find a great selection of Cascade® custom lacrosse helmets—they are proudly made in the USA and certified by the National Operating Committee on Standards for Athletic Equipment (NOCSAE).
Start by selecting a model that matches your age or skill level:
Professional Grade
Cascade R:
A pro-caliber lacrosse helmet built for maximum speed, power and performance, the Cascade R is the official helmet of Major League Lacrosse and the U.S. Men's National Team. The R features the most advanced impact-management system ever created by Cascade. Pro, Collegiate, High School
Cascade CPX-R:
Pro, collegiate and high school lacrosse players will appreciate the SEVEN Technology™ liner system of the CPX-R—it compresses on impact to laterally displace energy before completely resetting for the next hit.
Intermediate
Cascade CPV-R:
Make micro-adjustments on the fly with the CPV-R—the ideal choice for the growing or intermediate player. Softtail SPRfit™ (Swiss Precision Ratchet) Technology provides a customizable fit, while the Gen3 EPP liner system provides elite-level comfort and protection.
U12
CS-R:
Specifically designed for collisions and hits sustained at the U12 level, the CS-R features increased frontal-impact protection and the Gen3 EPP liner for total protection and comfort. The Full Pivot System is designed to fit the anatomy of players under age 12, and the three-bar Jr. R Mask reduces weight and increases vision for young players.
You are no ordinary player, so why settle for an ordinary helmet? Show off your unique skills in a custom lacrosse helmet from DICK'S Sporting Goods.