|

Ice Skate Sharpening & Services At Dick's Sporting Goods
ICE SKATE SHARPENING & SERVICES AT DICK'S SPORTING GOODS
Store Services

Skate Services
---
Your skates are your ultimate tool in the rink, and regular skate sharpening is crucial to keep an edge that will perform as you need it to.
Sharpening for Hockey Skates
---
Maintain your edge with the help of DICK'S Sporting Goods—our Skate PROS will have you ready for the ice in minutes.
Skate PROS use a diamond-tipped dresser to grind an edge on your figure or hockey skates. Concave semi-circles, called the skate hollow, are cut into the blade edge. The deeper the hollow, the sharper your blade will be. A deep hollow produces a sharper feel and better grip (or bite) on the ice, while a shallow hollow delivers more speed (or glide). A Skate PRO can help you determine what might be best for your skill level, style of play and frequency of use.
If you begin to feel yourself sliding uncomfortably on the ice, it's probably time for a professional sharpening. Many skaters log the number of hours between sharpenings, so they're always prepared for practice or play. Remember, nicks, abrasions and dullness can impact your speed and control on the ice.
Figure skate sharpening is also available in locations offering Skate Services.
Sparx Skate Sharpening
This patented alignment system provides consistent sharpening for pro-level results.

Available in these stores:
Danbury , CT
Brandywine, DE
Lombard, IL
Orland Park, IL
Naperville , IL
Chicago (South Loop), IL
Chicago (Lincoln Park), IL
Natick, MA
Leominster, MA
N Dartmouth, MA
Saugus, MA
Danvers, MA
Hanover, MA
Portland, ME
Burnsville, MN
Maple Grove, MN
Minnetonka, MN
Richfield, MN
Roseville, MN
Woodbury, MN
Coon Rapids, MN
Duluth, MN
Waite Park, MN
NE Raleigh, NC
Concord, NH
Nashua, NH
Salem, NH
Moorestown, NJ
Mays Landing, NJ
Deptford, NJ
Princeton, NJ
East Hanover, NJ
Rockaway, NJ
Paramus, NJ
Henderson (Galleria), NV
Watertown, NY
Lake Grove, NY
Walden Galleria, NY
Long Island (Roosevelt), NY
West Nyack, NY
Transit Road, NY
Orchard Park, NY
Sangertown Square, NY
Commack, NY
Riverhead, NY
Patchogue, NY
Amherst, NY
Melville Mall, NY
Toledo, OH
South Hills, PA
Cranberry, PA
Robinson, PA
Harmar, PA
McCandless, PA
Bellingham, WA
Northgate (Seattle), WA
Green Bay, WI
LaCrosse, WI
West Madison, WI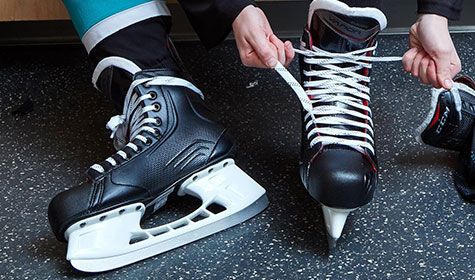 Heat Molding Service
---
You can also customize the fit of certain hockey skates with heat molding services offered in select stores. Many skates contain a specialized thermoformable foam that softens when heated, creating a fit that's specific to your foot. Skate PROS at DICK'S will bake your new skates in a specialized oven then fit them to your feet, helping you save hours of break-in time. The skate will be just warm enough to soften the foam while cool enough to slip onto your foot.
Check out the skate collection at DICK'S Sporting Goods. Shop hockey skates, ice skates and figure skates.
What's the Difference Between a Hockey Skate & a Figure Skate?
---
Hockey Skate
Designed for speed and protection.
The boot features a lower front, high back and toe box. The blade is riveted into the sole of the boot and has a flat middle and curved ends. It's more difficult to spin in hockey skates, but they are better for speed, turns and quick stops.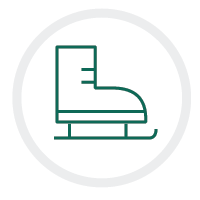 Figure Skate
Built for performance and support.
Figure skating blades have a high boot and blades that are longer and heavier. They feature a toe pick at the blade tip, which helps with jumps. Figure skate blades are gently curved and mounted separately onto a skate boot.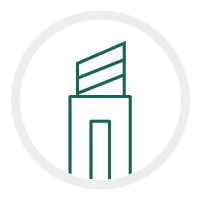 Sharpening
Find the right sharpness for your needs.
Our Skate PROS recommend a default radius of ½" for hockey skates and 1" for figure skates. Tell a PRO your radius preference or change slightly between sharpenings until you find the right radius for you. There's even a spot on your Frequent Skate Sharpening Program card to record your hollow and the name of your Skate PRO.
Save on Services When You Shop at DICK'S
Skate services are free with skate purchase, and you'll get your fifth sharpening for free after four paid sharpenings with our Frequent Skate Sharpening Program. Skates purchased online also qualify for in-store skate services with proof of purchase. Find the store nearest you with the DICK'S Sporting Goods Store Locator.
Sparx Hockey Skate Sharpening Stores