Searching for a home away from home? Use these Pro Tips to learn what to look for in a tent.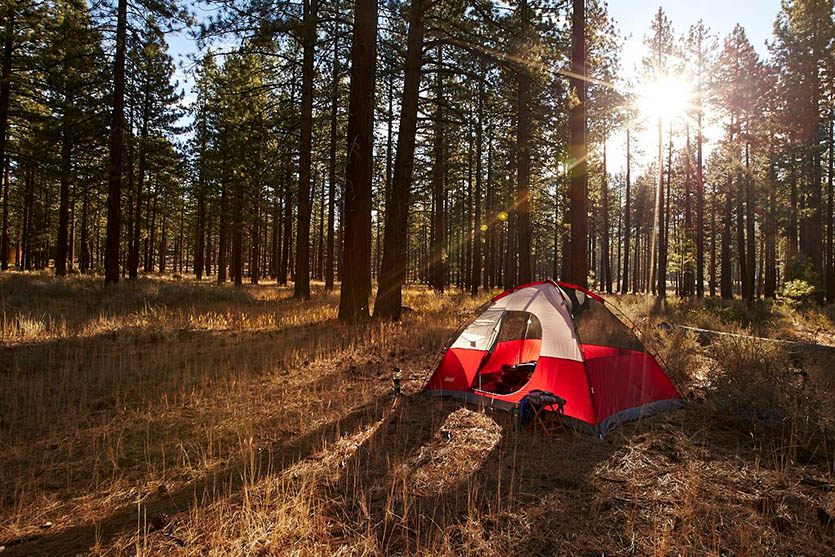 A quality tent can be the perfect shelter for adventurers looking to enjoy the outdoors overnight. Having the proper tent for your needs can improve your camping experience. Before planning your next trip to the campsite or trek through the mountains, be sure your shelter matches the demands.
There are many features and factors to consider when choosing the best tent for you. Use these outdoor Pro Tips to help identify these traits and how to match your shelter to your situation.
TENT SHAPE AND STYLE
A good starting point when considering your next tent is determining which shape or style is right for your needs. Tents can come in a variety of designs, each built with purpose and function. Some popular tent shapes and styles include:
Cabin
Large, roomy options perfect for bigger groups looking for a sturdy, durable structure. Some cabin tents can divide internally for increased privacy. However, cabin tents can be heavy and can take up a large footprint.
Family Style/Multi-room
This large tent can be great for family outings with plenty of living space for everyone. Featuring vertical doors and plenty of mesh, this style can make for a cool and comfortable interior. However, like cabin tents, this option can be bulky, heavy and can require multiple people to set up.
Hoop/Pop-up
Hoop tents can be great for those seeking an easy setup. Typically lightweight and easy to pack, pop-up tents can also feature multiple doors and windows. Hoop tents can be less roomy, though, than other tents of a similar shape.
Dome
Dome tents are popular for their versatility, durability and peak height. Dome tents can feature plenty of floor space and can be easy to set up. Varying sizes are available, but sturdiness can become compromised in larger models.
Backpacking
Lightweight and great for backcountry adventurers, backpacking tents are sleek and efficient. Their smaller footprint can provide you with plenty of options for choosing a place to camp. Due to their size, backpacking tents aren't the best option for large groups.
Understanding the types of tents available can help narrow your search. From here, you can match factors like needed capacity and pack weight much easier.
HOW MUCH SPACE DO YOU NEED?
Tent sizes are listed by the number of people the shelter can house. For example, if a tent is listed as a three-person tent, then it can comfortably house, at most, three people. However, the term "comfortable" can be relative, as there is no industry standard for the dimensions of each person.
If your group includes taller adventurers or if you're looking for elbow space when sleeping, consider choosing a larger tent. In addition, if you plan on storing gear inside your shelter, consider it as an extra person. So, a group of two people, each with their own equipment, should look for a four-person tent for a more comfortable arrangement.
You should also consider if you want to stand in the tent. If your tent's peak height is shorter than your personal height it can be difficult or uncomfortable to stand.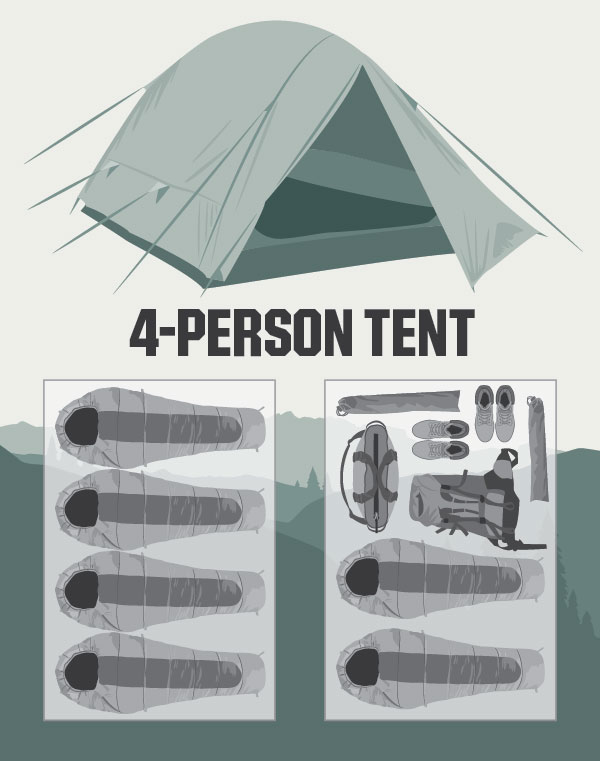 HOW FAR IN IS YOUR CAMPSITE?
Another factor to consider when searching for the best tent for you is how far you intend to carry it. If your campsite is deep in the wilderness or you're backpacking through, a lightweight tent could be your best option. Lightweight tents can be best for longer adventures, as they can be easier to carry and not as bulky as heavier options. To achieve this slimmed down pack weight, though, you might need to compromise on some qualities like extended durability and interior space.
Tent size plays a big role in weight. Multi-room structures built for six or more people will more than likely outweigh a small backpacking tent built for two outdoorsmen. In addition, some lightweight tent materials might be less durable than heavier options. Tent fabric weight is measured in denier; the fabric's yarn weight per 9,000 meters. A higher denier often indicates a more rugged, durable fabric. Consider how big your shelter truly needs to be and what sort of conditions your tent will face.
It's important to note, when looking at a tent's weight, that you might find multiple readings. In general, a tent's packaged weight includes every piece of the structure: stuff sacks, guy lines, stakes, etc. Trail weight is typically lighter, as it only includes the tent, fly and poles.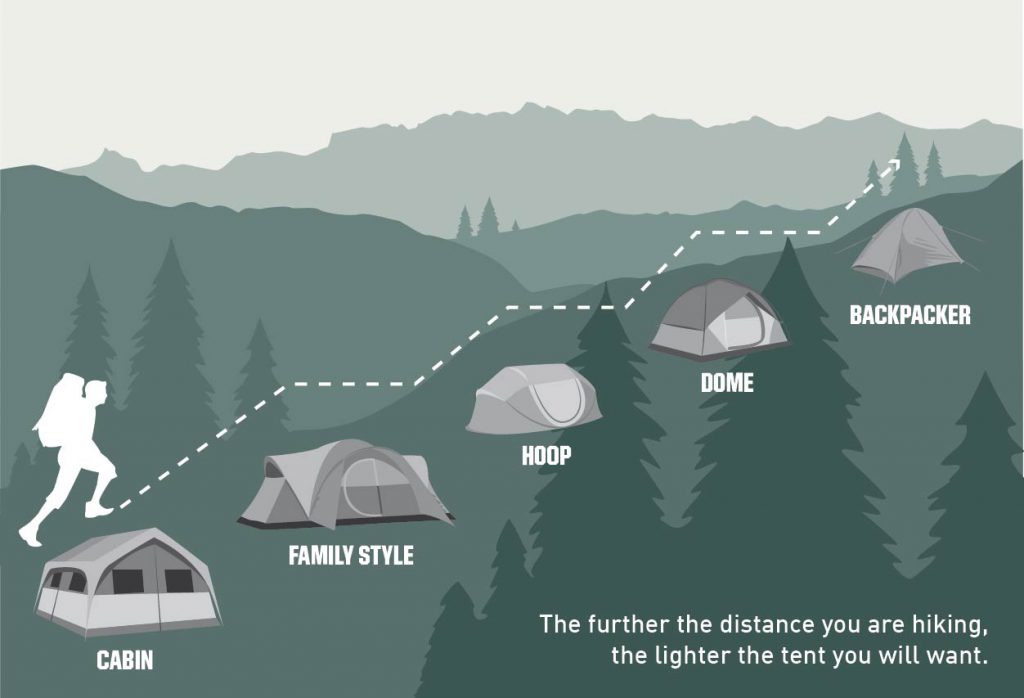 WHAT ADDED FEATURES ARE NEEDED?
Just because tents aren't the idea of plush accommodations doesn't mean they can't be convenient and comfortable. Interior storage pockets can be great spaces to hold headlamps, compasses or other small camping essentials. You can also look for a tent with interior loops for mounting a gear loft. This can help keep your equipment off the tent floor for easier maneuvering inside.
A rainfly is another necessary feature to include with your tent. Rainflies are a separate waterproof roof that sit overtop your tent. Partial rainflies can be best when you want to let in more light while protecting yourself from the elements. Full rainflies can be the better option when needing maximum coverage from storms.
BONUS PRO TIP: A larger rainfly can extend over the doorway to serve as a vestibule. Vestibules can allow you to store your gear and boots outside of the tent interior without fear of rainfall.
Lastly, be sure your tent has the right amount of ventilation. Mesh panels and doors can help improve airflow through the interior, helping you manage condensation inside. Mesh panels can also be great for viewing the stars and skies at night from the comfort of your tent.
WHAT'S THE FORECAST?
When trying to choose the best tent for your predicted weather conditions, look at your tent's seasonality. Many tents fall into three categories: three-season, three-plus-season or four-season. Each are better suited for different weather conditions.
Three-season
One of the more popular tent styles, three-season tents can be best in temperate conditions. Great options from spring through fall, this tent style can feature plenty of mesh paneling to keep you cool. Three-season tents can typically withstand an average rainstorm but aren't ideal when facing harsher conditions like strong winds or snowfall.
Three-Plus-Season
Also known as extended-season tents, this tent style can be great for early spring or late fall when you may encounter snow. Typically featuring more fabric panels and added poles for strength, three-plus-season tents can also be great for higher elevations.
Four-Season
Four-season tents can handle the harshest conditions. Often featuring heavier fabrics for durability and heat retention, four-season tents can withstand strong winds and snowfall. Many four-season tents also use a rounded dome design to keep snow from accumulating.

OPTIONAL TENT ACCESSORIES TO CONSIDER
Tent accessories can help you get the most out of your shelter. One popular gear addition is a footprint. This tent accessory is a ground cloth that sits underneath your tent floor. Footprints act as a barrier between your shelter and the soil. This can help prevent tears from protruding rocks and debris. Footprints can also help prevent moisture from accumulating at the floor of your tent.
You can also help improve the sturdiness of your shelter with additional stakes and guy lines. Stakes can help secure your tent in various conditions. Meanwhile, guy lines can help keep fabric from rustling and damaging in high winds.
Lastly, many options exist for lighting a tent. Lantern-style flashlights can be hung from the lantern loop at the center of the tent interior. String lights can also provide all-around lighting.
The right tent can make your outdoor stay exponentially more enjoyable. Use these Pro Tips to map out your needs for your next home away from home.