The Benefits of Moisture-Wicking Fabric in Your Workout Clothes
Wondering how moisture-wicking fabrics can improve your workouts? Don't sweat it! Pro Tips is here to break it down.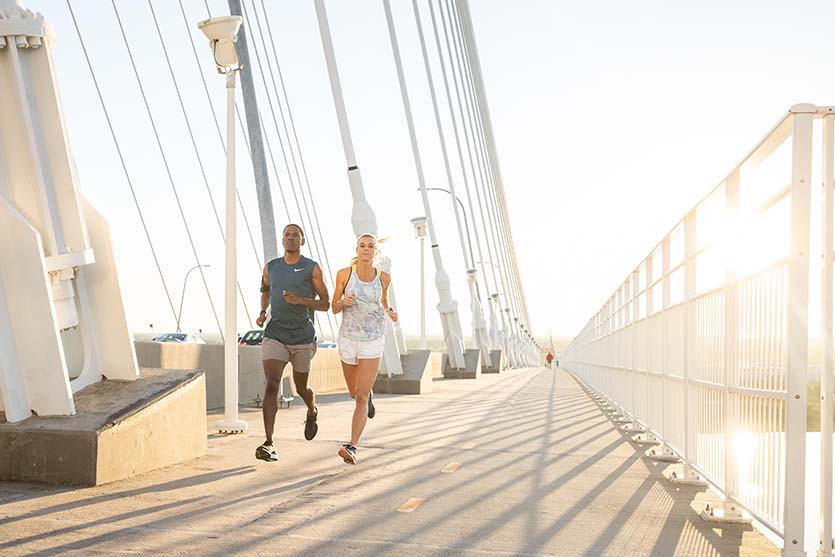 Just because you put your blood, sweat and tears into training doesn't mean you need to feel it on your clothes. Moisture-wicking fabrics can help keep you comfortable, even during the most intense workouts. This fabric is specifically engineered to promote moisture transport away from your skin to help you stay cool and dry.
HOW DOES MOISTURE WICKING WORK?
Moisture-wicking fabric allows moisture to easily travel from your body to your clothes' exterior. This can help your perspiration evaporate from your clothes and keep you dry. The secret? Capillary spaces featured within the material. Capillarity refers to a liquid's ability to move through tiny spaces.
When it comes to athletic apparel, wicking occurs when sweat wets the fabric. The capillary forces allow the sweat to reach the outer layer of the clothes. From there, the moisture spreads further across the surface to help it evaporate.
BENEFITS OF MOISTURE-WICKING FABRICS
Introducing moisture-wicking fabrics to your apparel collection can lead to more comfortable workouts. There are a few ways this technology can help:


It keeps you cool: The most obvious benefit of moisture-wicking fabric is that it helps keeps you dry when you sweat. It can also aid in staying cool during the warm and humid summer months.
It's breathable: Not only do the capillaries allow sweat to flow out, they also allow air to flow in. This adds to comfort and breathability.
It's easy to care for: Moisture-wicking materials feature stain release properties that can require less water and detergent when washing. To preserve the fabric's effectiveness, try to avoid using fabric softeners.
TYPES OF MOISTURE-WICKING FABRICS
One of the keys to effective moisture wicking is the fabric construction. However, some fabrics are more moisture resistant than others. In general, synthetic materials retain less moisture than natural materials. As such, many moisture-wicking clothes use synthetic materials or blends, like polyester and nylon.
Moisture-wicking fabrics can help add comfort to your training. However, they aren't the only apparel technology. Learn what odor control fabrics and sun protective clothing can do for you, too.
Searching for the right size? Look for the True Fit icon on apparel and footwear product pages when shopping online at DICK'S Sporting Goods. Get personalized size and fit recommendations with just a few clicks. Learn more about True Fit.