The Best Wide Receiver Drills for Football
Get ready to haul in success with this Pro Tips collection of receiver drills.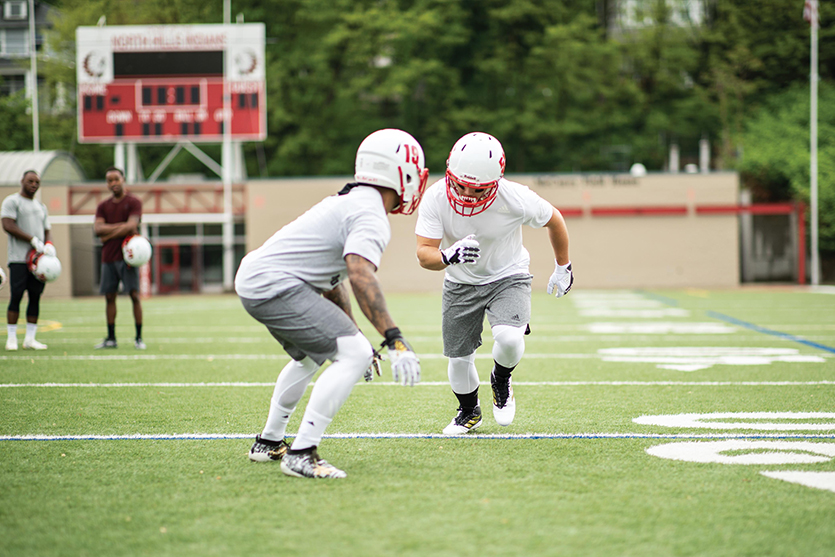 Wide receivers play an important role on the gridiron. Successful receptions can lead to big gains for an offense as they march down the field. To become a positive playmaker, receivers need to fine-tune multiple skills and talents. From catching and route running to blocking and field awareness, there's a lot of training required at this pivotal football position.
To make the most of every workout, there are a number of drills available to receivers. Build your training regimen for everyday improvement with help from this Pro Tips collection of the best wide receiver drills.
Because of their on-field talents, many receivers can also pull double duty as defensive backs. With only so much time to practice, it can be beneficial to work on drills that can help you on both sides of the ball. Use these football drills to master your footwork, catching and movement to be an offensive and defensive threat this season.
A curl route is one of the most common patterns in a receiver's route tree. In this play, the receiver runs downfield, reverses course and comes back toward the quarterback for the catch. Discover how to shed your defender in this effective drill from football pro Nelson Agholor.
Being stymied by a defender can throw you off your route and get you out of sync with your quarterback. But getting a good jump at the start of each play can be the first step in successfully making a catch. Help improve your lateral and linear acceleration to gain separation as professional football player Nelson Agholor takes you through this drill.
When dealing with defenders, you need to have the proper hand skills and aggression at the point of contact. Professional football player Nelson Agholor uses this helpful football drill to counter those attacks. Discover how the towel drill can help you win the battle for the ball.
As a wide receiver, your hands aren't just for catching the football. You also need to challenge defenders at the line of scrimmage and gain separation through force. Practice your techniques and prepare for the "fistfight in a phone booth" with these wide receiver drills. Learn the club rip, club swim and windshield wiper moves to improve your chances at the line.
Sometimes, all you need is one hand to make a catch worthy of any highlight reel. But making that catch doesn't have to come down to luck. Find out how to improve your one-handed catching ability on the gridiron with this fun receiver drill.
It's an unavoidable nuisance in the sport of football. Whether through shoddy grip, slippery conditions or just an impressive tackle, fumbles are going to happen. Make sure you know how to recover the ball with the proper form and technique to keep your offense on the field.
Congratulations, you've caught the ball. But the play is not over just yet. Gaining yards after the catch can be the difference between a first down or fourth and out. Learn how to secure the ball and turn up field for positive yardage with this drill made to improve your tenacity.
Not every play is going to call for you to haul in a successful reception. If you want to be a true team player as a wide receiver, you must be a good blocker. The mirror drill can help you work on engaging your defender and disrupting their attempts at stopping the run. Learn the ins and outs to this wide receiver drill and add another skill to your on-field abilities.
Hand placement is crucial when trying to catch the football. Without it, you can risk dropping the pass, stalling your offense's drive. Use these receiver drills to work on the proper hand placement for multiple passing scenarios so you can get ready to haul in your next touchdown.
Running a solid route can help improve your chances of catching the ball. With the right footwork and agility, you can create space between you and the defender for an easier reception. The four-cone drill can help train quickness, body control and change of direction for improved passing prowess. Find out how to set up and perform this workout with these Pro Tips.
Having a strong release at the line of scrimmage can start your receiving route on a high note. Having a plan for your first step can help you fool defenders and create a better target for your quarterback. A great way to fine-tune your release and first step is with the ball takeoff drill. Discover the setup and instruction for this workout with these Pro Tips from the gridiron.
When a pass takes you toward the sideline, it's important to have the right footwork and catch control. Being able to secure the ball while also keeping a foot in bounds can help keep your offense moving positively. Train your feet and hands for those crucial sideline catches with this receiver drill.
Add to your wide receiver training with this Pro Tips collection and keep your opponents on their toes. Make each catch a potential highlight with these drills and exercises.
Looking for more offensive drills to improve your gridiron training? Take some snaps with these exercises from our Pro Tips collection of the best quarterback drills.