How to Choose a Baseball or Softball Bat Bag
Get your gear to and from the diamond with a convenient equipment bag. We break down the choosing process into manageable bites.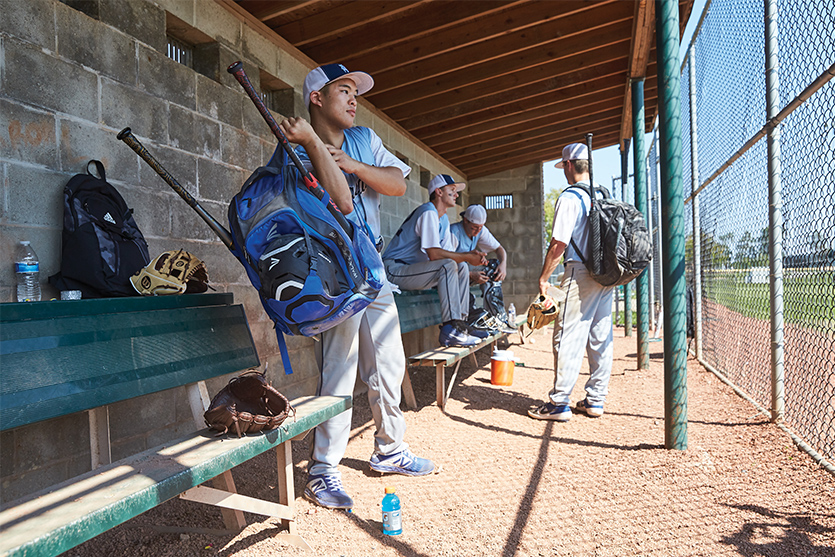 If you want to carry all your equipment by hand, that's an option. Wedge a bat or two under one arm. Stuff your gloves in a pocket. A change of clothes over your shoulder. Cleats in one hand, helmet in the other.
And a water bottle? You'll find room for that somewhere.
But if you want to cut the hassle and protect your new gear, a bat bag is a must-have.
FEATURES TO LOOK FOR
For a bag that lasts and that keeps your gear safe from damage, start by choosing something with a rubber-reinforced bottom and double-layered sides. You want a durable outer layer for protection from dragging and weather, but also a soft inner layer to keep all that gear secured and scratch-free.
Another way to keep scratches off your gear? Pockets. Lots and lots of pockets.
Bare minimum, you'll want to separate your messy cleats. But for ideal protection, a bag separates all your gear by including extra pockets and a divider in the main section to keep bats and uniforms apart. Superior options include space for luxuries like water bottles and sunglasses.
BAG STYLES
Currently, there are four basic styles of baseball and softball bags that exist, each with their own features.
HANDHELD
Based on your classic duffel, this tote bag has a short-length handle. Long and skinny, it's a sound choice for carrying a wealth of bats and balls. These often have streamlined styles, if you prefer, but we recommend one with numerous pockets. However, this style only offers one carrying method.
SHOULDER STRAP
These bags have a lot in common with their duffle cousins, often featuring a short-length handle, plus boasting a longer, shoulder-length handle for more versatility. This bag works great for quick and comfortable travel to the diamond. Consider wheels for longer walks. Which leads us to…
WHEELED
Carry all that gear on your shoulders, or
wheel
it all the way? Depending on your position, and your preference, the answer varies. Maybe an outfielder can lug around their gear, but if you're a coach, umpire or catcher, you'll carry a lot more weight than other team members, so invest in a sturdy set of wheels. In fact, you can specifically look for oversized or coach's bags and, of course,
catcher's equipment bags.
There are two styles (inline or tank) but style takes a back seat to quality construction. Top options have metal runners along the length of the bottom of the bag for structural support, plastic wheel plates to defend against bag tears, and — for catchers, umpires, and coaches — enough pockets for all that extra gear.
BAT PACK
As styles go, the
bat pack
is the new kid on the block. Designed like a school backpack, it might suit a youth player because, to them, it will feel natural. Even for older players, this pack is a good option because it distributes weight more evenly than other bags. It's built differently, relegating bats to the mesh sleeves on the sides. Although that may limit your bat-carrying capacity, it frees up the center compartment for your helmet, gloves and other gear. This versatility, and the wide range of options for all ages and skill levels, makes the bat pack one of the most popular choices on the market today.
Choose packs with reinforced bat sleeves and a sturdy, easy-clean bottom to protect against tears and dirt. Check for padding in the straps and a wide back plate to distribute weight adequately. And of course, look for added pockets! Luckily, bat packs often include pockets for cell phones, wallets, sunglasses, and sometimes laptops. You can even protect yourself from teenage shoe-stink with ventilated cleat pockets.
No doubt, finding your perfect softball or baseball bat bag means making a lot of decisions. But keeping the above information in mind will help you choose a bag that may last for multiple seasons and might make a difference when transferring your equipment to and from the field.