How to Choose a Softball Outfielder's Glove
Find the perfect on-field companion with these key features.
In softball, there are few pieces of equipment as important to a player as their glove. Don't think, though, that all gloves are the same. Having the proper glove for your specific position is essential and finding the right outfielder's glove can greatly benefit any player.
This is because outfielders spend a majority of their time catching fly balls instead of fielding grounders, so to efficiently and effectively do so, players should take into consideration how their glove's features will enhance their play. Some key features to keep in mind are pocket depth, web design, sizing and material. Let's take a closer look at each.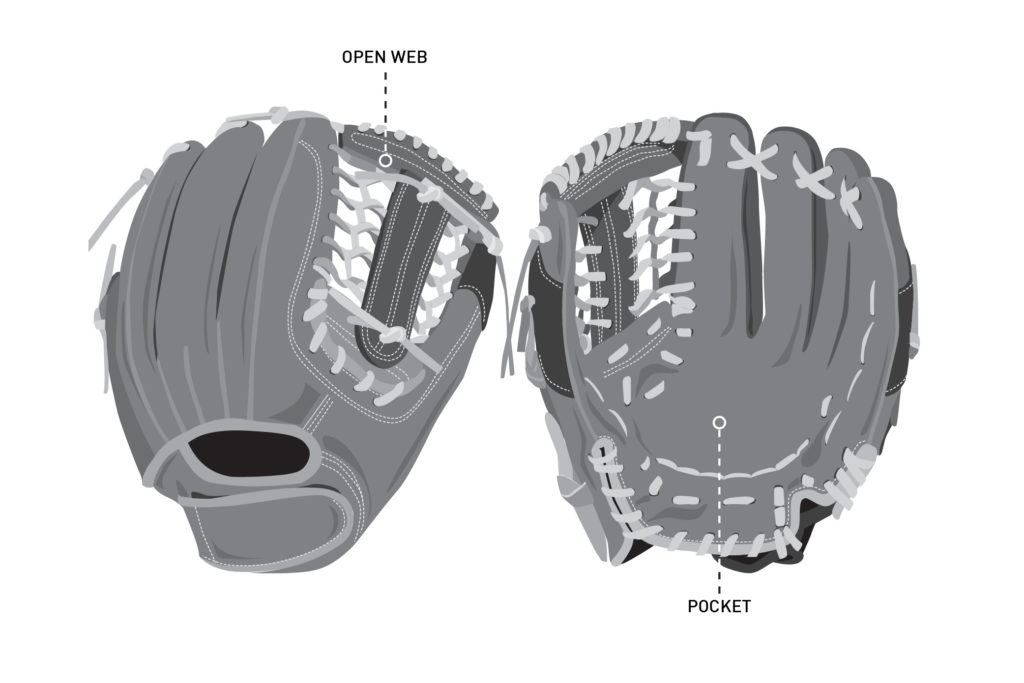 POCKET DEPTH
When catching a fly ball, you want to be sure it will stay secure in your glove. A deeper pocket can accomplish this. This style allows a player to get a firm hold on the ball during the course of a catch and also keeps the ball from popping out.
WEB DESIGN
Outfielders can choose either a closed or open web design. An open web design, such as a modified trapeze or H-web, allows for better visibility when catching fly balls. However, some softball players choose a closed web design, which aids in fielding the larger softball better.
SIZING
While softball gloves are generally larger than their baseball counterparts, there are also size differences among softball positions. Outfielders will have the largest gloves, typically ranging from 12" to 13" in length from heel to tip. This allows players to be able to have a larger fielding range and can help when diving for a ball or stretching out to snag a hard-hit gap shot.
Youth outfielder gloves are typically sized between 12" and 12.5", while softball outfielders ages 13 and older should look for a glove sized between 12.5" and 13". If you're in an adult rec league however, look for outfielder gloves ranging between 13" and 14".
SOFTBALL OUTFIELDER GLOVES
AGE
FASTPITCH
SLOW PITCH
ADULT REC
YOUTH (12-YOUNGER)
12" - 12.5"
11' - 12.5"
N/A
ADULT (13-OLDER)
12.5" - 13"
12" - 14"
13" - 14"
It is important to remember, however, that players should not sacrifice their ability to control their glove for a larger glove pattern. The glove should feel as if it is an extension of your hand, not a cumbersome obstruction. Most softball gloves come with an adjustable Velcro strap as well, creating an easier tightening mechanism for a better fit. Note: Softball gloves will have a smaller hand opening to better accommodate a slimmer hand, usually a female's.
MATERIAL
When it comes to glove material, players can choose from multiple types of leather including synthetic, cowhide, pigskin, full-grain and steerhide. Cowhide and pigskin will be more economically priced than others, but full-grain and steerhide gloves have been shown to last longer, which is why most premium and pro series gloves are made from these two leather types. Ultimately, however, the decision is up to player preference.
As with any piece of sports equipment, it's important that you are comfortable with your glove. By keeping these features in mind, you can find the right softball outfielder's glove that will leave you feeling confident to make game-winning plays and be an asset to your team.