The Best Water Bottle for Your Sport or Activity
In the market for a new water bottle? Learn how to choose a water bottle with this Pro Tips guide.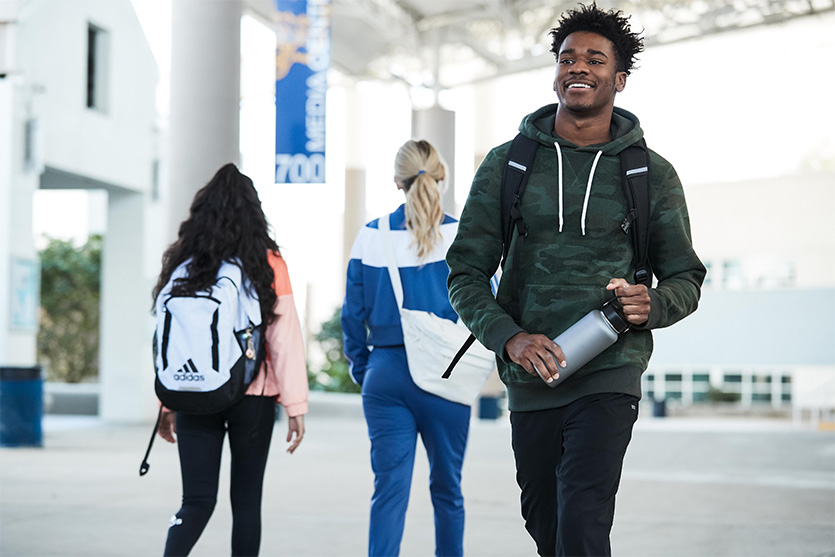 What do a hiking trip, a workout at the gym and a championship game all have in common? The need for a water bottle. However, with so many options available, it may be hard to decide which one is best for your activity. We're breaking down everything you need to know when shopping for a water bottle.
TYPES OF WATER BOTTLES
There are many varieties of bottles. The one that best fits your needs will depend on the type of activity you want to do. Are you looking for the best everyday water bottle? Or maybe the best water bottle for the gym? Do you need your drink to stay hot or cold for an extended time? Or can you only fill up every so often? All of these will factor into which style is right for you.
TUMBLERS & INSULATED
Best for: Everyday use.
Key Features: This popular bottle category comes in many different colors, shapes and sizes. These versatile styles are great for holding more than just water. Vacuum-insulated stainless-steel linings will help keep your beverages hot or cold for longer periods than other bottles.
HARD PLASTIC
Best for: Outdoor and recreation.
Key Features: Hard plastic bottles may look similar to glass. This lightweight, durable option is great for the outdoors. Available in a variety of colors, hard plastics are easy to clean and stand up to repeated use.
SQUEEZE
Best for: Team sports and biking.
Key Features: Squeeze bottles are the most popular for team sports thanks to their durability, easy grip and ability to share. These bottles often make it easy to see how much water remains. However, they do not offer as much insulation as other bottle types.
JUGS
Best for:

Team sports and camps.

Key Features: In need of a lot of water throughout the day? A jug is going to be your best bet. This water bottle variety tends to hold a quarter gallon or more at one time. Many jugs feature flip-up handles for easy carrying and insulation to keep your water cool throughout your event or practice.
SHAKER
Best for: The gym.
Key Features: Shaker bottles feature a mixer that helps you combine protein powder or supplements with liquid. The mixing mechanism may vary but they all share the same goal: to break up and blend your ingredients into a smooth shake. Shakers can be made from plastic or glass and also come in insulated varieties.
HYDRATION PACKS
Best for:

Running, hiking and biking.

Key Features: Hydration packs are a hands-free solution to keeping your water flowing. The backpack-like straps make them great for activities like running, hiking and biking, where stopping for a drink can slow you down. Some hydration packs also include pockets to help store your activity essentials.
WATER BOTTLE ACCESSORIES
The options for your water bottle don't end once you choose a style. There are many accessories that can add ease and personalization to your bottles.
CAP TYPES
There are almost as many cap styles as there are bottle styles. Cap types include:
Chug Caps: Chug caps typically have twist-off lids revealing a circular spout great for fast gulps.
Flip Top: Flip tops utilize a flappable tab that seals the cap closed when not in use.
Slider: Slider lids use magnets to protect against splashes and spills.
Straw Lids: There are two variations of straw lids that allow you to drink without tilting your bottle. Some have built-in flip-top spouts that can be folded down when not in use. Others feature a hole in which you can put a straw through.
CARRYING DEVICES
Great for team sports, tailgating and family camping trips, multi-cup carrying devices can help provide refreshments for multiple people at once. There are also slings that allow you to carry your bottle hands-free.
STICKERS
Your water bottle can also show off a bit of your personality. Stickers are a great way to add a little flair and style to your beverage holder of choice.
CLEANING DEVICES
It is important to keep your water bottle clean. Luckily there are devices available to help you. Bottle brushes are designed to be long enough to scrub the bottom of even the tallest of bottles. Straw and lid cleaners can also help you clean out those hard to reach spots and small crevices.
RUBBERIZED BOOTS
Rubberized boots fit onto the bottom of your bottle to prevent clinking, bumps and dings.
BENEFITS OF REUSABLE BOTTLES
Reusable water bottles have benefits beyond just toting your beverages. Many have the versatility to carry different types of drinks – both hot and cold. A reusable bottle is also a sustainable choice, as it keeps single-use plastics to a minimum thanks to their quality and long-term usage.
Choosing a water bottle is a great first step for any activity. Learn what other workout necessities you may need with these gym bag essentials for men and women.