THE RIGHT PAIR MATTERS
Choosing the proper softball or baseball cleats can help keep you moving in the right direction while adding stability and security with each step. In addition to style and size, you should also consider the position you play, the conditions of your playing field and overall comfort when making your cleat purchase.
Cleats are typicaly made from genuine leather or a synthetic material.
LEATHER
PRO: Ultra breathable and durable.
PRO: Molds to your foot over time for ultimate comfort.
CON: Requires more maintenance to preserve the integrity of the leather.
CON: Typically more expensive.
MESH & SYNTHETIC
PRO: Easier to clean.
PRO: More water-resistant than leather; lighter weight in muddy conditions.
CON: Less durable than leather.
CON: Sometimes less comfortable and offer little "give".
TYPE
One of the biggest decisions you will make when choosing your cleats is the type of spike. There are three basic styles to choose from -- Molded Rubber/TPU, Metal, and Turf -- each with their own benefits.
Some players might keep a pair of metal cleats and a pair of molded TPU cleats in their arsenal to take on different terrains and weather conditions.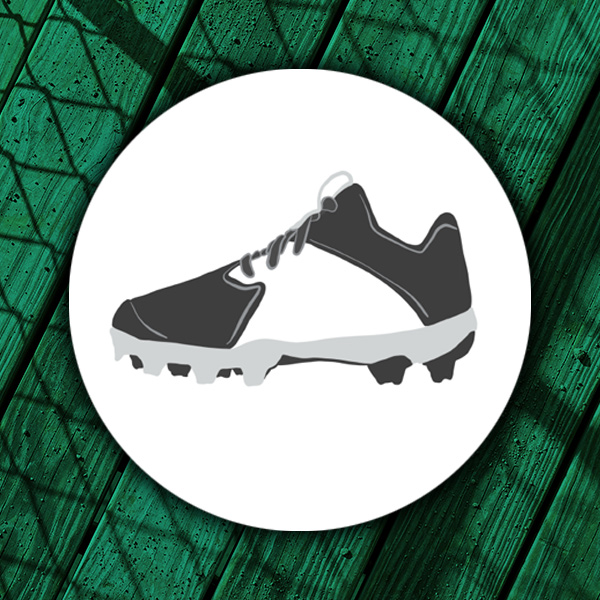 MOLDED RUBBER / TPU
Constructed with non-removable rubber or plastic studs affixed to the sole of the shoe, molded and TPU (or thermoplastic polyurethane) cleats are a great option for players of all ages. They are ultra durable and can be worn on virtually any playing surface without risk of the tread wearing down. Molded cleats are typically less expensive than metal and last much longer, but fail to grip the ground with the same effectiveness.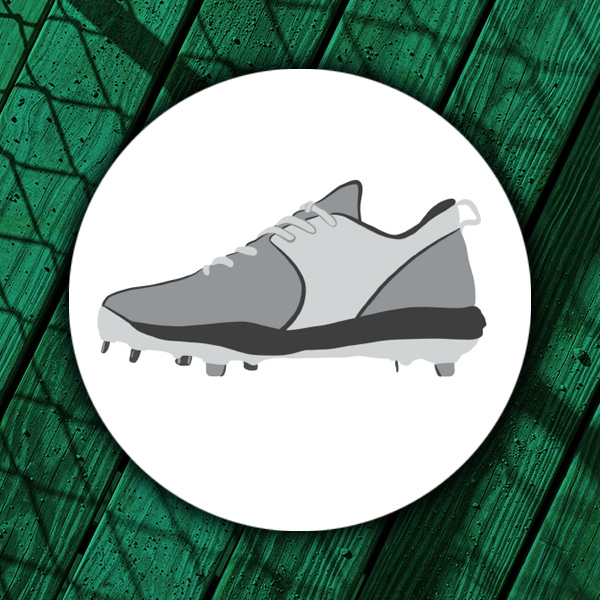 METAL
Metal cleats offer the best traction on the diamond and are best suited for players in high school and above. The thin, metal spikes penetrate the ground with ease, providing plenty of grip as you run. Metal cleats are often most expensive and don't tend to last as long. They also may not be as comfortable due to the increased pressure points metal spikes can cause, so its best to reserve metal for game day and stick to turf trainers for practice.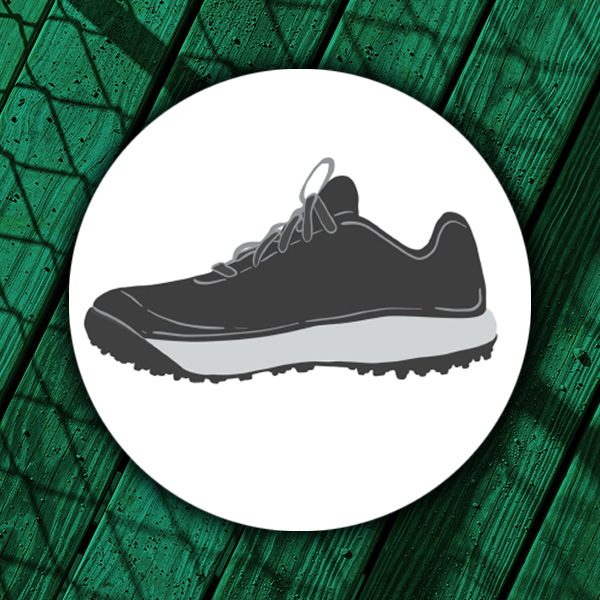 TURF TRAINERS
Turf trainers fit and look like normal sneakers, but provide better grip when playing and practicing on an artificial turf surface. Turf trainers feature a less aggressive tread pattern than a metal or TPU spike, making them a more comfortable and safer option for batting practice or off-field training (BONUS: turf shoes also help preserve the playing field from punctures).
DICK'S PRO TIP: Muddy conditions? Molded is the way to go! Metal cleats may stick too far into the ground and get you stuck in a muddy situation.
DICK'S PRO TIP:  Don't forget to check with your league prior to purchase, as metal cleats are not allowed in most youth leagues - including Little League.
DICK'S PRO TIP: Avoid wearing plastic or metal spikes on artificial turf. The spikes will be unable to 'grip' the surface and not provide any traction benefit, while increasing the chance of injury as well!
DICK'S PRO TIP: Shorter studs are best for harder surfaces/dry weather, while longer length studs dig deep into the ground, providing much needed traction on muddy surfaces. Some baseball cleats have interchangeable spikes to go from molded to metal for flexibility during games on days with unpredictable weather (but interchangeable cleats can be on the heavier side).
CLEAT HEIGHT
Not to be confused with cleat length, cleat height refers to how high the ankle cuff is. There are two common cleat heights for you to choose from: low and mid/high.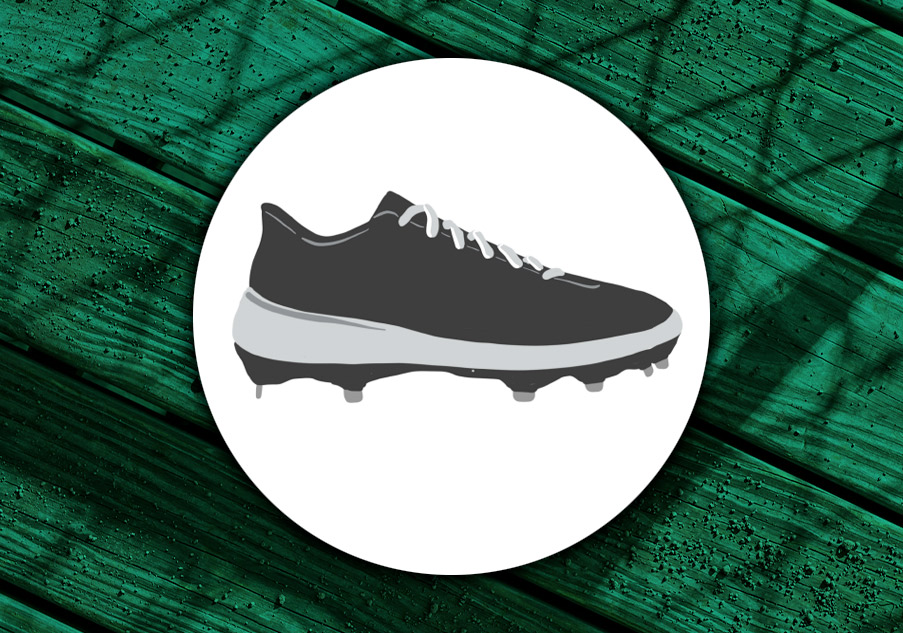 LOW TOP
Because of their shorter profile, low-top baseball cleats are usually lighter weight. This makes them ideal for players who value speed and agility over stability. If you're willing to sacrifice some ankle support and security for a lighter fit, low tops are terrific cleat option.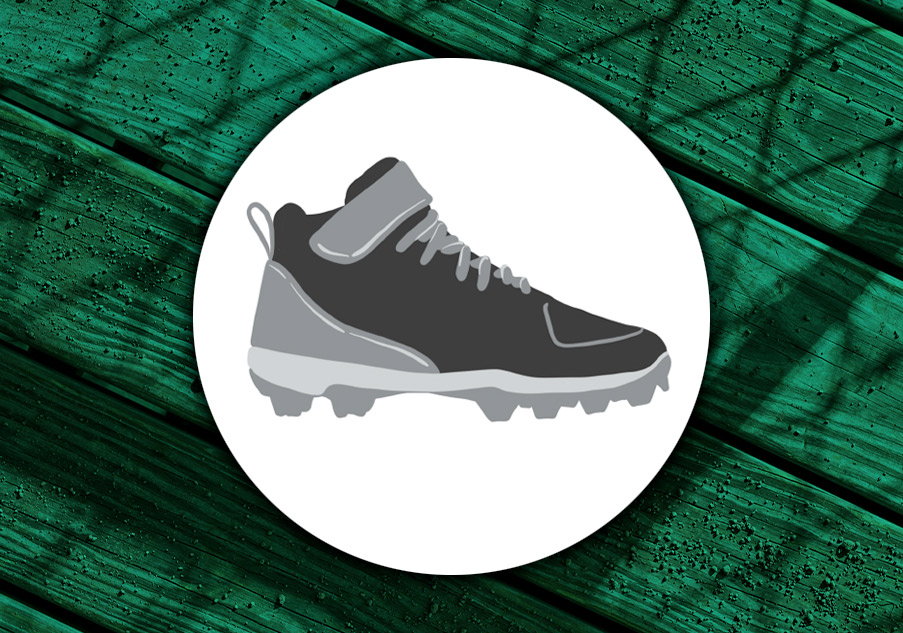 MID TO HIGH TOP
Mid/high-top baseball cleats have a top that extends past the ankle to provide stability, support and security -- particularly when moving laterally. However, the added material in the ankle does increase the cleat weight and mobility, which may hinder some speed and range of motion.
BUYING FOR YOUR POSITION
The position you play and even the condition of the field you're playing on will dictate what kind of baseball cleats you should wear.
Ultimately, it comes down to player preference, feel and comfort, but consider these factors when making your purchase.
DICK'S PRO TIP: Are you a pitcher or catcher wearing through your favorite cleats faster than you would like? Consider purchasing a "Tuff Toe" toe protector.
SIZE / HOW TO MEASURE
A well-fitted shoe can help provide maximum support for the quick movements you'll make on the field.
Your cleats should move comfortably, but try to keep space between your longest toe and the front of the cleat no more than a quarter inch.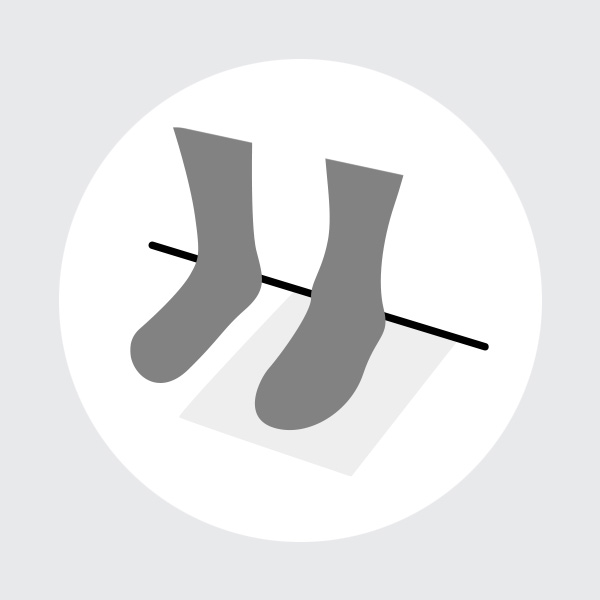 STEP 1: PREP
Tape a piece of paper to a hard floor with one end against the wall. Stand up straight and distribute weight evenly on the paper with your heel against the wall.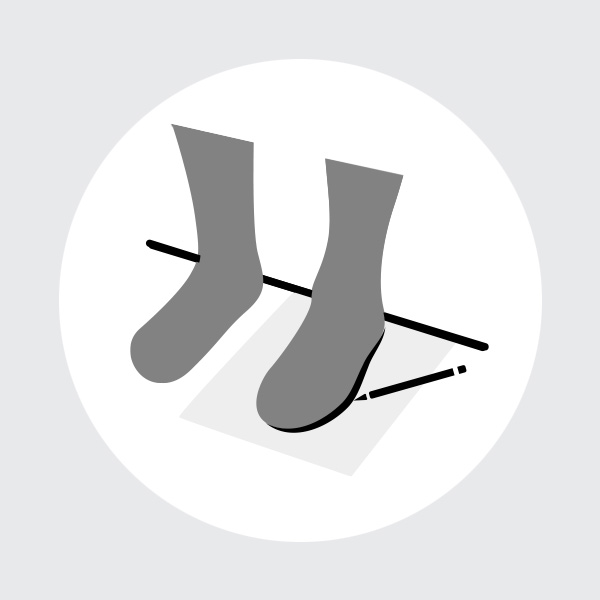 STEP 2: TRACE
Trace along the edge of your foot. Repeat the same for your other foot as right and left sizes may be different. It's easiest to have someone help you with this step.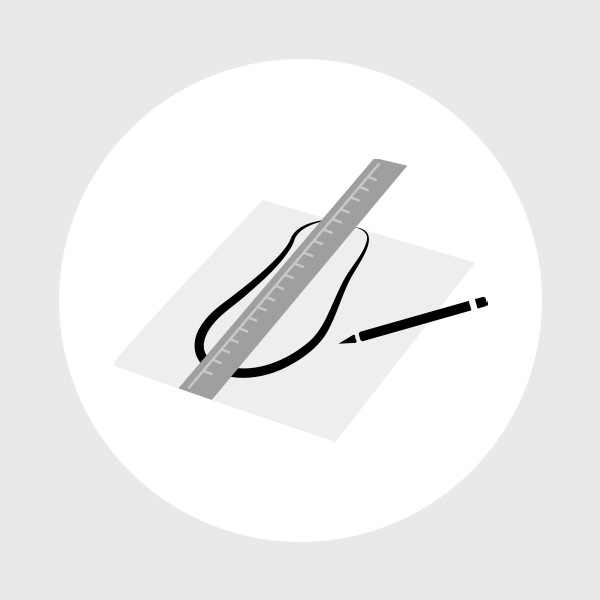 STEP 3: MEASURE
Use a ruler to measure from heel to the longest toe marking for both feet. Use the highest measurement and compare to the size chart to find your size.
MEASURING NOTES
Wear the type of socks you plan to wear with your shoes.
Measure feet in the afternoon or evening as feet typically swell throughout the day.
ADDITIONAL TIPS
The standard (medium) width for women is B, while narrow is 2A, wide is D and extra wide is 2E.
The standard width for men is D, while narrow is B, wide is 2E and extra wide is 4E.
If you are prone to blisters and calluses, or if your foot falls asleep or cramps during activity, this could be a sign that your shoes are too small.
Don't be afraid to go a half size up! Most people buying athletic footwear will choose a half size to a full size up from their dress shoe.
If your heel is slipping, try to lace the shoes differently or try a different insole before sizing down.
If you have problems with bunions or circulation, try a wider size to reduce irritation.
It is not uncommon for your feet to be different sizes, make sure you measure both right and left and use the longest foot measurement.
Not everyone's "big toe" is the longest; make sure you are using the longest toe as a reference point.
If you are fitting a child, you may want to buy a slightly larger size to allow room to grow.
CARE & MAINTENANCE
During a game, your softball cleats can pick up a lot of dirt, mud, grass and debris. It's important to clean them immediately after each use to ensure long-lasting, maximum traction.
Put your cleats on in the dugout and only wear them when playing. This will help prevent wear and tear from hard surfaces to and from the field, especially metal spikes, even if it's just short distances.
Consider sprinkling the inside of your cleats with baby or talcum powder to act as a temporary sweat-blocking barrier and help keep your feet cool and comfortable in hot weather.
An extra pair of laces and socks are always recommended for your bat pack or baseball bag!
Pick the dirt off your cleats with a popsicle stick and run them under cold water if necessary, but do not soak them.
Air dry at room temperature. A dehumidifier can also help the drying process, but do do not put them in direct sunlight or the clothes dryer; stuffing your cleats with newspaper can also help absorb excess moisture.
Never leave dirty cleats in your gear bag or in the car. Let your cleats breathe and avoid hot/humid temperatures.
Many players will own at least two pair of cleats, either to rotate between games or one for practice, one for game day. 
If you wear metal cleats, be sure to check the individual spikes periodically for rust and sturdiness to prevent a broken or missing spike.