|

Baseball Softball Glove Buying Guide
BASEBALL SOFTBALL GLOVE BUYING GUIDE
Start here for the gear you need and advice from our experts

Use this guide to help you find the right glove for your age, position and skill level. Learn about the different parts of a glove, the styles, the materials used in its construction, plus the recommended sizes to maximize your performance in the field.
---
Glove Anatomy
Web Types
Position
Size Chart
Store Services
Glove Anatomy
Baseball & Softball Glove Anatomy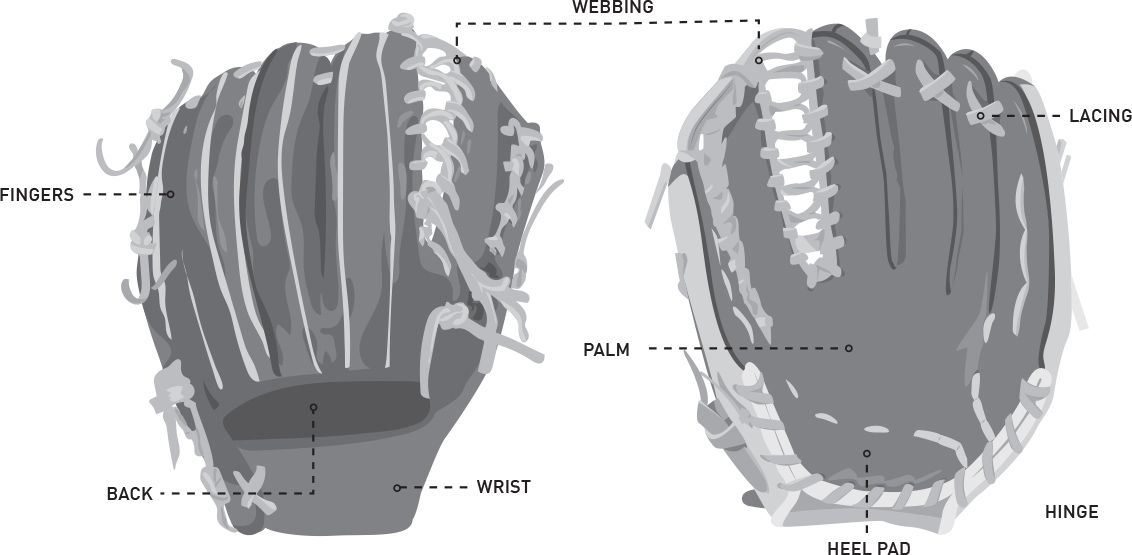 Webbing
Web styles are open or closed.
Open: Preferred by fielders for its quicker ball-to-hand transfer. Styles include I-Web, H-Web or Single Post. Helpful for catching fly balls, allowing players to see through the webbing and block out the sun.
Closed: Commonly used by baseball pitchers to shield their hand and the ball in the pocket to avoid tipping their pitch. Used by softball players to secure the ball better with less concern about transfer because of the larger size of the softball.
Pocket
Connects the fingers and thumb for ball control on impact. Features a tightly woven leather piece allowing fielders to close their hand and maintain possession.
Shallow: Preferred by infielders. Promotes quicker ball-to-hand transfer to gain split seconds to make a play.
Deep: Preferred by outfielders. Offers larger and deeper pockets to secure the ball better and make plays on the run.
Back
Also known as the "wrist closure" or "space" for the index finger. Some players prefer a more traditional open back design than the tighter fit of a closed back.
Open: Features a larger space for more flexibility to the wrist and hand plus greater ventilation.
Closed: Features a smaller hole for the index finger, providing added stability and support when making a tough catch.
Palm
Padding beneath the leather offers impact protection.
Heel
The lower portion of the glove on the palm side provides protection as well as the break point.
Hinge
Allows the glove to open and close easily.
Wrist
An optional adjustment feature common in youth baseball, fastpitch softball and slow pitch softball. Allows for an optimal fit. Includes D-ring fasteners, hook-and-loop fasteners and buckle systems.
Finger Stalls
The finger openings on a glove. Youth openings are generally tighter than adult models to help close the glove more easily. Some gloves are designed for players with smaller hands.
---
Leather

Ball gloves are constructed from a variety of different leathers, including American steerhide and hand-shaped Japanese Kip leather, affecting the feel, durability and price. Each brand details the type of leather used within the product description.
Full-Grain Leather
Features a natural grain from steerhide or cowhide. The standard for most Pro Series gloves, offering superior performance and durability that elite players demand. Stiffer and heavier during construction, usually requires a traditional break-in process after purchase.
Kip Leather
Soft and luscious cowhide used in many high-end gloves. Often preferred by younger players over traditional cowhide due to its lightweight feel which promotes more mobility and range of motion. Less break-in time needed vs. full-grain leather.
Premium Steerhide
Strong and durable. Taken from the back shoulder for its tough texture. Heavier and traditionally tougher to break-in. Often used by big league players for its ability to hold up over the course of a 162-game season.
Leather & Cowhide
Standard leather on more base models. Medium to heavy weighting breaks in a bit faster off the shelf than premium leathers and is ready for action sooner. Ideal for youth players.
Synthetic
Lightweight option for youth is easy to close with no break-in period required. Sometimes included in higher-price models to reduce weight while maintaining durability.
---
Break In
Each glove series is created to be broken in at a certain level after purchase. The level of break-in required by the players is called out by some brands as each glove comes out of their factory. This information is available in the product description on each page. A general rule: higher-caliber gloves may require more break-in time to be considered a "gamer," ready to be used in a game.

There are several tools available at DICK'S Sporting Goods which will help you to break in the premium leather construction. Customers who prefer to steam their gloves can bring their new leather to their local DICK'S Sporting Goods for our glove steaming services.
---
Web Types
Web Types
Open and Closed style webs offer different benefits for different positons.
Here is a quick look at the most popular webs and the different benefits they bring for every position:
---
Fielders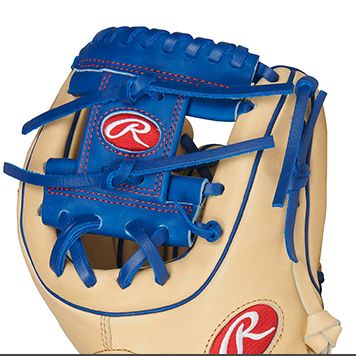 I-Web
arrow_drop_down
The most popular web type for infielders, with leather strips laced together to form a web in the shape of the letter "I." This open webbing usually has a more shallow pocket that promotes a quick ball-to-hand transfer, the preferred web style by players to snag and retrieve balls as quickly as possible.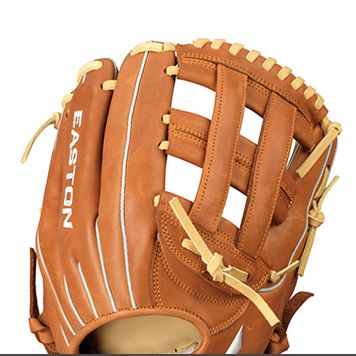 H-Web
arrow_drop_down
Designed with two strips of leather across a horizontal bar to form an "H" shape. This model is popular among infielders and outfielders as a great midpoint for quicker ball retrieval with a deeper pocket than the I-Web. This web type is also more flexible and open, allowing players to see through it when blocking out the sun or stadium lights.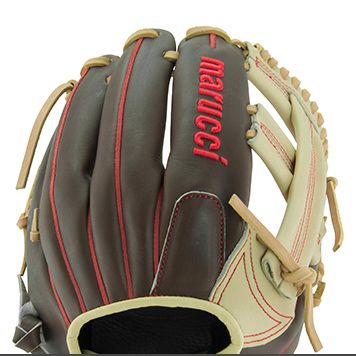 Cross
arrow_drop_down
The Cross web makes a simple cross shape, ideal for players who prefer a very open web type and maximum visibility.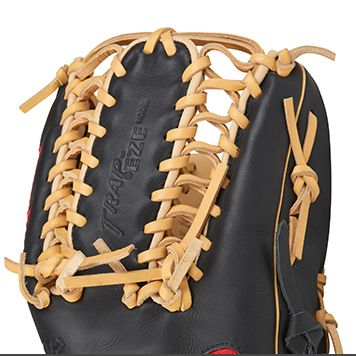 Trapeze
arrow_drop_down
Built with a single strip of leather interlaced on each side to the top of the glove, providing one of the deepest pocket depths of any glove. The added space helps secure and trap the ball, making it a preferred model of outfielders.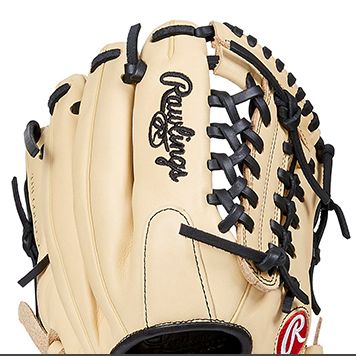 Modified Trap
arrow_drop_down
The modified trap web features a strip of leather at the top, making this style more beneficial for infielders who can get to the ball quicker and prefer the additional layer of structure and support. Also common among pitchers, since the top strip of leather helps conceal the hand and ball before the pitch.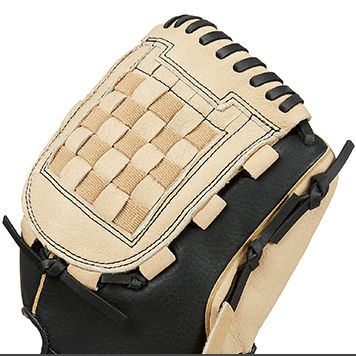 Basket
arrow_drop_down
Intertwined strips of leather form a closed web, most often used by pitchers and softball players. The flexibility of the basket and woven design provide optimized stability and support.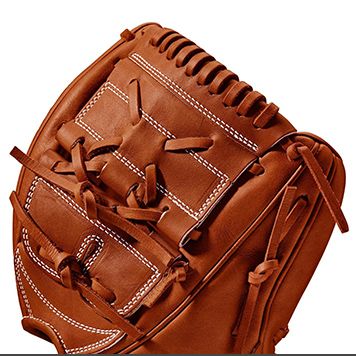 Two-Piece
arrow_drop_down
This closed-web style features two strips of leather laced together tightly to form a secure, tight pocket. Most often used by pitchers because of its strong structural support and durability.
---
First Base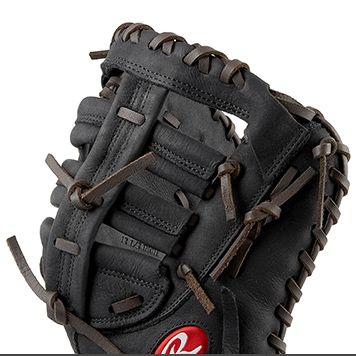 Single Post
arrow_drop_down
A common design among first base mitts, this style features two strips of leather across a vertical post allowing for flexibility and visibility. The added depth is enough to scoop tough throws in the dirt, but not too deep that it makes the ball tough to retrieve when a quick ball-to-hand transfer is needed.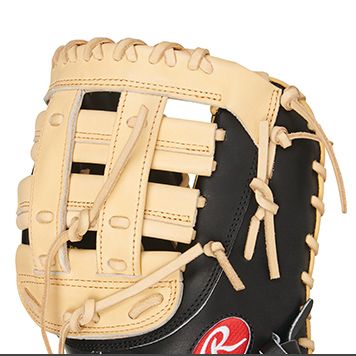 Modified H-Web
arrow_drop_down
The classic H-Web style with an added top piece that first basemen utilize for an expanded catch radius.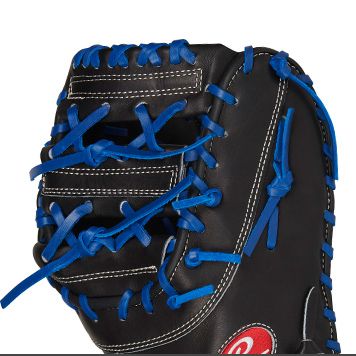 Dual Bar
arrow_drop_down
Two horizontal bars stitched together form a pocket that helps secure and trap the ball more effectively. This web type is limited in visibility and mostly used by first basemen.
---
Catchers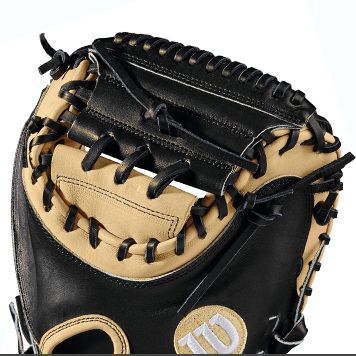 Half Moon
arrow_drop_down
Two pieces of leather, one which looks like a half-moon shape, is laced together to form a tight pocket with just a sliver of visibility. Just a bit more flexbile than other models that are fully closed. Also referred to as a Two-Piece Closed web.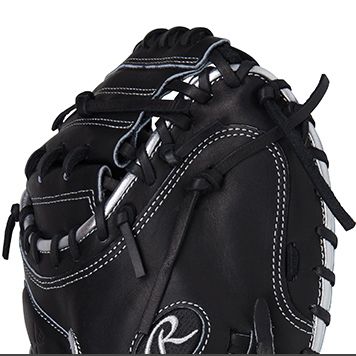 One Piece
arrow_drop_down
One larger piece of leather laced together around the outside of the pocket, forming a tighter, shallow pocket that is very common amongst big league backstops.
Position
Position
Gloves are tailored for every player and position on the field. Every glove page on DICKS.com will include graphics denoting which position each glove is best designed for.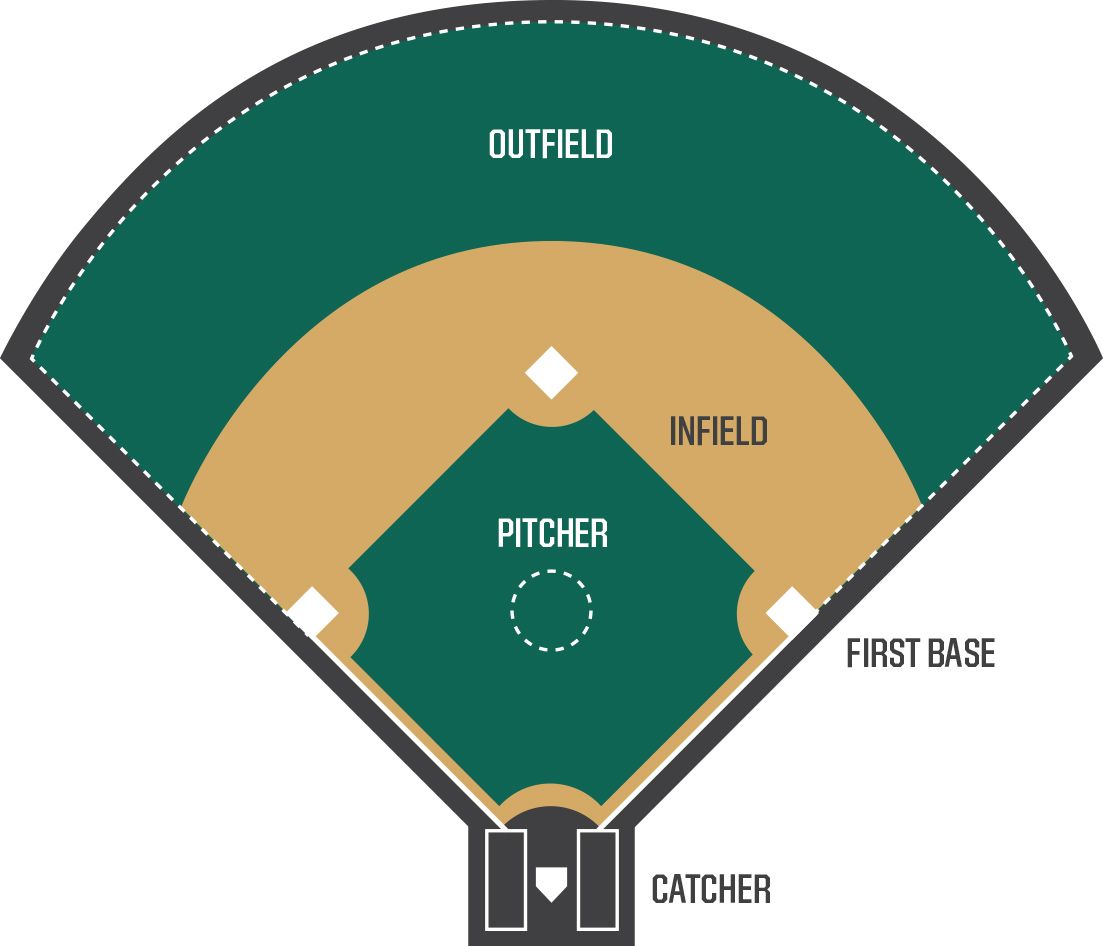 ---
Size Chart
Size Charts
To make a shoestring catch, a scoop at first, or a frame a perfect fastball, you need a glove that is ideal for your age, position and skill level. This glove size chart can help you determine the best fit for your hand so you can make a winning play.
Baseball
Age
Position
Glove Size
8 & Under
All
9"-10.75"
8 to 12
Infield
10.75"-12"
Outfield
11.75"-13"
Catcher
31"-32.5"
First Base
11.5"-12.5"
13 & Older
Infield
11.25"-12.25"
Outfield
12"-13"
Catcher
32.5"-35"
First Base
12"-13"
Fastpitch
Age
Position
Glove Size
Tee Ball
All
9"-10"
8 to 12
Infield
10.5"-12"
Outfield
11.5"-13"
Catcher
31"-32.5"
First Base
12"-13"
13 & Older
Infield
11.25"-12.5"
Outfield
12"-13"
Catcher
33"-34.5"
First Base
12"-13"
Slow Pitch
Age
Position
Glove Size
14 & Over
Infield
12"-12.75"
Outfield
12"-14"
Store Services
Baseball & Softball Services
The skilled Softball and Baseball PROS at DICK'S Sporting Goods can get your glove or mitt into game-day condition with our in-store glove steaming service. Select locations also have bat regripping, glove relacing and HitTrax batting cages, so you can test bats before you play.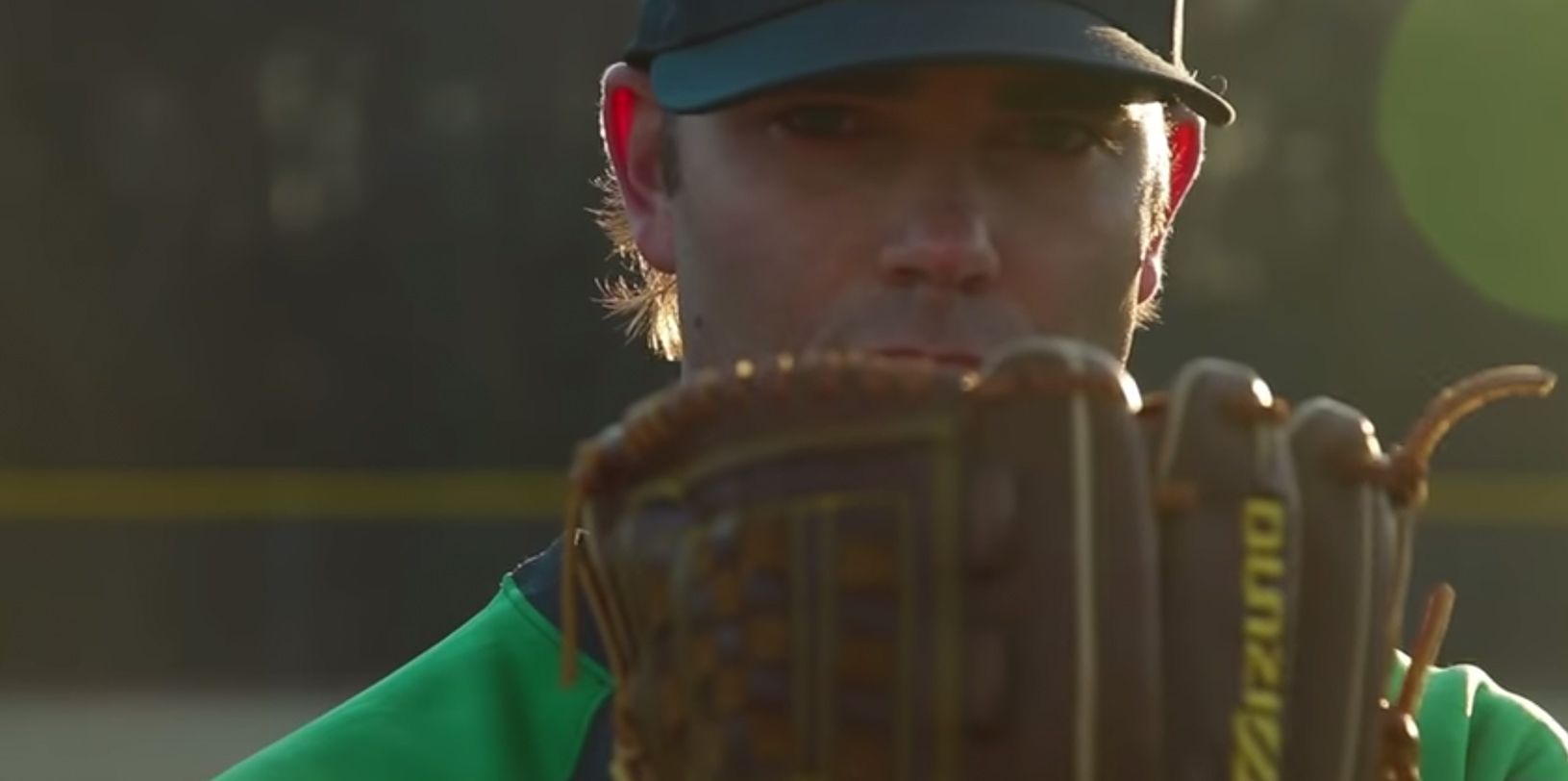 Learn More >