Basketball Coaching Tips for Your First Practice
The first impression you make on your players is critical to your team's success. To help make sure your year is a slam dunk, start off on the right track with these coaching tips.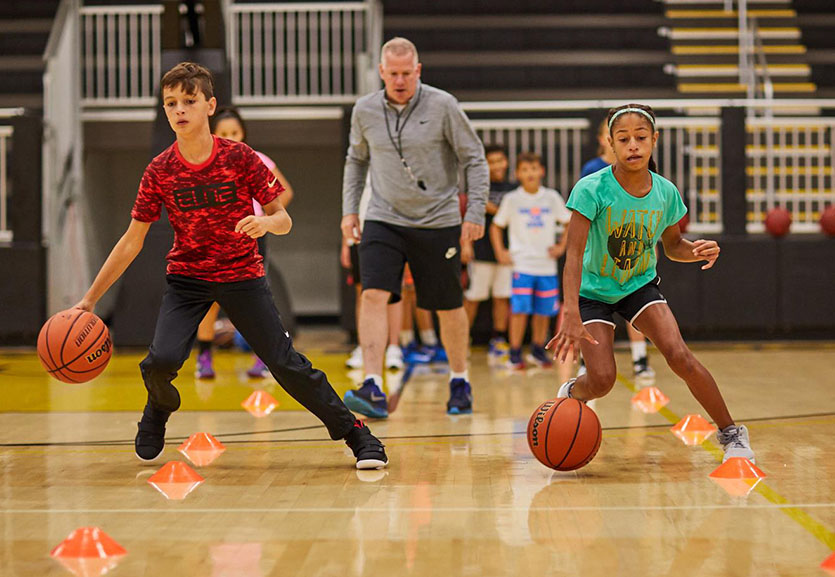 The first practice of a basketball season can set the tone for the year to come. New players and new aspirations take to the court, and as a coach, it is your job to guide this current group to a winning season. After all, the skills and lessons taught in youth basketball can stick with these young athletes long after the final buzzer of the season.
No doubt, your first practice can seem stressful and overwhelming. But if you plan ahead, establish the right mentality with your players as well as their parents, and ultimately understand the year's goals, then it can go as easy as a wide-open lay-up.
SET YOUR GOALS
Quite possibly the biggest step in preparing yourself for your first practice is narrowing down your season's goals and identifying the approach and tone you need to bring to the court. At the youth level, player development and skill building should be your main points of focus throughout the year. While a victorious season is a long-term goal, the majority of your time should be spent on the players' growth. You want to make sure they enjoy their experience with the sport.
"The kids, they're there with the expectation that they just want to have fun with friends," former basketball coach and DICK'S Sporting Goods Associate Derek Liebert says. "Not many are there to play the highest level of basketball, so being able to manage your expectations with the mindset of, 'Okay, we're here to have fun,' is vital."
"The younger the age level, the more open-minded you need to be because you're going to inherit a roster filled with a number of different skill sets," adds Liebert. "It's about understanding that you have to start from the beginning, not just walk into the gym and say, 'Okay, three-point shooting drills for the next hour.' No, we're going to learn how to dribble, how to pass, how to communicate, how to execute defensive moves, all of that. Building that foundation is a good basic mindset to have as a youth basketball coach."
PRE-PRACTICE COMMUNICATION
Prior to hitting the hardwood, you should establish a line of communication with each player, as well as their parents. Let them know where and when to report for the first day, and what they are expected to bring. This pre-practice talk can also be a great time to get any additional contact or medical information for your records.
One way to keep your team organized is by using DICK'S Team Sports HQ. This coach's resource offers online management software to help with registration, scheduling and communication with parents and players. With TSHQ, you can even design custom uniforms and fan gear.
Take the time to also schedule a group meeting with parents before the season starts. Keeping an open and informative line of communication with parents is key. You'll be able to explain your expectations for them, like transporting kids to practice, volunteering at concessions and game day procedures and appropriate gametime behavior. Basketball puts teams and fans in close proximity, so actions such as heckling players, coaching from the stands and confronting referees need to be addressed and heavily discouraged right up front. Keep the forum open, but remain firm to establish your expectations and that you are in charge of the team's progress.
"The more honest and upfront you can be, the better," says Liebert of this parent-coach communication. Positive relationships with parents can help during the season and make for a better experience for the kids.
WHAT TO BRING
Your first practice will require the basics of coaching equipment, including basketballs, cones, a stopwatch, whistle and first-aid kit to start. You should also provide enough water for your players and bring any forms or papers that need to be distributed. For a complete list of coaching necessities, accessories and other items, check out our Basketball Coach Checklist.
Aside from game equipment, you should arrive at the court with your practice schedule planned. Especially at the youth level, time in the gym is precious. The last thing you want is to waste valuable minutes trying to decide which drill should be next. Instead, plan your practice out the night before and finalize details an hour or so before blowing the first whistle. This structured time frame will make everything smoother and more secure.
MEETING THE TEAM
While you should have already contacted your players and spoken to them, your first practice might be the first time meeting everyone face-to-face and as a team. Take this introduction seriously. You want to give a good first impression and get a good feel for your team's attitude.
"For youth basketball, especially, you have to realize that you're not only meeting your players for the first time, but being introduced to each individual's skill set as well," says Maureen Lawrence, a DICK'S Sporting Goods Associate and former collegiate coach.
Before diving into stretches and drills, get everyone together for introductions. Tell the team about your background in basketball, as well as a fun fact or two. After you've given your brief biography, it's time to have your players introduce themselves. Not only is it their first meeting you, but some of their teammates may be fresh faces as well. Keep a fun atmosphere and embrace the conversation. A comfortable communication environment is going to be a huge positive for your team.
STRUCTURE AND PROGRESSION
After introductions, move into your basketball practice plan. Start with some stretching and warm up routines, like some light jogging, backpedaling and shuffling. This warm up will get everyone on their feet and moving. Stretching and warming up can also serve as practice in itself. These motions help players understand their body control and can lead to better balance and coordination. Warming up can also help with change-of-direction and change-of-speed abilities, too.
Once everyone is warmed up, you can begin your instruction. At the youth level, the main focus is player development. The majority of your practice time should be spent on individual skill work. These drills are vital to building a player's foundation and can allow them to be more fluid on the court. Focus on these skill areas:
Dribbling

Passing
Shooting
Defensive Coverage
Rebounding
It's also beneficial to mix in drills that not only teach the skill and motion, but showcase when and how to use the skill. You can go up for countless rebounds and practice boxing out with perfect form again and again, but beating an opposing player is a lot harder than beating an opposing stopwatch. It is important as a coach to instill training routines that not only teach the technical side of basketball, but also allow players to gain experience in competition. A great way to keep kids entertained and in training mode is to include small scrimmages or small sided (1 vs. 1, 2 vs. 2, 3 vs. 3) slots in your regimen.
"Anytime that you're able to break it down in a smaller setting," says Lawrence, "it helps improve those individual skills and allows you to focus on those individual players more. That, in turn, allows you to build toward that larger strategy."
But what about offensive strategy? How about putting in defense? While you can institute any offensive or defensive strategy that you please, it is best for youth players to understand the core skills first so that they can progress through the sport.
"There are significant gaps in player development," says Liebert. "If you really care about the sport of basketball and want to coach at the youth level, your first and only priority needs to be developing the skills, teaching the kids to understand the game and how to play the game the right way."
Instituting an offense or defense on the first day can throw too much too soon at players, especially those who are younger and new to the game.
WRAPPING UP
Before packing everything up for the evening, be sure to plan for a cool down period and gather the team for some static stretching. As they stretch and allow their bodies to cool down, you can make announcements and address any pertinent information. This can include a recap of the day's practice, dates for the next practices or games, or what can be improved.
Once the equipment is put away – another team exercise – and everything is secured, make sure to stick around for a few minutes to ensure everyone gets home safely. Also, make yourself available for any questions from players or parents.
Take these suggestions and incorporate them into your own coaching style to fit your team's needs. Remember, though, to make your practices fun for all.
"The kids, especially at that youth level, are probably in their beginning stages of organized sports," Lawrence adds, "so the more fun and engaging you can make your practices, the better atmosphere it will be for everyone."