Pro Tips Basketball Coach's Guide to Pre-Game Motivation
Leave the locker room on a high note and get your team ready to take on the competition with these tips.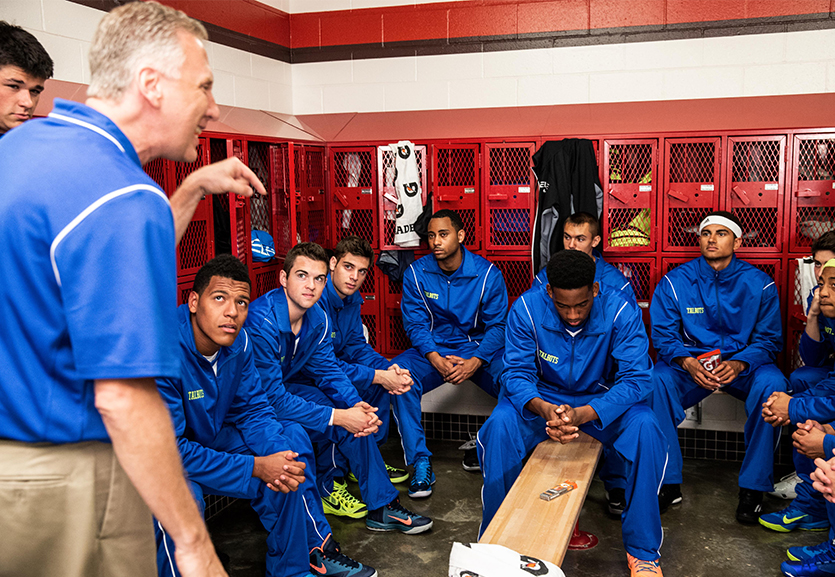 The moments before stepping onto the court can be filled with anticipation.
Motivating your team before a game can be a daunting task. Coaches have to set realistic expectations, come up with a game plan and encourage their team to do its best. They also need to know their audience and the type of players they are speaking to.
How much positive encouragement goes into motivating a team? Should talks be strictly about the game plan? Should the coach allow an opportunity for the players to speak? Pro Tips is here to answer these questions and more with this guide to pre-game motivation.
BE PREPARED WITH A GAME PLAN
DICK'S Sporting Goods Associate and youth basketball coach Brad Devine says that preparation can go a long way in motivating athletes. If the coach is confident in the game plan, the players will feed off that confidence and buy into the process. "The key is confidence in your own preparation, but then confidence in their preparation," Devine says.
As a coach, you have a choice when going over the game plan in the locker room. You can fine-tune any last-minute details. Or, you can remind your players about the techniques and fundamentals they practiced leading up to game day.
"It's good to refresh what we've been working on all week," Devine says. "It instills confidence. Coming prepared and getting ready to go is important. When we go up against a tough challenge, being prepared gives us the best shot."
Former Division I assistant coach and DICK'S Sporting Goods Associate Maureen Lawrence says that reminding players about fundamentals can go a long way. However, it's crucial to know each player individually and help guide them in areas where they can improve.
"During warmups, I would go up to each of the players and talk about something that they could focus on and bring to the team for that specific game," Lawrence says. "Whether it's the person who's going to defend the other team's best player or reminding a player about boxing out, being strategic with the individual conversations is important. That really locked them in and provided that one-on-one message they needed."
AVOID MAKING FALSE PROMISES
Being realistic about the competition can help alleviate the pressure on players. While every coach should stress the importance of performing at a high level, it's best to avoid making false promises.
DICK'S Sporting Goods Associate Molly Emerick says devising a realistic approach to the game is key.
"My former coaches were practical, tactful and came up with real strategies that worked for us," she says. "They never put these unattainable goals in our mind. Our group came out with a realistic approach to the game."
DICK'S Sporting Goods Associate Brianna Rust recalls how some of her best coaches chose to focus on the positives instead of the negatives. Finding success on the court could be as simple as not hyping up the other team. "Focus on the positives within your own group," she says.
GIVE THE PLAYERS ROOM TO LEAD
While it is ultimately the coach's job to lead the team, players have to step up as leaders, too. Unlike coaches, players are on the court, experiencing the game firsthand. "There's a time and a place where the players need to take charge," Rust says.
Coaches can make their pregame speech and leave the locker room with a minute left to give the players time to self-motivate. Emerick recalls how when the coaches left the locker room, the team captains would give a short speech before running out on the court.
"The coach always likes when the players have the last word. The players are on the court. The coaches are not," Emerick says.
POSITIVE REINFORCEMENT CAN GO A LONG WAY
In the end, basketball is all about having fun.
Every team wants to win, but seeing improvements can make all the difference, too. Basketball is a team sport, not an individual effort. Coaches stressing the importance of teamwork over individual success can be a confidence booster for the group. "Everyone has a role to play, and you need the entire team to contribute," Devine says.
Positive reinforcement can also help boost confidence. Division I basketball coach Andy Toole says reminding players of what positive attributes they bring to the team can help motivate players.
"You have to remind them that they are talented players and good players. They've been in these kinds of environments previously. For example, if you get into a situation where someone isn't shooting the ball well, you remind them of how well they've done before. This can help get the player back to doing what they've done best," Toole explains.
Just like building confidence within the team can help build morale, building a personal connection with each athlete can also be beneficial. Forming a bond with players and focusing on personal growth instead of statistics can be significant.
"It's important to stress having fun and encouraging them that you'll be proud of them, win or lose. Make a connection with the players, because you want to show that you care. If you make it known that you care about them and their growth, you take away any fear that they're going to make the coach mad," Devine explains. "You get an investment that the athlete wants to succeed for the team and coach. That's how you get players to buy in."
Encouraging your players doesn't just happen inside the locker room. You'll also need to lead them through critical moments on the court. Pro Tips is here with your guide on how to make full use of your timeouts during a game.