Let it Rain! The Best Raincoat for Your Activity
Don't let an unfit jacket rain on your parade. Beat the elements and keep yourself dry, cool and comfortable the next time you venture out with help from a functional and well-equipped raincoat.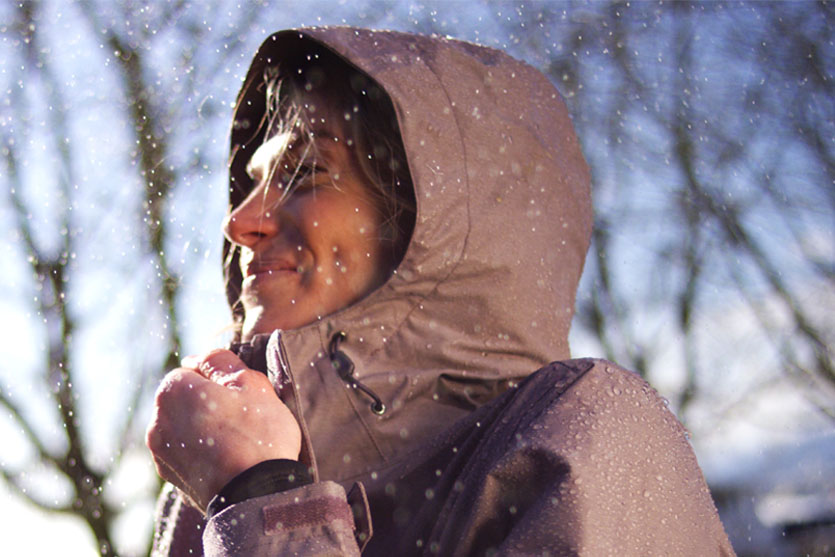 Whether you're out hiking through the wilderness, running mountain trails or simply walking down the sidewalk, nothing can wreck your day quite like an unplanned rainstorm. If you're caught out in the elements, you can potentially find yourself drenched, cold and generally unhappy. Packing or wearing a rain jacket can help you battle Mother Nature, and allow you to stay outdoors longer without the fear of getting soaked.
There are varying degrees of rain jacket performance. Some are perfect in a light drizzle, whereas some can help safeguard you from torrential downpours. Finding the right rain jacket for your specific needs can be easy once you understand the differences and key features to look for.
Before you start shopping for a new jacket to wear as you battle those rainy conditions, there are two important distinctions you need to know. Understanding the difference between a windbreaker and rain jacket, as well as the distinction between "waterproof" and "water-resistant," will be important in your decision.
WINDBREAKER VS. RAIN JACKET
Though these two styles are extremely similar, it's important to understand the distinction when purchasing a rain jacket. Windbreakers are lightweight, breathable and offer a thin layer of protection from the elements. And while they might offer some protection against a light, brief rain, they are typically not fully waterproof and won't withstand an average shower. Look for rain jackets that offer water-resistant or waterproof materials to best combat the weather. Waterproof rain jackets can also combat windy conditions due to their enhanced technology, making them a great all-around jacket option.
WATERPROOF VS. WATER-RESISTANT
When you're looking at rain jackets, you will see that the materials are either labeled as "waterproof" or "water-resistant." While there is no piece of outdoor apparel that will keep you 100% protected from all elements, waterproof rain jackets offer excellent protection under extended rain exposure. This is due to their built-in laminate layer or coating that essentially blocks outside moisture from entering under most conditions. Water-resistant designs are more lightweight, but aren't too effective in conditions past a light drizzle.
It is also worth noting that when deciding between a "waterproof" and "water-resistant" jacket, look for jackets that feature seam taping technology. This detail can improve the jacket's waterproofing by taping over the seams created in the manufacturing process, thus lessening the chances of water seeping through. Most waterproof jackets are made with this feature, but it is still a good idea to double check for it, as there are still some jackets available that use "waterproof" laminates or coatings, but do not have seam taping. Keep this technology on your radar so that you can properly block out moisture better.
Now that you understand these key distinctions, you can better identify which rain jacket will be best for your needs.
LAYER STYLES 
Raincoats are constructed in three styles: 2-layer, 2.5-layer and 3-layer. These designs are crafted from the membrane (the actual waterproof material and lining that keep you dry) sandwiched between multiple layers of fabric to increase protection, comfort and performance. Membranes can be either laminated or coated, with each style offering a different level of quality. Laminate membranes, such as those made from expanded polytetrafluoroethylene (ePTFE) or polyurethane, are more likely to keep you dry, but also come at a higher price point. Both options are lightweight and offer optimal breathability and durability.
2-LAYER JACKETS
As the most basic of the three configurations, 2-layer rain jackets feature a loose (often mesh) liner and are exceptionally breathable. Their moderate pricing and relative quietness from that "swishy" sound when you're walking make 2-layer jackets perfect for the casual wearer. Due to their bulk and weight, however, they are not ideal for hiking or more active uses.
2.5-LAYER JACKETS
2.5-layer rain jackets feature a very thin interior fabric attached to the waterproof laminate that helps protect it from sweat, grime or other oils that could clog the laminate's pores. These are typically the most lightweight options available because this "half-layer" eliminates the need for a mesh interior. Thus, this reduces the overall weight of the apparel. These jackets are very versatile options due to the weight and protection offered. There are also "ultralight" options available that are solely designed for rain protection at the lowest weight possible. Ultralight options are great for high-intensity activities, such as running and cycling.
3-LAYER JACKETS
This style of rain jacket is generally the most expensive and most protective because of the rugged exterior fabric and substantial interior liner. The liners featured in 3-layer raincoats allow the pores of the waterproof membrane to remain unclogged longer, potentially making them much more durable, while the premium exterior shells allow them to withstand harsher conditions.
DURABLE WATER-REPELLENT
To add to the level of waterproofing, most rain jackets feature a durable water-repellent (DWR) coating. This treatment is applied to the external layer of fabric, rather than the middle waterproof membrane, and is responsible for helping rain bead off of the raincoat. This is designed so that the external fabric doesn't become saturated, limiting breathability.
PRO TIP: Be sure to read your jacket manufacturer's care instructions so that you can learn how to properly clean and care for your rainwear. The occasional wash or re-application of a DWR treatment can help extend your jacket's lifespan tremendously.
Aside from the differing layer styles available in raincoats, your jacket's intended use will also determine the features offered in each raincoat model. While there are some additions that are universally beneficial, you do not want to load up your jacket with unneeded excesses. The number of added features will also add to the coat's cost, so be sure to keep your budget in mind.
POCKETS, ZIPPERS AND VENTS
Regardless of design and style, your rain jacket will most likely feature a number of zippers. To keep water out of these seams, look for jackets that feature a rubberized coating on the zipper itself, or a storm flap that covers these creases.
Related to the zippers is the raincoat's pocket layout. The intended use of your jacket will ultimately determine the number and location of pockets. For example, ultralight jackets will often forego the traditional hand pockets and offer a chest pocket to cut down on weight. Hiking and daily use raincoats, however, will typically give you the standard hand pockets, as well as an occasional chest pocket on the interior or exterior of the jacket perfect for carrying your phone, keys or wallet throughout the day.
You can also find more performance-driven rain jackets that will place the hand pockets higher up on the torso. This design is intended to keep the pockets at a functional location when you are wearing your pack and have your hip belts fastened.
Another function that could necessitate zippers is your jacket's ventilation. With raincoats being designed to keep moisture out, there will naturally be some restrictions in letting air in. If you're really pushing yourself in the elements, being able to cool down could present some problems. Luckily, manufacturers have taken this into consideration by offering breathable materials and engineering some vent systems into the coat's design. One of the most common ventilation methods employed by rain jackets is the "pit zip." By opening up the jacket under the arms, you can release a lot of air without sacrificing the jacket's waterproof qualities. While your jackets should prevent moisture from getting in, don't forget they should be to be able to let air out, too.
HOOD DESIGN AND OTHER ADJUSTMENTS
Take into consideration your new raincoat's intended use so that you're better capable of finding one with a proper hood, too. If you plan on wearing your jacket while climbing, look for a hood that can comfortably fit over your helmet. This feature is naturally not desirable for everyday use or normal hiking, though, as this oversized hood will require a lot of adjustments and cinching.
Speaking of adjustments, look for a rain jacket that will give you fitting capabilities with your hood. If conditions turn windy or you pick up your pace on the trail, you'll want your hood to stay in place. Rain jackets that feature multiple adjustment features on the hood — such as hook and loop or cinch cords — are great at accomplishing this and can lend themselves to a more comfortable fit.
Your hood shouldn't be the only place where adjustments can be made. To increase the watertight seal for raincoats, a cinching system may be included at the hem of the jacket or the waist, depending on length. Double check if desired.
There are a few other features to consider that largely depend on your wants and needs. If you plan on packing your jacket for an extended trip or for easy carrying, look for models marked as "packable." Some of these models may even include the ability to fold up entirely into one of the pockets for easy storage.
Make sure that your protective apparel is working as hard as you are and equip yourself with a rain jacket that suits your needs. Don't let a drizzle halt your scheduled activities; confront the conditions with a proper raincoat for your activity.
Searching for the right size? Look for the True Fit icon on apparel and footwear product pages when shopping online at DICK'S Sporting Goods. Get personalized size and fit recommendations with just a few clicks. Learn more about True Fit.