Spiked vs. Spikeless Golf Shoes
Which is right for you? We'll help you get the right fit for your game.
It's time for a new pair of golf shoes, so what do you pick: spiked or spikeless?
Pro Tips is here to help. Read on for answers to some of the most frequently asked questions about the differences between spiked and spikeless golf shoes.
WHAT ARE THE DIFFERENCES?
Spiked golf shoes have actual cleats on the outsole, typically made of soft plastic. Spikeless golf shoes feature a flat outsole with rubber studs or dimples in place of spikes.
Spikes remain incredibly popular on Tour, but many pros have turned to spikeless styles over the past decade for a variety of reasons.
DO SPIKES PROVIDE BETTER TRACTION?
Spikes will likely provide a bit more lateral stability overall than spikeless styles, especially on hilly courses and in wet conditions. Yet spikeless designs are becoming more and more advanced.
"As brands continue to refine the top-down design of both spiked and spikeless golf shoes, the lines [between the two] have become increasingly blurred," says Paul McMullen, a Golf Content Specialist at DICK'S Sporting Goods. "For instance, some brands are fusing elements commonly found in spiked golf shoes [like] grip traction, support with elements commonly found in spikeless golf shoes [like] flexibility and ground feel to create hybrid-like golf shoes."
You may also want to consider course conditions when picking your pair. If you're playing on a wet, soggy course, spikes may give you better traction on the soft turf. Also, if you play on a lot of hilly courses that produce awkward lies, spikes may help give you an edge.
"Based on my experience, spiked golf shoes offer more reliable traction in a wider range of playing conditions as compared to spikeless golf shoes," says McMullen. "Whether I'm playing in soft, rainy conditions, or hard, dry conditions, I always feel like I have sure footing when I'm wearing spiked golf shoes."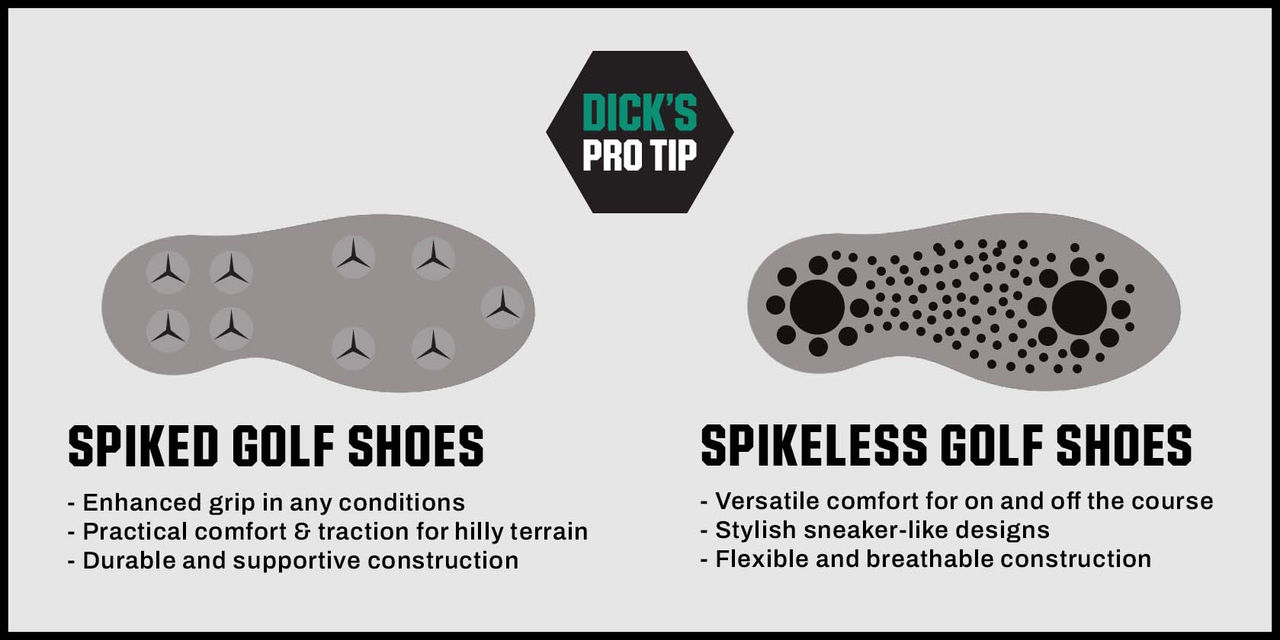 WHY WEAR SPIKELESS GOLF SHOES?
The biggest advantages are versatility and convenience. You can go straight from the 18th green to the 19th hole — no need to change. Many spikeless shoes are stylish enough to be worn just about anywhere.
They may also help you feel more balanced.
"Since cleats on spiked golf shoes protrude from the outsole, golfers might notice a slightly elevated feel when walking and addressing the ball," says McMullen. "However, spikeless outsoles can offer the more grounded feel a standard sneaker offers because the traction elements are more in line as compared to their cleated counterpart."
SO, WHICH ARE MORE COMFORTABLE?
In the past, spikeless golf shoes were more comfortable, hands down. Spikeless may still have an advantage, but today's spiked golf shoes are also incredibly comfortable. The difference these days is minor.
CAN SPIKELESS GOLF SHOES BE WORN ON ANY COURSE?
We'd say yes! 
"Styles of spikeless golf shoes range from traditional to casual, giving golfers plenty of options to choose from ," says McMullen. "Since a major emphasis is placed on growing the involvement in golf, I believe many courses are accepting golfers who fit this wide range of player style profiles in an effort to expand and diversify the game."

Of course, if you have questions, it is always best to consult the club dress code.
WHICH IS BETTER FOR BEGINNERS?
While there are both spiked and spikeless styles that will suit new players just fine, golf shoes with spikes might be the better option.

"One of the most crucial aspects to any golf swing is a solid foundation, and spiked golf shoes provide just that," says McMullen. "When golfers have a locked-in, reliable foundation, they are able to focus on improving their swing and developing their game. Slipping and excess shifting of the feet during the stroke lead to undesirable outcomes."
So, which golf shoes are right for you? Ultimately, it comes down to personal preference, but you'll be well served on the green in kind of shoe. Consider getting a pair of each and wearing them based on course conditions. Plus, alternating each round can significantly extend the life of your golf shoes.

Searching for the right size? Look for the True Fit icon on apparel and footwear product pages when shopping online at DICK'S Sporting Goods. Get personalized size and fit recommendations with just a few clicks. Learn more about True Fit.