Buy Bowling Balls & Shoes
Before you can aim for a strike, you've got to find the right gear for the lanes. Learn what it takes to unleash your best performance yet at the lanes with these tips.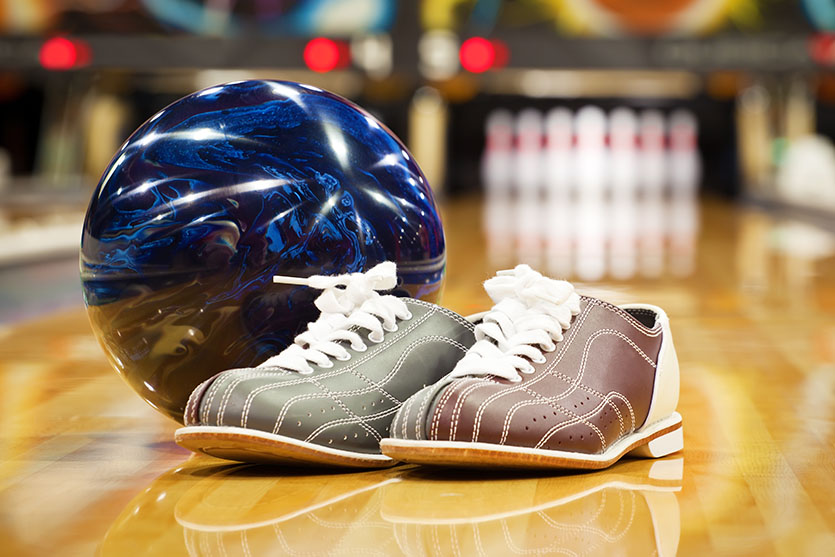 Find The Ball  Right Weight:
Average adult men usually bowl with a 15 to 16-pound ball.
Average adult women usually bowl with a 10 to 12-pound ball.
Junior bowlers should take on 1 pound of weight per year of age. For example, an 8-year-old can try an 8-pound ball.
Lighter balls allow for more control and precision, but heavier balls knock down more pins. Try using the heaviest ball you can comfortably hold and control.
If you're larger or smaller than average weight, experiment with different bowling balls for the size that's right for you.
Find The Right Ball Material:
Polyester and plastic balls are recommended for beginners and entry-level players. They roll straight with a slight hook and perform well in dry conditions. They're more forgiving for novice players
Urethane balls are great for skilled players. They have more of a controlled hook and tend to hit pins low—which creates a better opportunity for strikes. Sanded finishes assist with hooking on oiled lanes.
Resin balls are similar to urethane balls but with a sharper hook and more abrupt power. Using resin, bowlers can achieve a greater entry angle than with plastic or urethane. Many believe these balls offer the best strike potential of any material.
Find The Right Finger Angle
Bowling balls should be drilled unless otherwise specified. Always take your ball to a qualified driller. Professional bowling ball drilling lets you customize the placement and size of finger holes. Try asking around at your local alley for the best local driller.
Find The Right Bowling Shoes
Bowling shoes can vary greatly in size. Too tight and they'll cause discomfort and blistering. Too loose and they'll throw off your balance. Consult product information for guidelines on sizing.
Choose a shoe with a padded ankle collar for extra ankle stability. Cushioned insoles and padded liner keep you comfortable on your feet.  Supportive shoes minimize movement for better stability, balance and performance.
High-performance bowling shoes are designed differently for right and left-handed bowlers. These shoes have one shoe with a leather sole, which is used on the sliding foot for a smooth stop at delivery. The other shoe has a rubber sole, which is worn on the swing side for foot traction. This provides balance on forward momentum.