How to Choose a Table Tennis Table
Find the best table tennis table for your needs with this Pro Tips buying guide.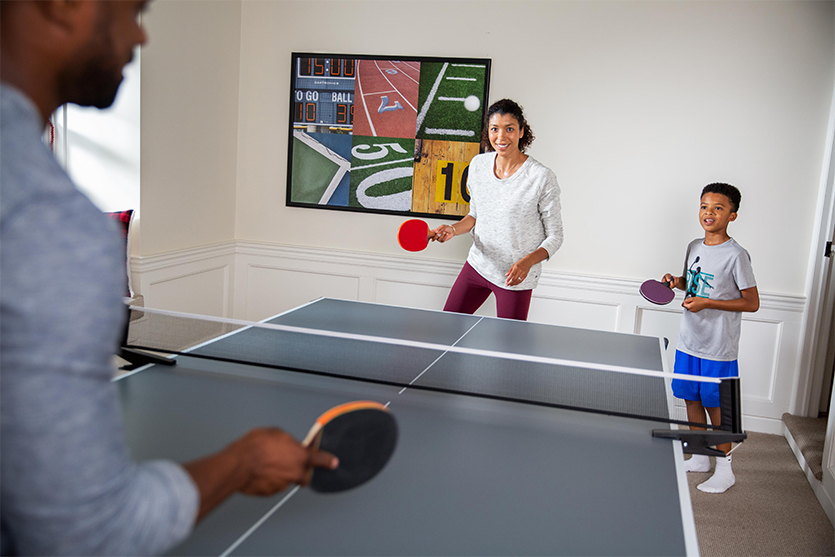 To get your table tennis game on point, you need the right equipment. But before you can bring your best game to the table, you need to find the best one for you. Table tennis tables vary in features, materials, size and more. This Pro Tips guide serves up everything you need to know.
TABLE TYPES
From fitting over pool tables to being used in the actual pool, there are an array of table types available for table tennis. Some tables also come in junior sizes or mini sizes to make the game easier to play for children. Here we'll take a look at the three most popular varieties.
FULL SIZED
A standard table tennis table is 9 feet long, 5 feet wide and 2.5 feet high. A full-sized table is the best choice for someone who is serious about the game and has the space for a more permanent fixture in their home.
ADJUSTABLE HEIGHT
If you want your little ones to be able to get involved in full-sized fun, an adjustable height table can be the way to go. These tables have legs that can lower and raise the height of the table. This is useful for smaller players to be able to experience the full playing surface, yet still be able to reach the ball when it's played close to the net.

CONVERSION TOPS
A space-saving method, conversion tops can give you the ability to play table tennis at home, even if the size of your room may dictate otherwise. True to the name, conversion tops consist of only the surface of a table and can fit over the top of pool tables or other large tables you may already have in your home.
KNOW THE BOUNDS
While typically thought of as an indoor sport, table tennis can also be played outside, but only if you have the right table. Indoor tables are more common and approved for competitive play, but due to their materials, which are often plywood, particle board and plastic, they can become warped or damaged from the sun and other weather conditions.
To prevent this from occurring, those who want to play outside will need to invest in an outdoor-specific table. These tables come with weatherproof playing surfaces and are constructed made with concrete and aluminum. Outdoor models will often have a thinner top surface, which can affect the bounce of the ball (more on that later). It's also important to keep in mind that a higher-end outdoor table tennis table may come with a higher price tag than an equivalent indoor table.
UNDERSTAND THE UNDERCARRIAGE
Unless you're purchasing a conversion top, an important element of your table tennis table is the undercarriage, which consists of the supporting frame underneath the table. Most have wheels, but others can be permanently fixed. There are two main undercarriage designs:
ONE PIECE
These tables have an undercarriage that is a single-trolley system and allows your table to stay in one piece and fold in the middle. Sometimes, this design is referred to as a "rollaway." The advantages to a one-piece table are that it's easy to align the halves and you can even use it half-open to practice alone. However, this design can take up a large amount of storage space.
TWO PIECE
These tables are divided into separate halves, which makes for easier and more space-efficient storage. But these models may be more difficult to align and begin play. Each side may have its own set of wheels, or the wheels may be incorporated into the center edge of the table.
SCRATCH THE SURFACE
One factor that will determine the price of your table tennis table is the thickness of the surface, which ranges from 12mm to 25mm. Tops with thinner surfaces tend to have less bounce. As you go up in thickness, the bounce tends to follow. Generally, the thicker the surface, the higher the price. Casual players can get away with a thinner surface than those who are looking for competition practice.
NET RESULT
Some tables come with a net and post included, but others require a separate purchase. Nets can be attached to a table in three ways: permanently affixed, with a spring-loaded clip or with a screw clamp.
Permanently affixed: These nets are often seen screwed into the sides of outdoor tables. Some one-piece undercarriage tables     have a permanently affixed net that may be shorter than the official competition length.
Spring loaded: Simple to attach and detach, spring-loaded clips look like clothespins and are the quickest to remove.
Screw clamp: The sturdiest option, these allow for strong adjustment capabilities. It's recommended to use felt or to find a table     with a soft covering on the grip spots so that the surface does not get scratched.
Now that you're in the loop of how to buy a table tennis table, you can bounce around ideas as to which table is best for you.