How To Buy The Right Paddle
Pad your knowledge with this Pro Tips guide to finding the right size paddle for your kayak, canoe or stand up paddleboard.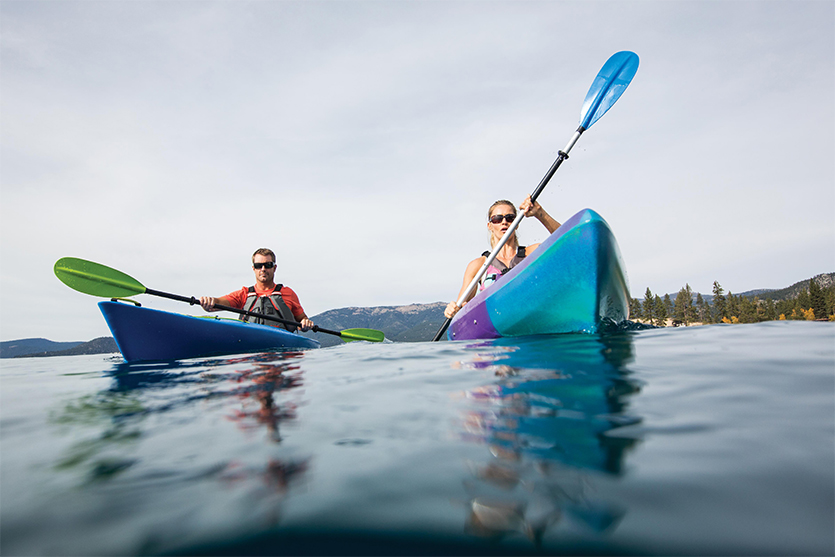 Before you get out on the water, you want to make sure you have all the right equipment. Don't let a good time get washed away because you didn't have the right size paddle. Learn how to find the best paddle size for your kayak, canoe and stand up paddleboard adventures with the help of this guide.
KAYAK
Before you hit the water in your kayak, there are a handful of paddle sizing factors you must take into consideration. Sizing is mostly determined by a combination of your height and the width of your kayak. Typically, the wider your kayak, the longer your paddle will need to be in order to ensure that the blades submerge completely into the water. Check out the chart below as a guideline for your paddle fit.
Kayak Paddle Sizing
Boat Width
Less Than 25 in. 
25-28 in. 
More Than 28 in. 
Kayaker Height
5ft. - 5ft. 6 in
210 cm. 
210-220 cm.
230 cm. 
5tf. 6in - 6ft.
220 cm.
230 cm. 
230-240 cm. 
More Than 6ft. 
220-230 cm. 
230-240 cm. 
240 cm. 
You'll also want to keep your stroke angle in mind. If you stroke from a higher angle, you'll want a slightly shorter paddle. If you're stroking at lower angles, you'll want a longer design. It's important that your kayak paddle blades are easily submerged in the water and don't strike the boat.

Discover more tips on how to choose the right kayak paddle with our Pro Tips buying guide.
CANOE
When choosing a canoe paddle, bigger isn't necessarily better. Your canoe paddle should be the shortest possible length that still allows you to comfortably reach the water. Similar to kayaks, the style of your canoe, your paddling and your height will play a role in paddle size.
Narrow canoes will work best with a shorter paddle, while wider canoes will require ones with a slightly longer shaft. Also, the shallower the water, the shorter the paddle can be. If you're using a bent-shaft paddle, the length should generally be about two inches shorter.
In terms of height, your paddle should allow your grip hand to be the height of your nose at mid-stroke. You can troubleshoot this distance with or without a canoe. If you have a canoe on hand, you can sit inside and measure the distance from your nose to the waterline for a rough estimate of shaft length.
If you're at home or in a store, you can conduct the "kneel test." Simply kneel, sit back on your heels and flip the paddle upside down. The hand grip should be beside your knees on the floor. If the paddle is the correct length, the throat of the paddle – where the shaft ends and the blade begins – should align between your nose and chin. You can also do a kneel test without a paddle by measuring the distance between your nose and the floor.
STAND UP PADDLEBOARD
Finding the correct size stand up paddleboard paddle can help you guard against potential aches and pains. A paddle that's too short can fatigue your back, while those that are too long may strain your shoulders.
A general convention is to add nine to 10 inches to your height to find the total length of the paddle, but the range may change depending on the intended use of your SUP. Surfers can get by with paddles as short as six inches above their height, while racers may want one a full foot longer.
You can test if a paddle size works for you by lining up the paddle blade with your toes (be sure you're keeping the paddle shaft straight) and extending your arm vertically without stretching. The paddle is the right size if your wrist can comfortably curl over the paddle handle.
Many SUP paddles are adjustable with shaft lengths that can change based on person or need. Others can be cut to one specified length.
Learn more about finding the right paddleboard paddle with this guide. 
Whether you're a kayaker, a canoer or a SUP boarder, having the correct size paddle is crucial to your time in the water. Let this guide propel you to the paddle you need.