How to Choose the Right Ski Pants
Keep your lower body comfortable on the slopes with a pair of pants that helps protect against moisture and cold weather.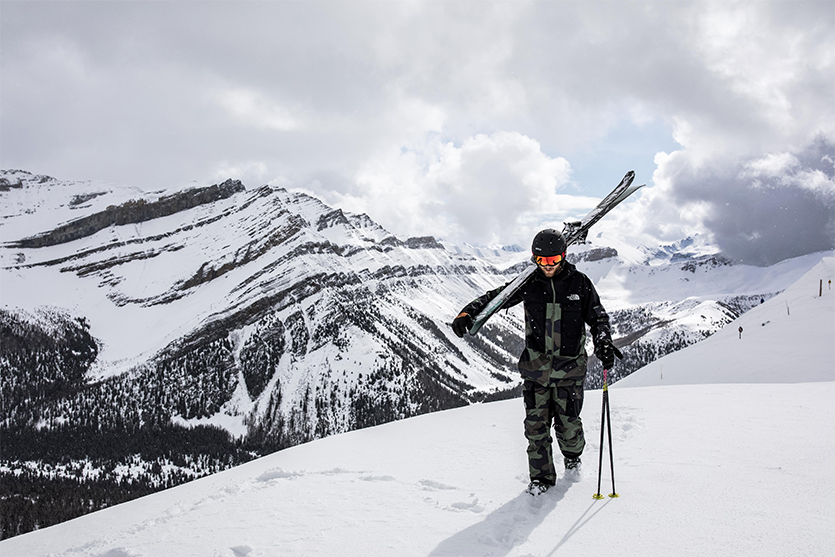 No matter if you are zipping down the mountain on fresh powder or gliding over snow-covered terrain, you'll want to wear the right ski outfit. While having a jacket, gloves and hat are important, don't overlook your ski pants.
A good pair of ski pants will help keep you warm and dry on the mountain. Pro Tips breaks down key features to look for in ski pants that can help keep you comfortable on the slopes.
SKI BIB VS. PANTS 
There are two distinct pants to choose from: regular pants and bibs. The choice will come down to personal preference.
Regular ski pants fit like a pair of everyday pants. They come with a zip fly or an elastic waistband. One drawback is that you may end up with snow in your pants if you take a spill on the slopes.
Bibs are like overalls and are secured to your body by a pair of suspenders. They also have extra fabric that extends over your waist and chest. This can provide extra warmth and help keep your pants in place. While bibs can limit snow in your pants, they can also be difficult to remove when nature calls.
SKI PANT INSULATION
You'll want to choose a pair of ski pants that will keep you warm on the slopes. There are various levels of insulation in ski pants. Your choice will often come down to how cold your legs get while skiing.
Insulated ski pants have synthetic insulation to offer the most warmth of all the options.
There are also uninsulated pants that feature a small lining for additional warmth. This can be popular with skiers who prefer to layer their lower bodies.
Unlined ski pants have no insulation and can be a good choice for backcountry skiing.
WATER PROTECTION
Keeping you dry is key for any winter outerwear, especially ski pants. You'll have several levels of water protection to choose from. Fully sealed seams and moisture-wicking fabrics can provide high levels of moisture protection.
Most ski pants feature a waterproof rating somewhere between 5,000 and 20,000. The higher the number, the more water-resistant a pair of pants will be.
Don't forget to check out the seams of your pants. This will help boost the level of water protection for your ski pants.
Fully taped means there is a waterproof material sealed over the edges of seams.
Critically taped will feature waterproof material only over seams regularly exposed to moisture.
Welded ski pants have two fabrics bonded together. These tend to be the lightest and highly waterproof.
SKI PANTS FEATURES

You'll find various features in ski pants. Each of these qualities can help boost your skiing experience, so make sure you get a pair that best matches your needs.
Built-in gaiters can help keep snow and ice out of your boots.
The inner thigh inseam may feature zippered vents. These will help promote air circulation in case you get a little warm.
Some pants will have a system that allows you to connect them to a compatible jacket. This will help create a snow-proof barrier.
Pants with reinforced seat, ankle and knee areas can help add protection and durability. This is especially helpful for beginners.
Remember to check out the pockets in your pants. Larger pockets will allow you to carry items such as snacks, your ski lift pass and hand warmers.
Finally, it is important to have the right size ski pants. A pair that is too tight can hinder movement, while a pair that is too big can lead to trips and falls.
Now that you have a pair of ski pants, don't forget to add a jacket. Pro Tips has a rundown of the features to consider when looking for your next ski jacket.
Searching for the right size? Look for the True Fit icon on apparel and footwear product pages when shopping online at DICK'S Sporting Goods. Get personalized size and fit recommendations with just a few clicks. Learn more about True Fit.