How to Choose the Right Yoga Mat
Learn how to find a yoga mat that improves stance, posture and comfort in the studio.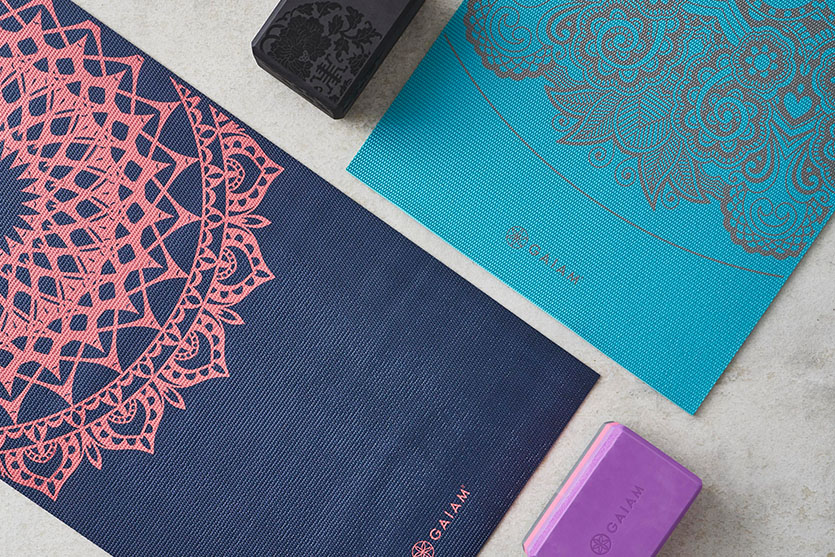 It's a studio essential. The right yoga mat can help improve stance, posture and comfort as you move through your asanas.
And every yogi is unique. You need a mat that provides the precise level of feel, stability and cushion for your practice. Learn more about finding the best yoga mat for you.
MATERIAL 
The key component to your yoga mat is material. And it's no wonder — material directly affects the texture, thickness and longevity of your mat. Standard yoga mats come in PVC or vinyl, while more modern mats are crafted from natural cotton, jute and recycled rubbers.
THICKNESS 
Discomfort in the studio can seriously stifle your practice. Select from thin and thick yoga mats for the level of comfort you desire. Wafer-thin mats are great for travel, plus they provide a better connection to the ground for stability. Other yogis prefer a plush mat for comfort and cushion. Beginners often prefer a thicker yoga mat.
GREEN DESIGN 
Eco-friendly mats give you peace of mind as you practice. Many of these earthy mats are made of jutes, cork or organic cottons.  In addition, many mats are biodegradable — so your studio accessory never ends up clogging a landfill.
TEXTURE
Most mats come with some kind of tactile pattern that enhances grip through your poses. People headed to a hot yoga class might benefit from a mat with an extra sticky texture for maximum traction, while other yogis prefer the feel of soft cotton. Many natural materials have a rough texture to prevent sliding, while synthetic mats come with raised patterns for better grip. Get hands-on when you're shopping — run your hand over different mats to learn more about how they'll feel in the studio.