How to Choose a Batting Tee
Adding this training equipment to your baseball regimen could take your hitting skills to the next level.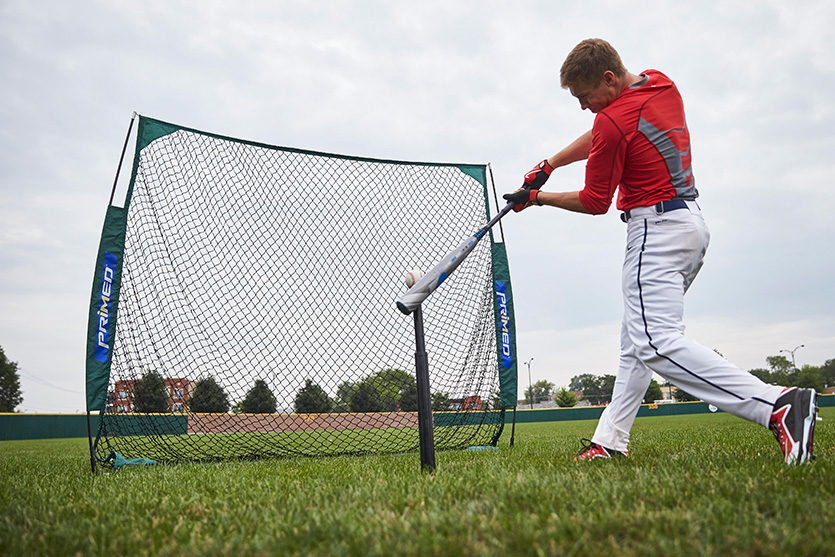 It isn't flashy. It isn't modern. It isn't even difficult. But hitting off a batting tee can be one of the most productive training exercises for hitters of any level. Instead of directing focus towards timing up live pitching or soft toss, hitters can slow everything down to focus on their mechanics. The repetitive nature of tee hitting strengthens muscle memory in a positive fashion, with each ball being positioned at the exact location.
Hitting off of a batting tee is also one exercise that can be done outside of team practice, giving players the chance to really put in the extra work to achieve that great swing. Lastly, batting with a tee can be a great time to break in new bats, especially when using wood. The consistent placement of the ball allows you to truly get a feel for your bat and find that sweet spot for proficient hitting.
Before rushing out and getting any batting tee to hold that ball in place, however, there are a few key qualities to look for before making your purchase.
DURABILITY
First, look for a batting tee made with sturdy materials that will withstand the occasional mishit or scuff. You don't want a tee that's going to break or crack after a few swings or exercises. Most quality batting tees will use heavy-duty rubber or a combination of rubber and metal for long-lasting performance.
KEEP IN MIND
Batting tees could potentially cause wear and tear to bats, notably wood. Some hard plastics, over time, can chip away at wood bats as they come in contact with each other through the swing. Look for tees that use rubber or bristles as a ball-holding mechanism. Another popular option is a flexible rubber top, which creates a very clean swing path for the batter.
ADJUSTABILITY
While already offered on most models, an adjustable tube length is desirable. Not every pitch is going to be down the middle, so being able to change the height of the ball allows you to practice hitting and covering the entire strike zone with a smooth and level swing.
QUICK TIP: To get into the habit of hitting the ball out in front, place the batting tee slightly ahead of home plate, not directly on top of it.
BASE DESIGN
Batting tees come with either a tri-pod or solid base, but it is important to choose a tee that will stay upright through contact. If a batting tee has too much flex, or a weak base, you could spend half of your training session picking up and resetting the equipment. Try searching for a tee that has a stable base with enough weight to withstand a full swing. Additional weights are available to enhance steadiness.
Keeping these aspects in mind, purchasing a batting tee is a sound investment in your swing and hitting capabilities.