How to Make the Most of Timeouts in Basketball
Learn how to keep your team motivated, prepared and confident with these tips on managing your timeouts on the court.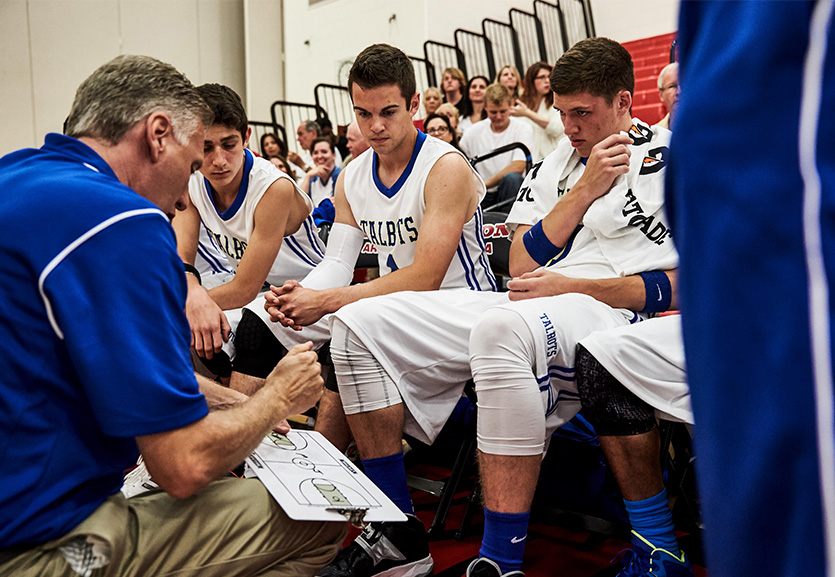 Time is dwindling down and the score is tight. You have one timeout remaining, but you can't use it haphazardly. Strategy is important when coaching basketball throughout the entire game. But in the waning seconds, timeout strategy could be the difference between a win and a loss.
Knowing when to call a timeout is only one piece of the puzzle. How you manage your time during these breaks can greatly affect your team's performance. Follow along with this Pro Tips guide to learn how to get the most out of your timeouts this season.
 YOUTH TIMEOUT RULES
Timeouts are broken into two groups: full (60 seconds) and half (30 seconds).
Full timeouts can allow teams to catch their breath and let active players sit down for a moment.
Half timeouts require that all in-game players remain on the court. Players on the bench are not allowed to get up and walk onto the court. However, coaches may join their group in the huddle.
Usually, teams will be rewarded two 60-second timeouts for each half. For example, if you decide to take both timeouts in the first half, your timeouts will be replenished in the second half. However, if you decide to only use one timeout, the other, unused timeout, will not carry over to the second half.
Should a game go into overtime, each team will receive one 60-second timeout.
Always check with your league to see how many timeouts your team will receive per game.
60-SECOND TIMEOUT: USE THE BOARD
So you know about your timeout length, but what do you do with this allotted time? DICK'S Sporting Goods Associate and former Division I coach Maureen Lawrence says coaches should make the most out of their equipment during timeouts. This includes using a dry-erase board to document and draw up plays.
"I would say always use the [dry-erase] board. Draw up a play or talk about where your players need to be positioned," she says. "It's good to allow the team to visually see it."
However, drawing up plays and relaying the message can eat up valuable time. Division I basketball coach Andy Toole says it's important for coaches to practice their timeout strategy so they can take advantage of every last moment.
"When we're in a practice situation and we get into a late-game situation, we'll practice bringing the players in, drawing plays up and see how long it takes us," Toole says. "We need to make sure the players know what their responsibilities are, and we need to convey that quickly. You have to do it in a timely fashion. The worst thing you can do is call a timeout and then your team isn't on the right page."
When using the board during a 60-second timeout, it's important to position yourself where everyone can hear you. DICK'S Sporting Goods Associate and former high school basketball player Molly Dymond says putting yourself in the middle of the huddle can be a great option.
"Speak to everyone, plan your next play," she says. "It takes a total village to make the most out of a timeout. You really have to figure out a game plan and explain it well."
Toole says it helps to think about what led you to calling a timeout in the first place.
"When you take a timeout, you need to think of what led you to do that," Toole adds. "Sometimes it's to challenge your team, or sometimes you see something that you like to run and want to make sure everyone is on the same page. Sometimes you have to take a timeout to make a point and go over the game plan."
TIMEOUT SCENARIOS
In basketball, coaches have to strategize when to take their timeouts. Should you take a timeout when the other team has the ball and the clock is winding down? This could be your opportunity as a coach to draw up the perfect defensive play.
For example, say your team is up by two points and there's only 10 seconds left on the clock. You have one more timeout, and your team is about to begin the play on defense. Do you decide to take it?
According to DICK'S Sporting Goods Associate and youth basketball coach Brad Devine, yes. This can help break up the opposing team's momentum and can give you 30 or 60 seconds to come up with a defensive strategy. "Explain the plan and tell each player how to execute it," Devine says. "Being prepared, as the coach, can help players get ready to take the court again."
Using a timeout while holding the lead can also get players on the right page mentally. After scoring a tie-breaking basket, players can get caught up in the emotion. Calling a timeout can calm players down and turn their focus back to the game and strategy.
REMEMBER TO USE POSITIVE REINFORCEMENT
Timeouts aren't just for when you're leading the game. A timeout can come in handy when creating shooting plans. Also, if you're down on the scoreboard, remember to use positive reinforcement to keep your players upbeat and confident.
"Players respond more to when the coach is calm," Lawrence explains. "A timeout is a great time to do exactly what it says: take a moment, catch your breath and evaluate the situation. It's important to approach it in a calm manner in order to fix the problem."
Devine adds that positive reinforcement can help keep players interested in playing basketball. He stresses to his team that making a mistake is a part of learning — and a part of life.
"To me, it's about building them up for success. I want to instill confidence in my players, want to draw up a play that I know they can execute," he says. "If I have to call a timeout because the other team is on a big run, I have to remind the kids to grab a drink, calm down and control their emotions. Focus on getting back in control and motivate the kids to succeed."
DICK'S Sporting Goods Associate and former high school point guard Brianna Rust says positive encouragement can take the pressure off players, too. "Reiterate that you practiced what you're doing on the court. You want to build off the adrenaline that occurs when competing."
A TIME AND PLACE FOR THE PLAYERS TO LEAD
Of course, there's only so much coaches can do on the sideline. After all, the players are the ones in the game. Depending on league rules, players can call a timeout on the court.
Rust says players speaking up can provide a different perspective.
"It's a very emotional area and you're invested. You want to balance it out and make sure the players have their voices heard, too. You have to be respectful on figuring out what needs accomplished in a short amount of time. Sometimes, you're calling a timeout to purely regroup."
Meanwhile, Toole suggests that players and coaches know the dynamic of the group they're speaking to. "There are some teams that are more ra-ra and want more energy in their timeouts, or more motivation," he says. "Then, there are teams that are more stoic; they want the information and want to have a clear game plan. You have to know if you have leadership in your timeouts."
In the end, basketball is a sport where everyone aims to have fun.
"It's all about having fun, so don't overcomplicate it. You're an athlete and you have to let your athleticism drive you," Dymond adds.
Always remember to come prepared to practice and games with your game plan ready. However, remember that, as a coach, planning ahead for your timeouts isn't going to work. You have to call your timeouts based on how the game is being played.
Coaches are the driving force to motivate their athletes and get them prepared for practices and games. Use these coaching Pro Tips to learn how to motivate your team before your next competition.