Top Five Things That Influence the Price of Ellipticals
Simplify your shopping and understand what determines the cost of this popular home gym machine with this Pro Tips guide.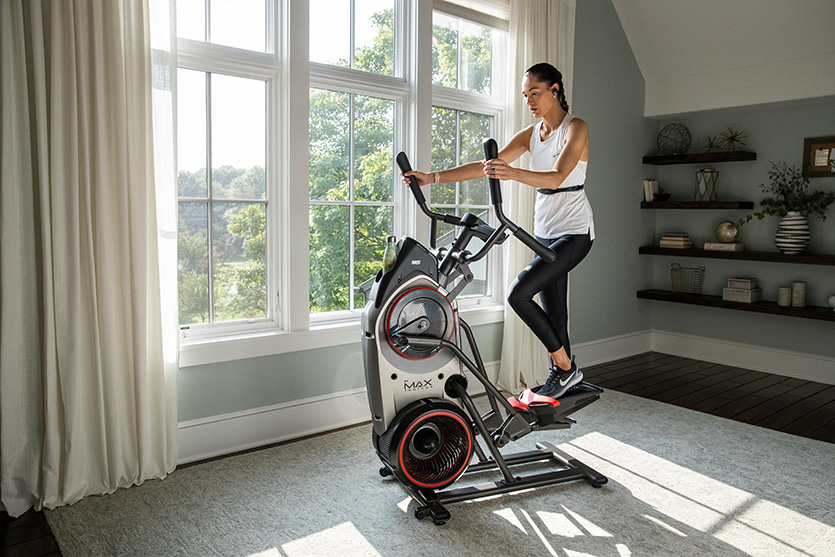 For those new to fitness, joining a gym can be intimidating. But purchasing equipment for a home gym can be intimidating, too. Cardio machines like ellipticals are easy to use, but not always easy to buy.
What separates an expensive machine from a more affordable one? Since ellipticals are available in a wide range of price points, it can be difficult to determine that at first. We're breaking down the top characteristics that drive price so you can find the best elliptical for your body and your budget.
1. Wheels and Deals

 The first factor that determines the price of your elliptical is the flywheel weight. The flywheel is a heavy, revolving wheel that increases momentum and provide stability.
Flywheel weight determines the smoothness and quietness of the machine during use. The heavier the weight, the quieter and smoother the ride will be, and vice versa.
As the flywheel weight increases in pounds, the elliptical increases in cost. Ellipticals in the top price range often have flywheel weights above 30 pounds, while more economical options will feature a flywheel weight in the teens or below.
2. DON'T SOFT-PEDAL THE PEDALS
One aspect of the elliptical that makes it popular is the low strain it causes on knees and joints. But for those looking for even greater ease, it's the cushioned pedals on some ellipticals that offer up a more comfortable experience.
Cushioned pedals are designed with a softer surface to stand on, and as such, help put less stress on the knees. Elliptical machines that feature cushioned pedals generally run at a higher price point than those that do not.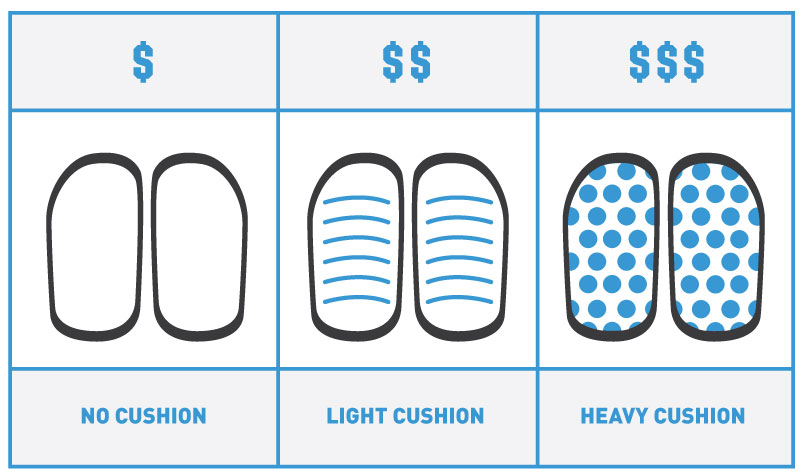 3. DISPLAY DOLLARS
Most of the ellipticals today have controls that are managed through a console screen. While machines can offer different fun features and show various vital and workout statistics like heart rate and calories burned, the display size is the feature of the console that contributes most to the cost of your elliptical. Consoles that are larger can be easier to read and can display more information at once, which contributes to their higher cost.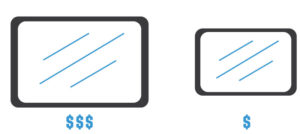 4. WEIGHING THE COST
Weight capacity also factors into the price of an elliptical. This is the max user weight that most manufacturers suggest. Machines that are smaller and less expensive can have weight capacities of under 250 pounds, while more expensive options have limits of up to 400 pounds.
5. WARRANTIES AND YOUR WALLET
The last contributing component determining the price of an elliptical is the warranty. When purchasing an elliptical, you'll often find warranty offers included by the manufacturer, and the length of the warranty may differ for each component of the machine. Some brands may have separate warranties offered for frame, motor, parts, labor and electronics. Machines with warranties that offer longer and more widespread coverage are typically pricier.

OTHER CONSIDERATIONS
To find the perfect elliptical for you, keep these other features and factors in mind as well:
Size and Space – Your cardio machine needs to be a perfect fit. Literally. Ellipticals vary in frame size, so measure a space in your home and choose a machine that fits.
Drive Type – Most home-use ellipticals have a front-drive, which looks more like a traditional exercise bike and requires you to lean forward while using. However, you may prefer a rear-drive elliptical that typically has fewer moving parts and a smooth action similar to walking. You could also choose a center-drive elliptical that tends to take up less space. They also allow for the weight of the user to be more centered than other types of elliptical.
Adjustable Workout – Whether through power or manual adjustments, some machines offer the ability to adjust the incline and resistance while others offer one consistent level. In addition, some ellipticals offer pre-set training programs.
Technology and Features – There are a variety of features to choose from including WiFi capabilities, touchscreens and Bluetooth capability. Some also offer options like built-in fans, speakers, accessory trays and programs that monitor and save vital measurements Consider which extras are going to help you meet your goals.

With these helpful Pro Tips to guide you, choosing the right elliptical for your home can be an easier process. So, save the hard work for your workouts and make the right choice for you.